A prickly contender: Hedgehog tops poll to become UK's national emblem
Badger and oak come third in nationwide BBC Wildlife poll
Adam Withnall
Wednesday 31 July 2013 13:34 Comments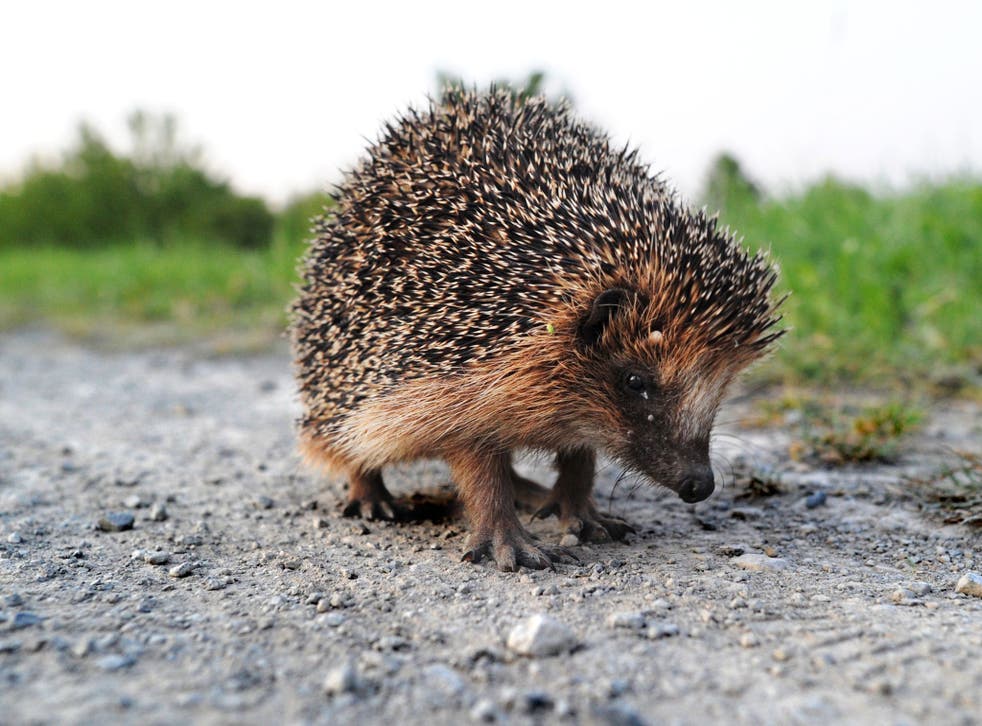 The humble hedgehog has beaten off stiff competition from the badger and oak to win the title of "Britain's National Species", after a nationwide poll organised by the BBC Wildlife magazine.
The prickly contender picked up an impressive 42 per cent of the vote, leaving badgers trailing in second and the majestic oak in third.
Competition organiser Ben Hoare said Britain was "bereft" because unlike countries like Australia, New Zealand, Russia or the US, there was no natural emblem to represent our national identity.
He said that the hedgehog's "unique appearance, fascinating lifestyle and unthreatening nature" could be behind its success, adding that early front-runner the badger might in the end have been "just too controversial" a choice with the ongoing debate around Bovine TB.
Ann Widdecombe, one of the species' most high-profile champions and patron of the British Hedgehog Preservation Society, told the magazine: "I'm over the moon that the hedgehog came top in the BBC Wildlife poll. It is a quintessentially British creature."
She added: "We all need to rally to help the species, which is declining at an alarming rate."
The chief executive of the society, Fay Vass, also said he was "thrilled" with the result, and reiterated Ms Widdecombe's call for conservation efforts to protect the much-loved species.
Mr Vass said: "Hedgehog numbers are in fairly sharp decline so they need all the help they can get. Their place in the nation's affections is obvious from the result, if each and every one of us converts that affection into a positive action to help hedgehogs, their situation will be much improved."
The oak tree, which came third in the poll that saw more than 9,000 Wildlife readers cast their votes, was "championed" by the Woodland Trust. It was magnanimous in defeat, and posted on Twitter (@WoodlandTrust) saying: "Congrats @hedgehogsociety for topping @WildlifeMag's national icon poll! A valiant third for the #oak"
Announcing the results, Mr Hoare said a natural emblem for our cultural identity was harder to pin down than it might seem at first, with regular features of the British countryside like brown hares, little owls and horse chestnuts all categorised as non-native species.
The hedgehog, however, has been rooting around the UK for at least 9,500 years, making it more native than most of our own ancestors.
Mr Hoare said: "We think it's an admirable national wildlife icon for Britain."
The Badger Trust was unavailable for comment.
The Results in Full
1 Hedgehog championed by: British Hedgehog Preservation Society, votes: 3,849
2 Badger championed by: Badger Trust, votes: 2,157
3 Oak tree championed by: Woodland Trust, votes: 950
4 Red squirrel championed by: Red Squirrel Survival Trust, votes: 730
5 Robin championed by: RSPB, votes: 626
6 Otter championed by: Wildlife Trusts, votes: 270
7 Bluebell championed by: Plantlife, votes: 198
8 Water vole championed by: Wildfowl & Wetlands Trust, votes: 150
9 Swallow championed by: BTO, votes: 108
10 Ladybird championed by: Buglife, votes: 70
Register for free to continue reading
Registration is a free and easy way to support our truly independent journalism
By registering, you will also enjoy limited access to Premium articles, exclusive newsletters, commenting, and virtual events with our leading journalists
Already have an account? sign in
Join our new commenting forum
Join thought-provoking conversations, follow other Independent readers and see their replies