Government spent £365,000 fighting losing battle against air pollution claims
'It's astonishing the Government has spent thousands defending the indefensible,' says MP
Harriet Agerholm
Tuesday 24 October 2017 12:41 Comments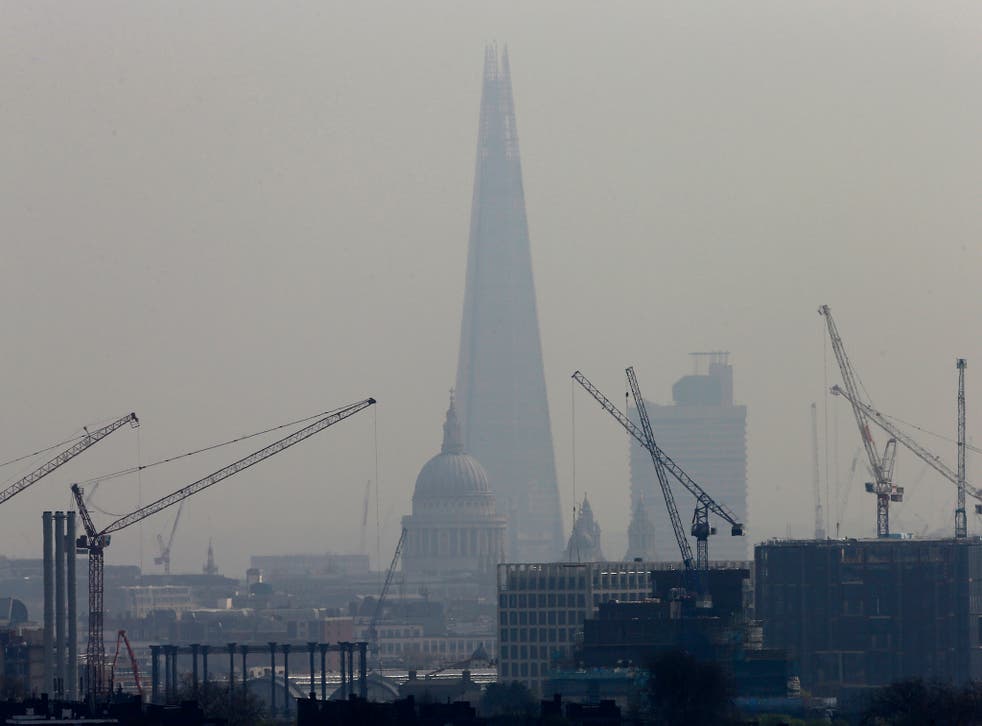 The Government spent £365,000 trying unsuccessfully to fight legal claims that its plans for tackling dangerous levels of air pollution were insufficient, a freedom of information request from The Independent has revealed.
The costs relate to two claims brought against the Government by environmental action group ClientEarth, which successfully argued the UK was breaking the law by not reducing diesel emissions quickly enough.
Many areas of the country breach European limits for nitrogen dioxide – a harmful gas produced largely by diesel vehicles – and the UK Government is obliged under EU law to reduce pollutant levels in "the shortest time possible".
Pollution killed 50,000 people in the UK in 2015, according to a report published in the Lancet last week, and MPs in 2016 declared the toxicity of Britain's air a "public health emergency".
The extended legal battle cost the Department for Environment, Food and Rural Affairs £278,476 in defence fees, a response to a freedom of information request by The Independent showed. It spent a further £86,000 on costs paid to ClientEarth after it lost both cases.
Ministers were forced to publish a new plan for tackling air pollution in July, but city leaders dismissed it as "weak" and "woefully inadequate".
ClientEarth this month wrote a legal letter to Environmental Secretary Michael Gove demanding that he set out a range of new measures to address the air pollution problem. If the Government fails to comply with the letter, the environmental group will begin new legal proceedings.
ClientEarth lawyer Alan Andrews, said: "The Government's insistence on fighting us in court, rather than cleaning up our air, is baffling.
"The plans produced ... show a similar reluctance to get a grip. The Government has an opportunity to lead on air pollution but so far, all we've seen is inaction and delay."
He continued, saying the amount ClientEarth recovered was "a small fraction" of the costs they incurred by bringing the legal challenge. He added the cases were "brought in the public interest over the course of seven years to uphold the right to breathe clean air".
The revelations about the cost to the taxpayer of the legal battle came on the same day that a new "toxin charge" came into force. Drivers of the most polluting vehicles now have to pay £10 a day to enter central London.
Mayor of London, Sadiq Khan, said: "This is the time to stand up and join the battle to clear the toxic air we are forced to breathe. But I can't do this alone. I urgently need Government to step up and face their responsibilities by delivering a diesel scrappage fund and a Cleaner Air Act that is fit for purpose."
Caroline Lucas, co-leader of the Green Party, said: "It's astonishing that the Government has spent thousands of pounds of taxpayers money defending the indefensible.
"Rather than battling air pollution action in the courts, ministers should be doing more to tackle this public health emergency. The Government is guilty of ignoring this crisis for too long, and it's time they show some leadership with a new Clean Air Act fit for the 21st century and clean air zones in our towns and cities."
UK news in pictures

Show all 50
A Defra spokesperson said: "We have put in place a £3 billion plan to improve air quality and reduce harmful emissions.
"We will also end the sale of new diesel and petrol cars by 2040, and next year we will publish a comprehensive Clean Air Strategy which will set out further steps to tackle air pollution.
"We now have an opportunity to deliver a Green Brexit and improve environmental standards as we leave the EU."
Register for free to continue reading
Registration is a free and easy way to support our truly independent journalism
By registering, you will also enjoy limited access to Premium articles, exclusive newsletters, commenting, and virtual events with our leading journalists
Already have an account? sign in
Join our new commenting forum
Join thought-provoking conversations, follow other Independent readers and see their replies