Tories' plans will see more than 50,000 lives cut short by air pollution by 2030 in London alone, Greens claim
'The Government needs to stop tip-toeing around the issue, and begin treating this crisis with the severity it is due'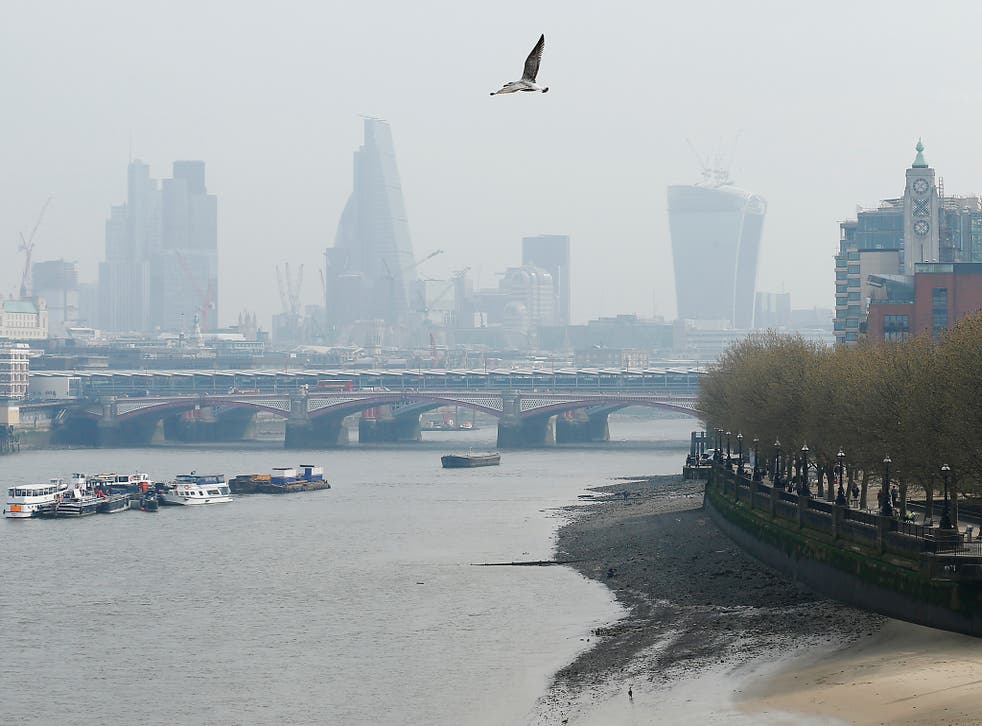 The lives of more than 50,000 people in London alone will be cut short by air pollution by 2030 because the Government's latest plan to address the problem is so ineffective, the Green Party has claimed.
Ministers have a track record of failure on the issue, having twice been ordered by a judge to come up with stronger proposals to bring air quality to within legally binding EU safety limits.
Their third attempt was revealed earlier this month after the Government lost a court bid to delay publication until after the election, saying it would drop a "controversial bomb" on the campaign.
While the draft Air Quality Plan describes poor air quality as the "largest environmental risk to public health in the UK" and official estimates put the number of premature deaths caused by the air we breathe at 40,000 a year, the proposals to deal with it have been variously described as "toothless and wholly inadequate", "feeble" and "much weaker" than expected.
Now the Greens have published a report about the effects of the plan on London, Oxford, Bristol and Brighton and Hove.
They concluded it would result in an estimated 53,272 premature deaths in London over the next 13 years and 757 in Bristol by 2021 as a result of nitrogen dioxide pollution.
It highlighted that 86 per cent of monitored areas in the UK currently exceeded EU air pollution limits, with Putney High Street and Oxford Street in London breaching the hourly legal limit around 1,400 times in just one year.
​Brighton and Hove has been excluded from the air quality plan even though it has three places where air pollution levels are 230 per cent, 189 per cent and 153 per cent above EU safety limited, the report added.
And, in Oxford, the Greens linked air pollution to poverty with Carfax and Holywell, among the most deprived places in England, exceeding safety limits even though 50 to 60 per cent of residence do not have access to a car.
Jean Lambert, Green MEP for London, said: "Whilst air quality is a local problem across the UK, it is by far most severe in London.
"The city is in the midst of a public health emergency whereby more than 800 nurseries, schools and colleges are exposed to illegal levels of air pollution.
"Many children find their lung capacity is adversely affected and some 9,000 people die prematurely each year as a result of breathing our filthy air.
"The Government needs to stop tip-toeing around the issue, and begin treating this crisis with the severity it is due. Londoners can't wait a decade to breathe safe air within legal limits – bold, ambitious policy-making is needed now."
The worst countries in the world for air pollution deaths

Show all 10
The draft Air Quality Plan, designed to tackle nitrogen dioxide, would create a number of "clean air zones" which "targeted action" is taken to reduce pollution.
Motorway speed limits could also be cut from 70mph to 60mph in some places and it is also possible higher taxes could be imposed on diesel cars.
Speed bumps could also be removed to improve the flow of traffic as slowing down and speeding up is less fuel efficient. There might also be a "targeted" scrappage scheme for diesel vehicles.
The proposals are subject to a consultation process which ends on 15 June. The final plan is due to be published later this year.
A Conservative party spokesman said in a statement: "Conservatives will further improve air quality, while making sure that ordinary working families are not hit unfairly for Labour's mistakes.
"Jeremy Corbyn's Labour Party and his Coalition of Chaos would hit you in the pocket with higher taxes.
"Let's remember why this is an issue in the first place: the last Labour Government incompetently encouraged people to buy diesel cars and we are taking action to put it right."

Join our new commenting forum
Join thought-provoking conversations, follow other Independent readers and see their replies