'This is a problem across the whole of the nation': 60% of population living with air pollution above legal limits
Exclusive: Labour says 'unacceptable' breaches mean 7 million children exposed to dangerous air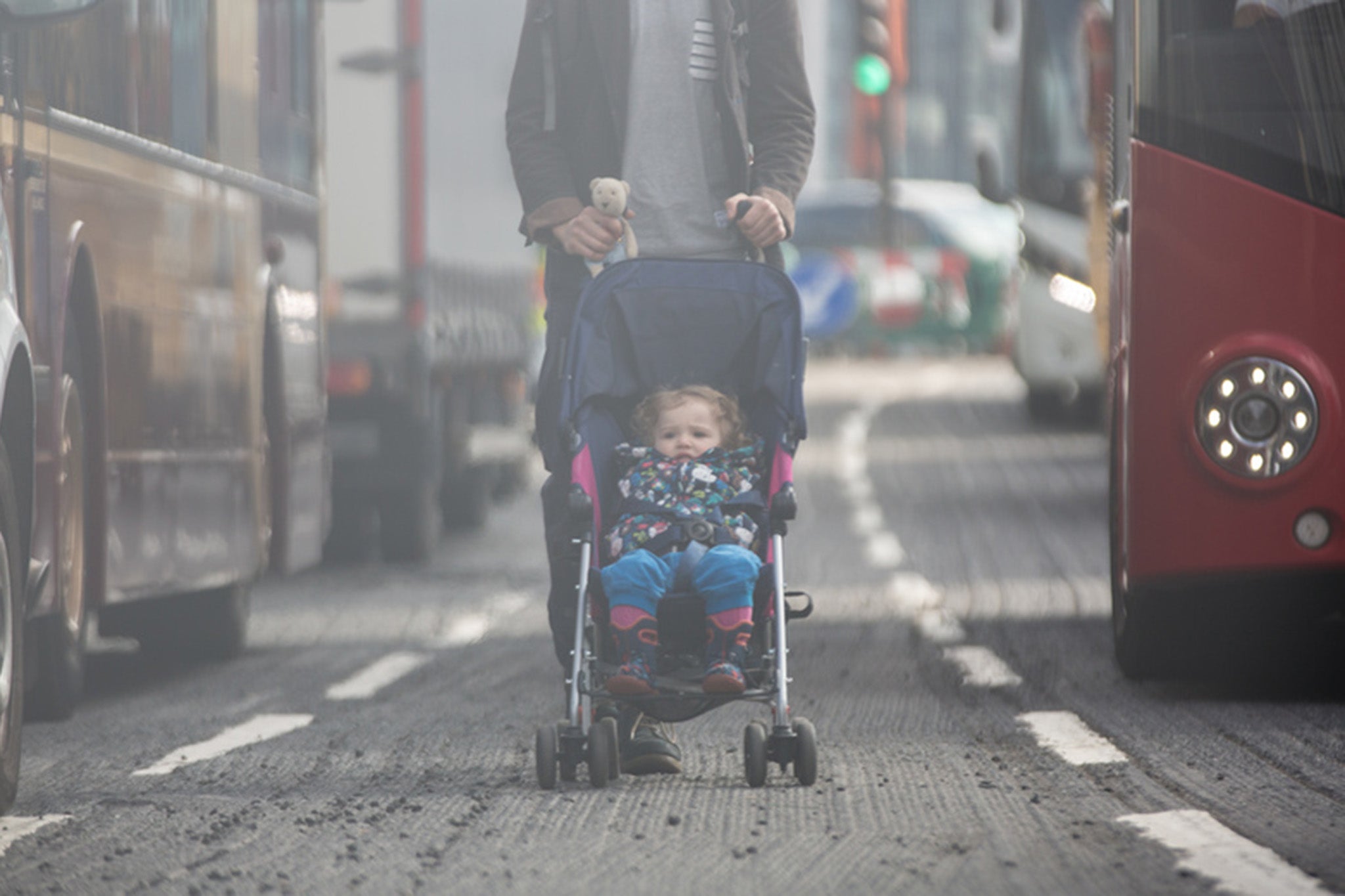 Almost 60 per cent of people in England are living in areas where levels of toxic air pollution exceeded legal limits last year, analysis of official figures has revealed.
Legal limits for nitrogen dioxide (NO2) – a toxic gas that inflames airways in the human respiratory system – were broken in 142 local authorities in 2019, potentially affecting as many as 33 million people in total.  
This includes groups particularly vulnerable to the effects of air pollution, including 7 million children and 5.5 million people over 65 years old. The latter group is now at additional risk because of the coronavirus.
As the government grapples with the economic devastation caused by the pandemic, the prime minister has presented public infrastructure investment as one of the most important components of his post-Covid-19 economic recovery plan.  
"Build back better; build back greener; build back faster," Boris Johnson said at the end of June. 
However, as well as £2bn allocated for cycling and walking – a figure that has been criticised as being inadequate – the government's plans include £27bn for roads.  
The vast majority of NO2 comes from road travel, according to the UK's Air Pollution Information System. In total, about 2.2 million tonnes of NO2 is generated in the UK each year. Of this, about half is from motor vehicles, a quarter is from power stations, and the rest is attributable to other industrial and domestic sources.
Previous studies have found that those most affected by poor air quality are disproportionately people living in deprived areas – potentially leading to a disproportionate impact on people from minority ethnic groups, which in turn could be a factor in the higher rates of coronavirus deaths among those from black, Asian and minority ethnic backgrounds.
Currently, legal limits on air pollution are set by the EU, but Labour, which carried out the analysis, is now calling for the government's environment bill to include legally binding targets to reduce air pollution to World Health Organisation (WHO) limits.  
Luke Pollard, the shadow environment secretary, told The Independent: "It is essential after the Brexit transition period that we have a robust legal framework in place to ensure government action is taken to clean up our dirty air.  
"It's simply unacceptable that nearly 60 per cent of England's population – including more than half our children and millions of over-65s – suffer illegally high air pollution. We know that sustained filthy air corresponds to a higher Covid death rate.
"People have a right to breathe good quality, clean air regardless of where they live. Ministers could and should act now to achieve this by putting the World Health Organisation air-quality limits into law."
He added: "Public Health England must also urgently review the combined impact of air pollution and Covid on black, Asian and minority ethnic communities who live in some of the worst polluted areas in England."
The figures represent a longstanding failure for successive governments to get to grips with air pollution.  
In 2017, 85 per cent of the UK's designated "air quality zones" exceeded legal pollution limits eight years after they were supposed to meet them.
The 2019 local authority breaches now highlight serious concerns that despite a fall in emissions in recent years the government has not done enough to comply with EU regulations concerning air quality, with Brexit leaving many of the most vulnerable people at risk.
Air pollution is responsible for tens of thousands of deaths every year, and the Royal College of Physicians estimates the health impacts of air pollution cost the country over £20bn a year.
Many of the areas where NO2 has soared over legal limits are in London, including Greenwich, Hackney, Islington, Brent, Hammersmith and Fulham, Haringey, Lambeth and the City of London. The mayor of London, Sadiq Khan, has also called for WHO limits to be enshrined in law.
A spokesperson for the mayor said: "Sadiq is doing everything in his power to stop Londoners breathing air so filthy that it damages children's lungs and causes thousands of premature deaths. The ultra-low emission zone has already cut toxic air by a third and led to reductions in roadside nitrogen dioxide in central London that are five times greater than the national average.
"We know there is still more to do. Pollution isn't just a central London problem, which is why Sadiq has consistently demanded that the government match his ambition and improve the environment bill to include legally binding WHO recommended limits to be achieved by 2030, and to give cities the powers they need to eradicate air pollution."
As well as London, illegal levels of pollution were recorded across the country, from Gateshead in the northeast, to Bournemouth on the south coast, and also in more rural areas including the New Forest and east Hampshire.
The prevalence of illegal levels of pollution across the country "makes for quite a frightening story", according to Professor Stephen Holgate, the Royal College of Physicians' special adviser on air quality.
He told The Independent that the research "really shines a spotlight on the extent of this problem".
"There's been a lot of focus on London, but this is a large number of local authorities, and a number of these aren't in the big cities, but other areas of England," he said.
"It shows that this is a problem across the whole of England and it's not just a city issue. People living in these places need to know that their local area is affected by pollution."
He criticised the current response to the epidemic and said the government is "not really thinking long term".
"If we want this virus to disappear or have less of an impact on the community, then what do we need to do to increase the resilience of the community? Reducing air pollution is one of those factors."
He added: "It needs to be taken thoroughly seriously – whether it's impacting the susceptible population or not, it's something we can do something about."
Air pollution in the UK has markedly improved in recent decades – largely thanks to changes in fuels used to heat homes and power industry. But greater understanding of how pollutants affect our bodies has led to more detailed monitoring, while the climate crisis has also revealed the urgency with which we must curtail toxic emissions.
Dr Suzanne Bartington, clinical research fellow in environmental health at the University of Birmingham, said: "This is 142 local authorities – a very substantial area – and it does reflect a policy failure in terms of implementation of these legal limits.  
"We know there have been ongoing exceedances for a number of years. We know this issue is affecting those areas of higher socioeconomic deprivation, with poorer housing and air quality very much a part of that."
She said: "It's not surprising really, but we would like to see a more health-based approach, which isn't so focused on compliance, but on health outcomes."
She also warned against the view that changing the type of fuel vehicles run on would solve the problems posed by air pollution.
She said: "Electric vehicles are not a panacea because of non-exhaust emissions from brake and tyre wear, which we know contribute to other pollutants.  
"We're very good at building ourselves into new problems with air quality."
Rosamund Kissi-Debrah, an advocate for clean air for the World Health Organisation and whose daughter Ella's death from asthma became the first to be officially linked to illegal levels of air pollution, said she was "stunned" by the figures.
"A lot of children are living in areas with illegal air pollution and it's affecting their lungs," she told The Independent.
"There are families up and down the country that are being heavily impacted by air pollution, and it shouldn't be that way. It shows that we as a family were not unique."
She called on the government to bring the scrappage of diesel forward, and for further clampdowns on woodburning stoves. "These things can be done immediately," Ms Kissi-Debrah said.
"Can you imagine if our water was that filthy? People would be out marching in the streets."
A spokesperson for the Department for Environment, Food and Rural Affairs said: "Air pollution has reduced significantly since 2010 – emissions of nitrogen oxides have fallen by 33 per cent and are at their lowest level since records began.  
"We are continuing to take urgent action to curb the impact air pollution has on communities across England through the delivery of our £3.8bn plan to clean up transport and tackle NO2 pollution.
"This includes providing £880m in funding and expert support to local authorities to improve air quality, and introduce clean air zones."
Join our commenting forum
Join thought-provoking conversations, follow other Independent readers and see their replies