Air pollution is now a 'health emergency', head of NHS England warns
Poor atmosphere causing hundreds more cases of stroke, asthma and cardiac arrest, scientists say
Jane Dalton
Monday 21 October 2019 05:59 Comments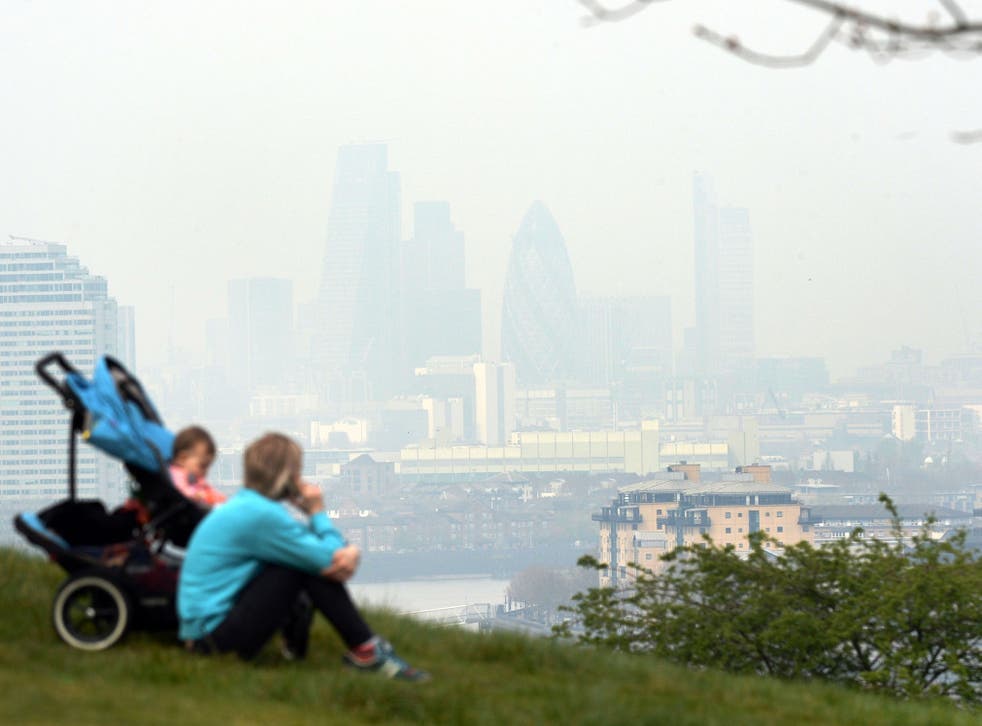 The head of NHS England has warned of a "health emergency" as new figures revealed hundreds more children and adults are suffering cardiac arrests, strokes or severe asthma attacks because of days of high air pollution.
Stunted lung growth in children and links between pollution and lung cancer was also found by researchers who looked at nine cities across England.
Higher air pollution triggered each year an extra 124 cardiac arrests in people not already in hospital, 231 cases of stroke and 193 children and adults being admitted to hospital for asthma, the study found.
The figures, from King's College London and UK100, a group of 94 local government leaders, highlighted the "immediate, short-term and avoidable" impact of high air pollution, the experts said.
Government data has previously shown that pollution contributes to up to 36,000 deaths every year.
Wellness, health and wellbeing tips

Show all 6
In London, days with worse pollution accounted for 87 extra cardiac arrests and 251 people being admitted to hospital for asthma or strokes, the research suggested.
In Birmingham, they were responsible for 12 more cardiac arrests and 53 children or adults being taken to hospital for asthma or a stroke.
Simon Stevens, chief executive of NHS England, said that it was clear that the climate emergency was in fact "also a health emergency" and that it meant the NHS needed to cut its own greenhouse gas emissions.
"Since these avoidable deaths are happening now – not in 2025 or 2050 – together we need to act now," he said. "For the NHS that is going to mean further comprehensive action building on the reduction of our carbon footprint of one-fifth in the past decade.
"So our NHS energy use, supply chain, building adaptations and our transport will all need to change substantially."
Polly Billington, director of UK100, added: "Local government needs additional powers and resources to address this public health crisis, alongside a timetable for when air pollution levels will meet World Health Organisation guidelines."
The research, which will be published in full in November, was released before an international clean air summit hosted by Sadiq Khan, the mayor of London, and UK100 next week.
The summit is expected to push the government to provide new powers and resources to local authorities to clean up the air alongside a timetable for implementing World Health Organisation targets on one of the most dangerous forms of pollution.
Rita Issa, a GP in Tower Hamlets, east London, and member of Doctors for Extinction Rebellion, said the findings were "shocking but not surprising".
"London has never met the legal limits on pollutants, which has been declared unlawful by the Supreme Court," she said. "Air pollution hits our poorest communities the hardest."
Support free-thinking journalism and attend Independent events
Other findings included that higher pollution days caused four more cardiac arrests, and 18 children or adults taken to hospital for asthma or strokes in Bristol, 16 children or adults being taken to hospital for asthma or strokes in Derby and four more cardiac arrests, and 24 children or adults taken to hospital for asthma or strokes in Liverpool.
In Manchester there were six more cardiac arrests and 28 children or adults were taken to hospital for asthma or strokes.
Register for free to continue reading
Registration is a free and easy way to support our truly independent journalism
By registering, you will also enjoy limited access to Premium articles, exclusive newsletters, commenting, and virtual events with our leading journalists
Already have an account? sign in
Join our new commenting forum
Join thought-provoking conversations, follow other Independent readers and see their replies