Air pollution in London's Oxford Street has already breached the legal limit for the whole of 2015 – in just four days
Excessive levels of nitrogen dioxide have already surpassed EU limit for 2015 in both Oxford Street and Putney High Street
James Rush
Tuesday 06 January 2015 15:20 Comments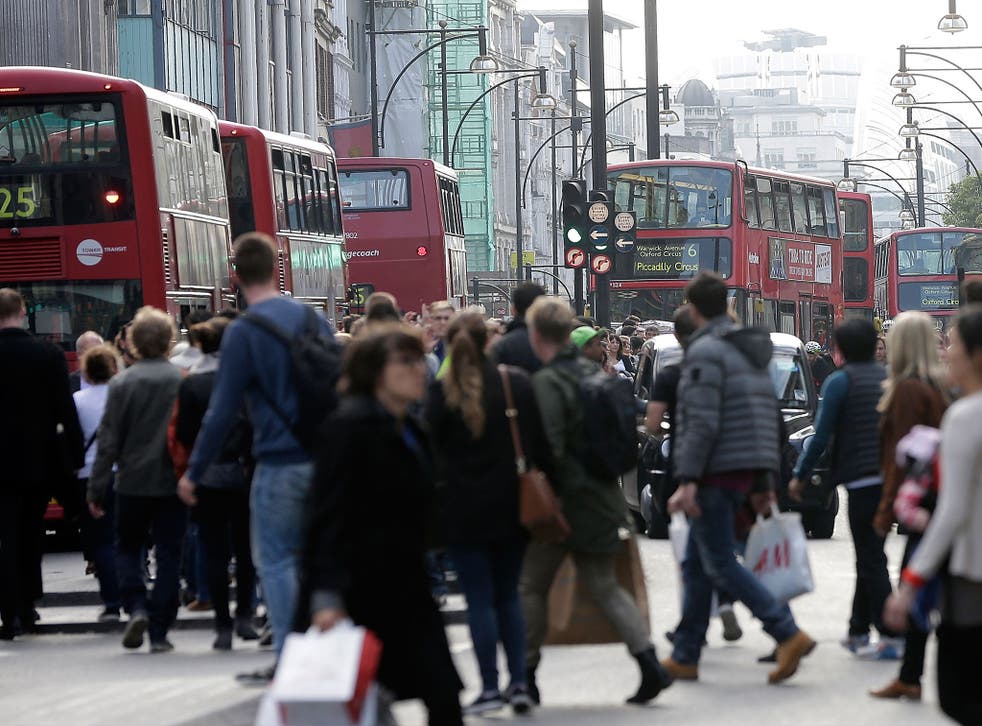 Air pollution in one of London's busiest roads has already exceeded the legal limit for the whole of 2015, in the space of just four days, experts have warned.
Campaign group Clean Air In London has reported that the excessive levels for nitrogen dioxide (NO2) in Oxford Street had passed the limit set by the EU by January 4, the Evening Standard has reported.
Simon Birkett, founder and director of Clean Air In London, told The Independent the EU and UK regulations limited NO2 levels so they must not exceed 200 micrograms per cubic metre for more than 18 hours in an entire year.
According to statistics supplied by Clean Air In London, in 2014 Oxford Street clocked up 1,361 hours where the NO2 levels were exceeded. Putney High Street meanwhile saw a total of 999 hours where the levels were exceeded.
In pictures: High air pollution levels across the UK

Show all 12
The road with the highest number of hours where NO2 levels were exceeded in 2014 however was Brixton Road, with 1,732 hours.
Mr Birkett said: "The Mayor has taken a succession of backward steps on his proposed Ultra Low Emission Zone (ULEZ) since announcing it two years ago. The gap between what the Mayor says and what he needs to do and actually does has never been wider.
"Meanwhile, concerns about air pollution, particularly NO2 and diesel exhaust, have risen exponentially. Leading scientists say that many roads in central London will tend to have the highest NO2 concentrations in the world."
Mr Birkett has called for a ban on diesel from the worst affected areas by 2020.
He said: "The Mayor seems to have a love affair with diesel that must end."
City Hall however has insisted the Mayor "is leading the most ambitious and comprehensive package of measures in the world to improve London's air quality, an urgent challenge which affects the health and well-being of all Londoners".
A spokesperson for the Mayor of London said: "At the heart of his plans is the world's first Ultra Low Emission Zone in central London from 2020, and already, progress is being made. The oldest and most polluting vehicles have been taken off the streets, and around Oxford Street alone, the Mayor's measures have reduced emissions by a third in two years.
"Unlike many cities, London has met EU rules on particulate matter. The number of Londoners living in areas above NO2 limits has halved since 2008. Under this Mayoralty, emissions of NOx (nitrogen oxides) are down by 20 per cent and PM10 by 15 per cent. Furthermore, the Mayor has set out how, with government and EU support, London can meet targets for nitrogen dioxide (NO2) emissions by 2020, ten years ahead of government predictions."
In November, the Government's scientific advisors were reported to be set to warn that air pollution, largely from diesel vehicle road traffic, may be to blame for as many as 60,000 early deaths in Britain each year.
The Sunday Times reported that the Committee on the Medical Effects of Air Pollutants, an official advisory body, were expected to publish a report this year showing that the premature death toll caused by road traffic pollution is around twice as high as originally thought.
Register for free to continue reading
Registration is a free and easy way to support our truly independent journalism
By registering, you will also enjoy limited access to Premium articles, exclusive newsletters, commenting, and virtual events with our leading journalists
Already have an account? sign in
Join our new commenting forum
Join thought-provoking conversations, follow other Independent readers and see their replies