Health of tourists and locals at risk on Greek island due to toxic emissions from cruise ships, say environmentalists
On Santorini, concentrations of dangerous particles were up to 100 times higher in ports than surrounding areas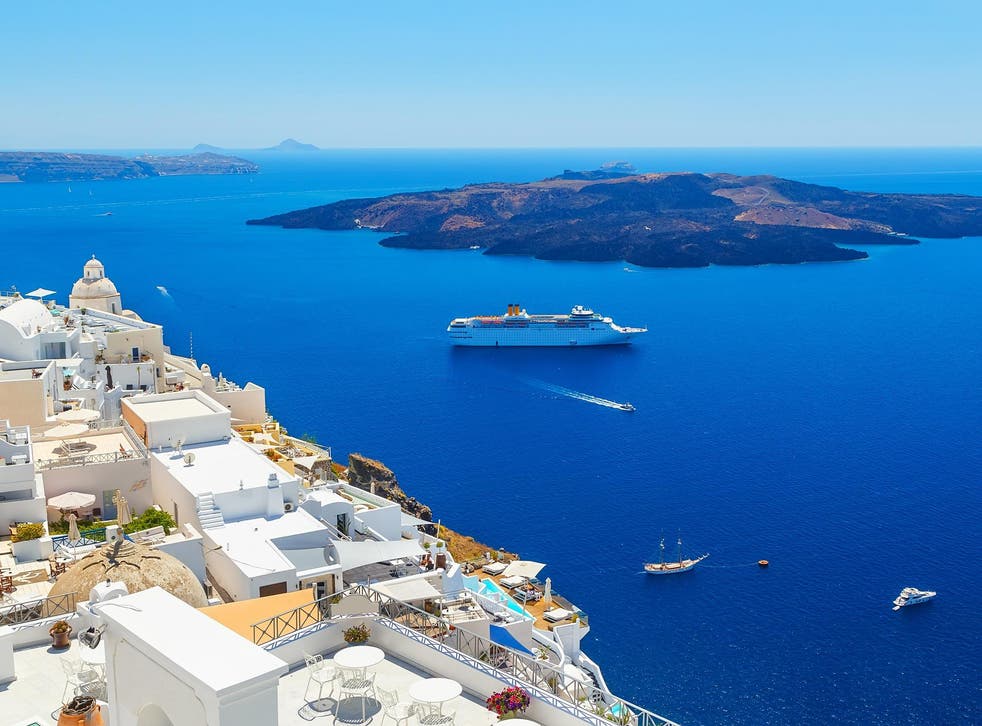 Huge spikes in toxic air pollution on an idyllic Greek island have been blamed on the cruise ships entering its waters.
Tests carried out in the popular tourist destination of Santorini found that concentrations of dangerous ultrafine particles were up to 100 times higher near the ships than in surrounding areas.
This pollution has been linked to heart attacks and strokes, and experts say it is particularly dangerous for elderly people with pre-existing health problems.
The research was carried out by the Hellenic Ornithological Society (HOS) with air pollution experts from Germany's Nature and Biodiversity Union (Nabu).
Ships traversing the Mediterranean can use heavy fuel oil – dubbed the "dirtiest of all fuels" – without exhaust cleaning systems as they are subject to weaker standards than those governing road vehicles.
This results in ultrafine particles, carcinogenic compounds and soot being emitted into the atmosphere, which can pose a threat to those both on the boats and near the ports when they dock.
"We found concentrations of over 340 particles per cubic centimetre," said Dr Axel Friedrich, who carried out the tests earlier this week.
"In a very busy street, you will find 20 to 30. The load of air pollutants that the ships cause was enormous."
'What are you picking on boats for?': Londoners react to news that Thames traffic is exempt from low-emissions restrictions
Nabu is calling on the shipping industry to switch to safer, low sulphur fuels and install systems that remove harmful pollutants from exhausts.
They also said Greece should support the designation of the Mediterranean as a sulphur emission control area. This status has already been given to the North and Baltic seas, and has resulted in a sharp drop in sulphur pollutants.
European Commission figures estimated that 50,000 people die prematurely every year in Europe due to air pollution from shipping.
Philippa Hobson, senior cardiac nurse at the British Heart Foundation, urged tourists travelling on cruise ships to be cautious, especially if they already suffer from heart and circulatory diseases.
"Our research shows that even short-term exposure to air pollution – just one or two hours – can have a lasting, negative impact on the heart and circulation," she said.
"If you are worried about your health and are travelling on a cruise ship, it is best to try and minimise your exposure to air pollution by avoiding the areas near or downwind of the engine funnels – try to seek out the sea breeze on the decks."
Sonke Diesener transport policy officer at Nabu stated: "People living on the Greek islands as well as tourists visiting them are suffering from shipping emissions.
Thick smog engulfs New Delhi as air pollution peaks in the city

Show all 10
"We have seen these high concentrations of air pollutants in many different ports cities in the Mediterranean region and all over the world. However, this is no excuse for ship operators to go on with their reckless pollution."
Nabu has been measuring pollutant levels in port cities around Europe, and recently called for coastal communities to ban high-polluting ships until their owners "take responsibility".
In response to a report on cruise ship pollution released by the German environmental watchdog in August, the Cruise Lines International Association said their rankings used a "non-scientific approach".
They also said that the cruise ship industry shared Nabu's objective of "lowering emissions and protecting the environment".
Konstantina Ntemiri, environmental policy officer at HOS, called for "immediate political action" to protect public health and the environment on Santorini.
"Companies involved in the management and operation of cruise ships in general make a lot of money from cruise tourism, as it is considered to be the segment with the highest growth in the tourist industry," she said.
Island officials have imposed a limit of 8,000 ship passengers per day due to the enormous social, economic and environmental pressures placed on Santorini by the hundreds of cruise ships visiting each year.
Register for free to continue reading
Registration is a free and easy way to support our truly independent journalism
By registering, you will also enjoy limited access to Premium articles, exclusive newsletters, commenting, and virtual events with our leading journalists
Already have an account? sign in
Register for free to continue reading
Registration is a free and easy way to support our truly independent journalism
By registering, you will also enjoy limited access to Premium articles, exclusive newsletters, commenting, and virtual events with our leading journalists
Already have an account? sign in
Join our new commenting forum
Join thought-provoking conversations, follow other Independent readers and see their replies