Air pollution: Chemicals in soap and paint contribute as many toxic pollutants as car emissions
Consumer products also emit compounds known to form lung-damaging substances in the atmosphere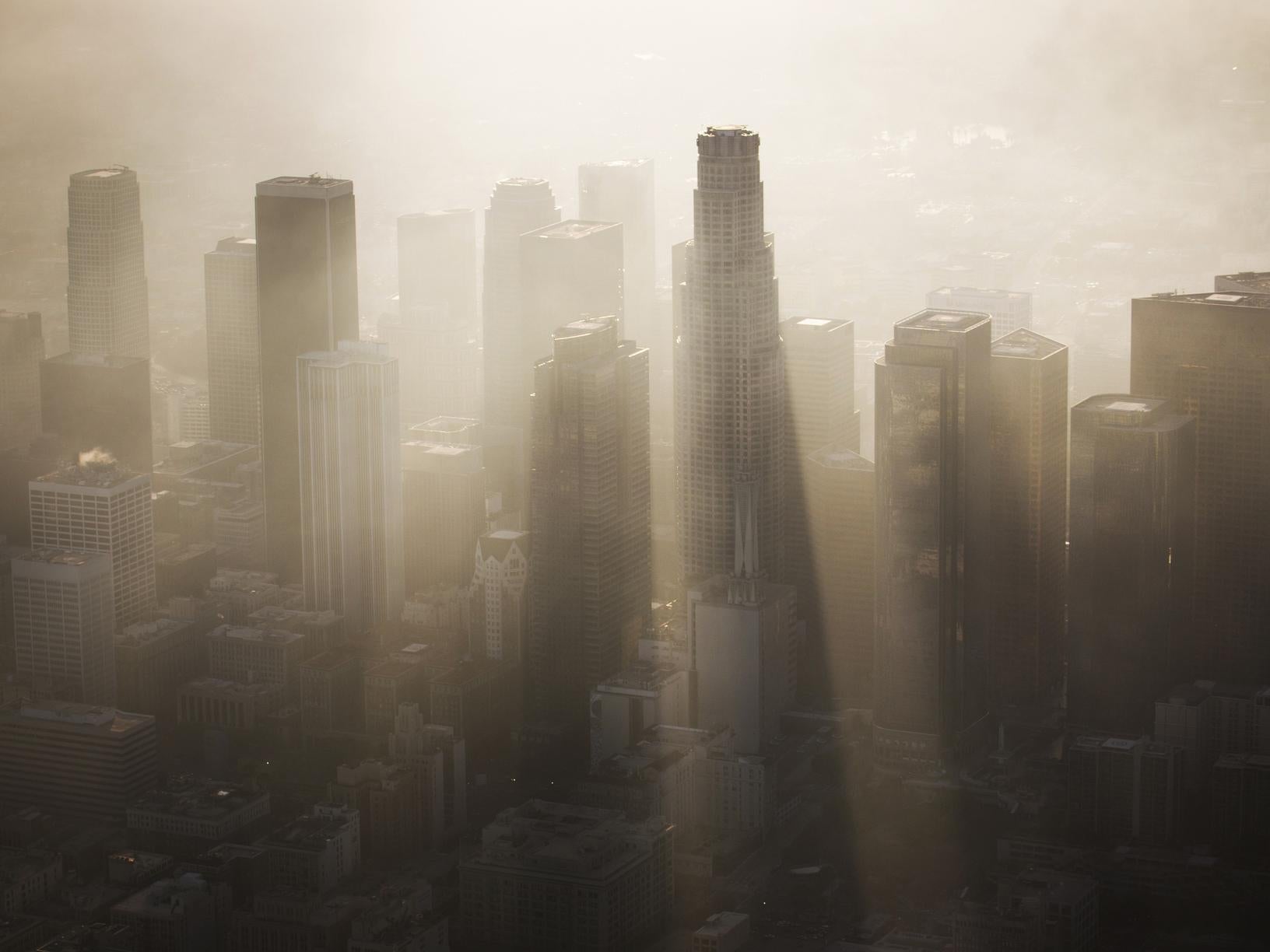 Chemicals in everyday consumer products including soaps and paints have been revealed as a major source of air pollution comparable with emissions from the transport sector.
Research suggests products like soap and paints emit significant quantities of petroleum-based chemicals, rivalling cars and other vehicles as the top source of urban air pollution.
Air pollution has been ranked as the fifth highest health risk in the world and is estimated to kill 40,000 people in the UK every year.
Governments around the world are under increasing pressure to clean up their air and the UK has faced legal threats both at home and from the EU over its dangerous levels of pollutants, particularly nitrogen dioxide.
The study comes on the day the Department for Environment, Food and Rural Affairs (Defra) released its latest emissions figures, which showed an overall decline in air pollution. This has been attributed largely to tighter vehicle regulations.
However, the new research suggests a need to diversify regulatory efforts beyond road traffic in order to make a dent in some of the toxic chemicals infiltrating urban environments.
"As transportation gets cleaner, those other sources become more and more important," said Dr Brian McDonald, a researcher in the Chemical Sciences Division at the National Oceanic and Atmospheric Administration (NOAA), which led the study. The NOAA is a scientific agency within the US government that focuses on the oceans and atmosphere.
"The stuff we use in our everyday lives can impact air pollution."
The study, published in the journal Science, looked specifically at the contribution these substances make to air pollution by releasing volatile organic compounds (VOCs).
VOCs are chemicals that, upon entering the air, can react to produce both fine particulate matter and ozone – two substances that are regulated widely due to their severe effects on lung health.
These compounds are found in a variety of places, including commonly used household and industrial products such as pesticides, printing inks, adhesives, cleaning agents and personal care products, all of which contain petroleum.
Dr McDonald and his colleagues concluded these products were responsible for half of fossil fuel VOC emissions in industrialised cities. This is particularly surprising considering only around 5 per cent of raw oil is refined into chemicals for consumer products, while 95 per cent ends up in fuels.
Thick smog engulfs New Delhi as air pollution peaks in the city
Show all 10
The scientists found that, in the US, the amount of VOCs emitted by consumer and industrial products is up to three times greater than estimated by current air pollution inventories. These inventories also overestimate the contribution made by road vehicles.
While it seems unusual that something as innocuous as a perfume can have an impact on air pollution comparable with road traffic, the researchers said this can partly be explained by the role some of these consumer products are designed for.
"Gasoline is stored in closed, hopefully airtight, containers and the VOCs in gasoline are burned for energy," said NOAA atmospheric scientist Dr Jessica Gilman, a co-author of the new paper.
"But volatile chemical products used in common solvents and personal care products are literally designed to evaporate. You wear perfume or use scented products so that you or your neighbour can enjoy the aroma. You don't do this with gasoline."
Furthermore, while the UK and many other countries have been described as having "life-threatening" levels of air pollution and vehicles have often taken the blame, regulators and car manufacturers have actually made significant pollution-limiting interventions in recent years.
This is even true in Los Angeles, a heavily polluted city with famously high levels of traffic.
Having sifted through chemical production statistics from industries and regulatory agencies, the scientists used LA as a case study in their research. They found the city had reached the "transition point" at which consumer products begin to take over cars as the main polluters.
Analysis of LA air found that, perhaps predictably, people were exposed to particularly high levels of VOCs from everyday products indoors – around 10 times the amount found outdoors.
These indoor concentrations then act as sources for outdoor air pollution as the pollutants seep into the urban environment.
The research was welcomed by scientists who commented on the value of highlighting a largely overlooked source of air pollution. However, they noted the US team's findings may not necessarily be applicable everywhere.
"This research is a useful reminder that discussions of air pollution need to consider all sources of pollutants and that measures targeting cars only address part of the problem," said Professor Anthony Frew, a respiratory medicine specialist at Brighton and Sussex Medical School.
Dr Jenifer Baxter, an engineer at the Institution of Mechanical Engineers, said: "This research from the US is interesting and would require further validation in order to understand how it may translate to other parts of the world.
Sadiq Khan calls air pollution in London a killer
"In the UK, VOC emissions from products used in our built environment, such as internal and external paints, are covered by EU Directives meaning that the legislative framework is very different to the US."
Restrictions on tailpipe emissions in the EU have led to a decline in VOCs from cars since the turn of the century and the National Emissions Ceilings Directive has set targets to reduce them further in member states. In the UK they have fallen by 33 per cent since 2005.
A Defra spokesperson said: "Air pollution has improved significantly since 2010, but we recognise there is more to do and that's why we have invested £3.5bn to improve air quality and reduce harmful emissions.
"Emissions from non-methane VOCs in consumer products will be considered as part of our Clean Air Strategy which will be published for consultation later this year."
According to the scientists, this work raises highlights the need to investigate more environmentally friendly ways of producing certain household products.
Despite the surprising findings concerning the impact of these substances in relation to vehicle emissions, they also warned this work should not distract from the important business of combating car pollution.
"This work doesn't mean that traffic is unimportant," said Professor Frew.
"Traffic remains an important source of pollution and we still need to reduce the number of vehicle-miles driven per year by personal and commercial vehicles."
Join our commenting forum
Join thought-provoking conversations, follow other Independent readers and see their replies