Transport becomes most polluting UK sector as greenhouse gas emissions drop overall
'It is alarming that the Government is tearing up our communities and our precious environment for road building projects that will fail on their own terms, by actually increasing congestion and the number of cars on our roads, and continue driving climate-destructive emissions – at a huge cost to taxpayers'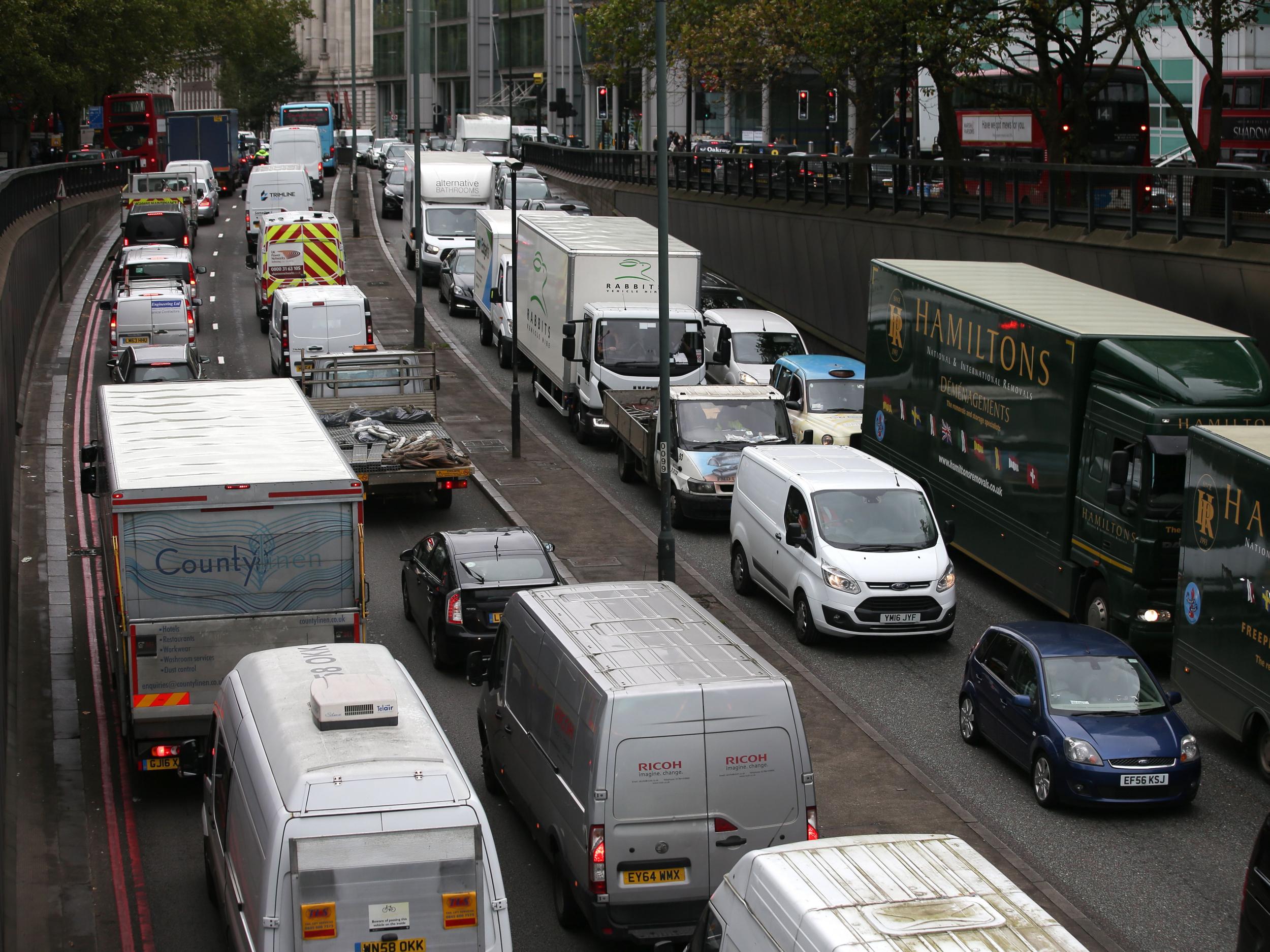 The majority of Britain's greenhouse gas emissions now come from transport, according to new government figures.
Emissions fell by 5 per cent overall between 2015 and 2016, largely due to a decrease in the use of coal for electricity generation.
The figures suggest the UK is on track to meet the second carbon budget, which restricts the amount of greenhouse gas the UK can legally emit in a five-year period that ends in 2017.
However, critics have accused the transport sector of "failing to play its part" in curbing emissions after they rose by 2 per cent, according to 2016 figures from the Department for Business, Energy and Industrial Strategy (BEIS) – the most recent year for which they are available.
Transport now accounts for 26 per cent of the UK's greenhouse gas emissions, compared to 25 per cent coming from energy supplies.
The main sources were petrol and diesel cars.
Since 1990, greenhouse gas emissions have fallen 41 per cent in the UK, while carbon dioxide – the main greenhouse gas – is down 36 per cent.
While emissions from energy supplies are down 57 per cent from that point, transport emissions are only down 2 per cent over the same period, making it the worst performing sector.
Friends of the Earth climate campaigner Simon Bullock said: "Despite this welcome fall in climate-wrecking pollution, the transport sector is still failing to play its part in slashing emissions. Transport Secretary Chris Grayling must play catch-up fast – his department can't continue to crawl along in the slow lane when it comes to tackling climate change."
Green MEP Keith Taylor, a member of the European Parliament's Transport and Environment Committees, has written to Mr Grayling to express frustration over what he called "wrong-headed" priorities, which include cutting bus services, de-prioritising walking and cycling infrastructure and scrapping plans for rail electrification.
"Britain cannot afford to continue looking backwards when it comes to transport; for too long we have been driven by an agenda that has no regard for the urgent air pollution crisis nor the climate breakdown," he said.
Britain 'to ban all petrol and diesel vehicle sales by 2040'
He added: "It is alarming that the Government is tearing up our communities and our precious environment for road building projects that will fail on their own terms, by actually increasing congestion and the number of cars on our roads, and continue driving climate-destructive emissions – at a huge cost to taxpayers."
The Government has announced ambitions to end sales of new conventional petrol and diesel cars and vans by 2040 as part of efforts to tackle climate change and air pollution.
However, the Committee on Climate Change (CCC), which advises the Government on meeting its long-term legally binding climate targets, has called for "more stretching targets" to encourage uptake of ultra-low emission – and primarily electric – vehicles.
The committee said transport emissions must fall by 44 per cent by 2030 to keep the UK on track to meet its goals.
In order to achieve this, it has called for 60 per cent of new cars and vans to be ultra-low emission vehicles by 2030, as well as more action to make conventional vehicles cleaner.
10 photographs to show to anyone who doesn't believe in climate change
Show all 10
It has also urged the Government to encourage people to walk, cycle and use public transport more.
Speaking after last month's analysis of the Government's clean growth strategy, the CCC's chair, Lord Deben, said: "The Government's policies and proposals will need to be firmed up as a matter of urgency – and supplemented with additional measures – if the UK is to deliver on its legal commitments and secure its position as an international climate change leader."
Despite the projected success in meeting upcoming carbon budgets, the CCC warned that for the fourth and fifth carbon budgets that run until 2032, there is a real risk the UK will miss its targets unless it follows stricter policies on transport in particular.
Environmental campaigners have stated the 2040 target for phasing out high polluting vehicles is not ambitious enough.
Upon the announcement of the plan in July last year, Gareth Redmond-King, head of climate and energy policy at the Worldwide Fund for Nature (WWF) told The Independent that the Government was "setting itself a target so far in the future that it will be delivered even if the Government did nothing".
"The ban is so far away and so unambitious… it's not sending a big signal to the market and to the car manufacturers," he said.
A spokesperson from BEIS said: "Today's statistics emphasise the UK's leadership in tackling climate change. Since 1990, we have cut emissions by more than 40 per cent while growing our economy by over two-thirds – the best performance of any G7 nation.
"We want to build on this success, which is why clean growth is at the heart of our ambitious Industrial Strategy, ensuring the UK is well placed to take advantage of the economic opportunities presented by the switch to a low carbon economy."
Additional reporting by PA
Join our commenting forum
Join thought-provoking conversations, follow other Independent readers and see their replies