Air pollution, our new public health scandal, and what the Government could do to tackle it
Every year in the UK, we collectively lose 340, 000 years of our lives to air pollution. Can we afford a half-hearted approach to tackling it?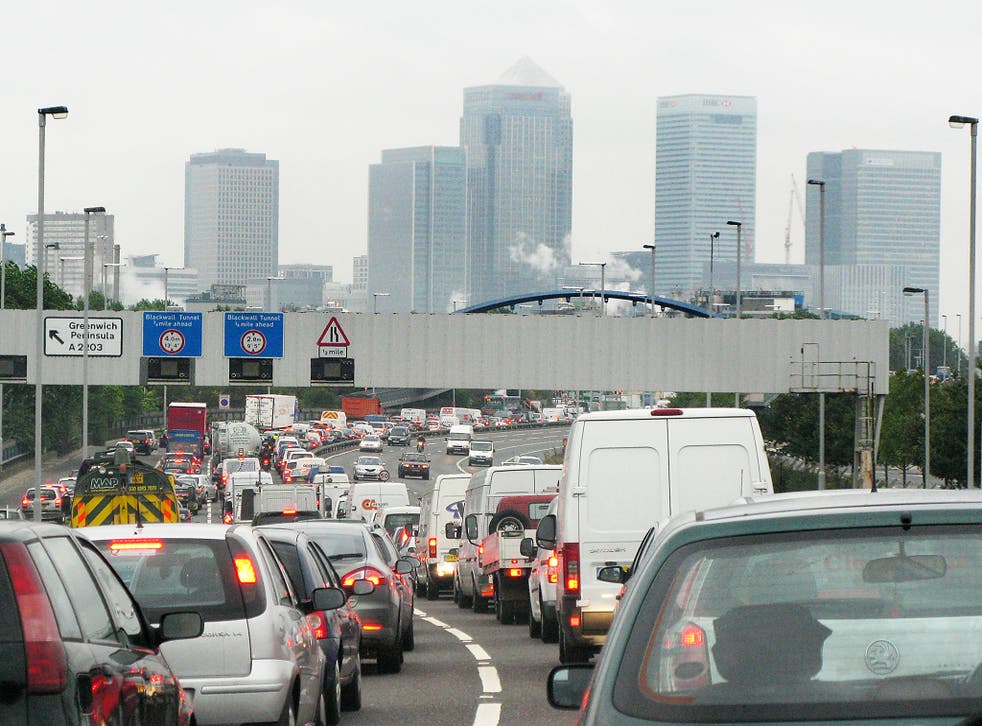 Air pollution's impact on people's lives is huge: a recent study concluded that its impact on wellbeing is similar to the loss of a partner. It has also been linked to a range of health impacts, from heart problems to lung conditions, including smaller lung sizes in children, and to premature births – as well as, tentatively, to dementia in the elderly and mental illness in children.
Levels of pollution in the air are dangerously high in the UK, as they have been for years. Almost half of the UK's local authorities breach legal limits for air quality, whilst Marylebone Road in London has the highest levels of nitrogen dioxide pollution in Europe. The problem is particularly bad in cities, where congestion, construction and heavily-built up areas allow pollutants to build up and up.
Theresa May last week acknowledged air pollution as a major health issue, saying in a letter to physicians that it was the fourth biggest public health risk, after cancer, obesity and heart disease. But her Government has twice lost court cases over illegally high levels of air pollution and been ordered by top judges to draw up stronger air quality plans: first in April 2015 when she was home secretary, and most recently last November.
However, even the Prime Minister's acceptance of its effect on public health was not as bold as it seemed. According to Frank Kelly, professor of environmental health and director of the Environmental Research Group at King's College, it is second only to smoking in its health impacts; others say it is the biggest environmental risk factor for health. And despite the Prime Minister's recognition of the scale of the problem, the Government's proposals for tackling it so far appear cautious, and insufficient for tackling the scale of the problem.
Defra has yet to release an updated plan for bringing pollution levels below legal levels: the High Court gave it a July deadline for finalised plans, with the deadline for proposals to be published for consultation on 24 April only a week away. New developments such as the third runway at Heathrow and extra road building across the country may add to the problem. And last week May said she would not penalise drivers of old diesel cars – some of the worst polluters on the street.
The clean air zones announced by the Government last year for the five most polluted cities – London, Birmingham, Leeds, Nottingham and Southampton – will encourage more efficient buses, taxi and lorries. However, they won't affect private cars, one of the biggest sources of air pollution: in London they are responsible for a third of emissions of the harmful particulate PM2.5. Last February the leaders of these cities wrote to the prime minister asking for urgent action, including greater regulatory powers for councils, and called the £3m in air quality funding "woefully inadequate".
In London, the Mayor Sadiq Khan was elected on a platform of tackling the issue and has already brought forward plans which will charge more polluting vehicles and widen the current congestion charge area in the centre where these charges will apply.
But Khan has also approved the building of a new £1bn road tunnel, Silvertown, which will bring more fumes to the already polluted east end of the city. Compare this investment to the £875m committed to improve air quality – much of it to upgrade taxis and buses to zero emission and hybrid models – and £770m for cyclists.
Campaigners are taking a proposal for a terminal for luxury cruise liners, approved by Greenwich Council, to the European Court: they say ships will emit harmful NOx gases equivalent to 700 idling HGVs as they run diesel generators to power their 'hoteling' facilities throughout the summer months.
Air quality managers for London's City Hall forecast that even with the city's existing plans for tackling the issue, air pollution will still be above legal limits in 2020.
The Government has taken some steps to encourage electric cars, with a £40m fund to help Bristol, Nottingham, Milton Keynes and London encourage their use. But these cars are no panacea: electric cars may be a route to reducing emissions, but they still produce harmful particulate air pollution, tiny particles small enough to get into the lungs and blood stream, from the wear of tyres and brakes and by disturbing existing dust on roads.
Meanwhile the Government is backing a third runway at Heathrow, which is expected to make it harder to achieve air quality improvements nearby. And in Chancellor Philip Hammond's autumn statement he announced an extra £1bn for road-building – on top of a £15bn programme announced in 2014 – which is likely to increase pollution caused by cars.
Nottingham has taken some of the boldest steps to improve air quality, bringing in a workplace car parking levy which taxes employers that provide parking to employees. It came thanks to powers all local authorities have, but which no others have used yet. This has earned the city more than £9m a year, which it has ploughed back into public transport including an extension of its tram network. As a result Nottingham is one of the only major cities where car use has decreased – when it is increasing nationally – and the city has also seen a remarkable 33 per cent reduction in carbon emissions since 2005.
Tackling car usage is crucial for reducing air pollution, and in other countries even more innovative schemes are under way that May's Government could look to as it works out how to bring air pollution levels within legal limits. In Paris last December, there was a spike in air pollution in the city centre, so officials made public transport free for a period and barred half of the city's cars from the road (odd and even numbered registration plates were each temporarily banned in turn, to make it fair). By contrast, in London drivers were simply urged to turn off their engines when not moving to cut pollution.
And Paris isn't alone in its efforts: Madrid held a test run over Christmas of plans for pedestrianising large parts of its city centre, and Oslo plans to ban all private cars in its city centre by 2020. Various countries are mulling bans on the sale of cars powered by fossil fuels: Norway's coalition and the Netherland's parliament have both discussed a ban for 2025, and Germany's federal council last year passed a resolution calling for an EU-wide ban by 2030 – a move supported by Sweden's environment minister.
Barcelona has started introducing 'super blocks' in the city, where no through traffic will be allowed and priority will be given to local residents, pedestrians, and cyclists. Former junctions will be turned into public space – one has already been turned into a playground. One super block already introduced has reduced traffic inside it by 40 per cent – a similar scheme in Walthamstow, London, also saw significant reductions in car usage. And Estonia's capital, Tallinn, went so far as to make public transport free for its citizens in 2013.
Every year in the UK, we collectively lose 340, 000 years of our lives to air pollution. Can we afford a half-hearted approach to tackling it?
Join our new commenting forum
Join thought-provoking conversations, follow other Independent readers and see their replies