Airbus reveals plan for first-ever 'zero emission commercial planes', potentially by 2035
The company says that the ZEROe concepts are a 'historic moment' for the aviation sector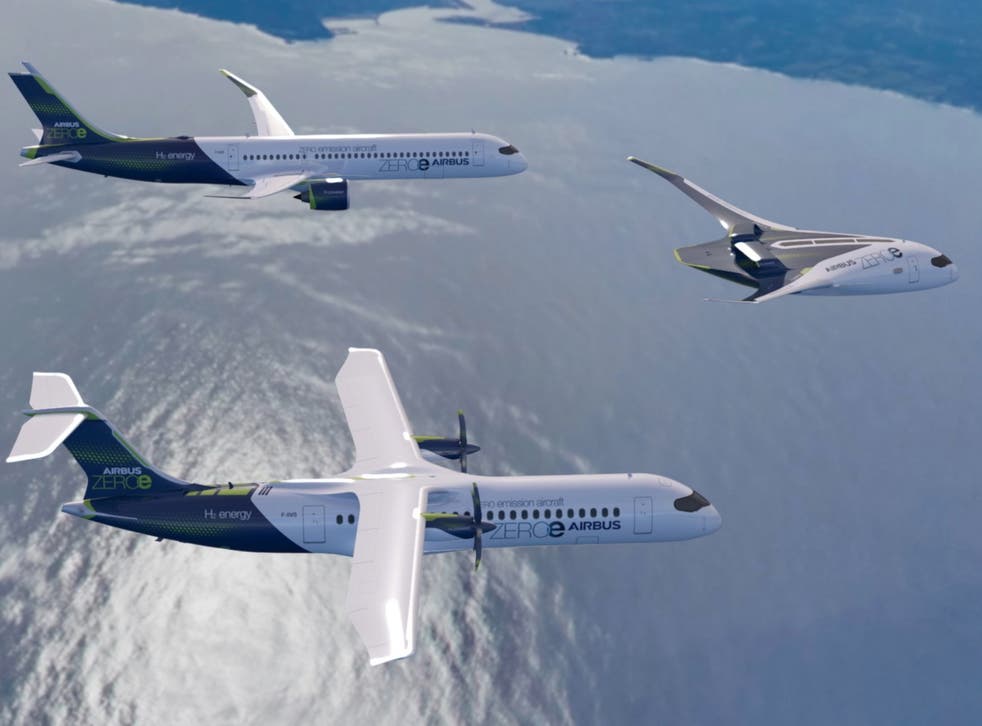 Leer en Español
Aerospace company Airbus announced on Monday that its first zero-emission, hydrogen-powered commercial flight may be ready for take-off by 2035.
It was dubbed a "historic moment" for the commercial aviation sector by the company's CEO Guillaume Faury.
Called ZEROe, there are three design concepts. The first is a lot like a typical commercial aircraft you would see today, except with longer, more flexible wings.
The second resembles a turboprop plane with six-bladed propellers. The third is the most futuristic, with a "blended-wing body". But the real game-changer is the fuel source: hydrogen propulsion.
In a statement, Glenn Llewellyn, Airbus VP, Zero-Emission Aircraft, said: "As recently as five years ago, hydrogen propulsion wasn't even on our radar as a viable emission-reduction technology pathway.
"But convincing data from other transport industries quickly changed all that. Today, we're excited by the incredible potential hydrogen offers aviation in terms of disruptive emissions reduction."
Hydrogen powered airships in the early 20th century, until the Hindenburg disaster of 1937 in New Jersey. Some 35 people were killed and dozens more severely burned when the airship burst into flames as it tried to dock.
Airbus estimates hydrogen has the potential to reduce aviation's carbon emissions by up to 50 per cent.
The company said the turbofan design had the potential to transport up to 200 passengers more than 2,000 miles. The turboprop plane could carry half as many, half the distance.
It is not the only transport sector that could be transformed by hydrogen power in the race towards net-zero emissions by mid-century.
Last year, London announced that it would become the first city in the world to have double-decker, hydrogen-powered buses.
Transport for London (TfL) unveiled the £500,000 hydrogen model which only emits water as exhaust in May 2019. Twenty of the new buses have been ordered by TfL.
Although hydrogen-fuelled single-decker buses have been running in London and cities elsewhere for years, TfL said the new double-deckers would be a world first.
Register for free to continue reading
Registration is a free and easy way to support our truly independent journalism
By registering, you will also enjoy limited access to Premium articles, exclusive newsletters, commenting, and virtual events with our leading journalists
Already have an account? sign in
Register for free to continue reading
Registration is a free and easy way to support our truly independent journalism
By registering, you will also enjoy limited access to Premium articles, exclusive newsletters, commenting, and virtual events with our leading journalists
Already have an account? sign in
Join our new commenting forum
Join thought-provoking conversations, follow other Independent readers and see their replies