Alaska icebreakers: US announces plans for new $1bn fleet capable of operating year-round in attempt to capitalise on region's resources
America has fallen well behind rival nations in exploiting new openings for trade, tourism and research in the Arctic
Tim Walker
Tuesday 01 September 2015 18:46 Comments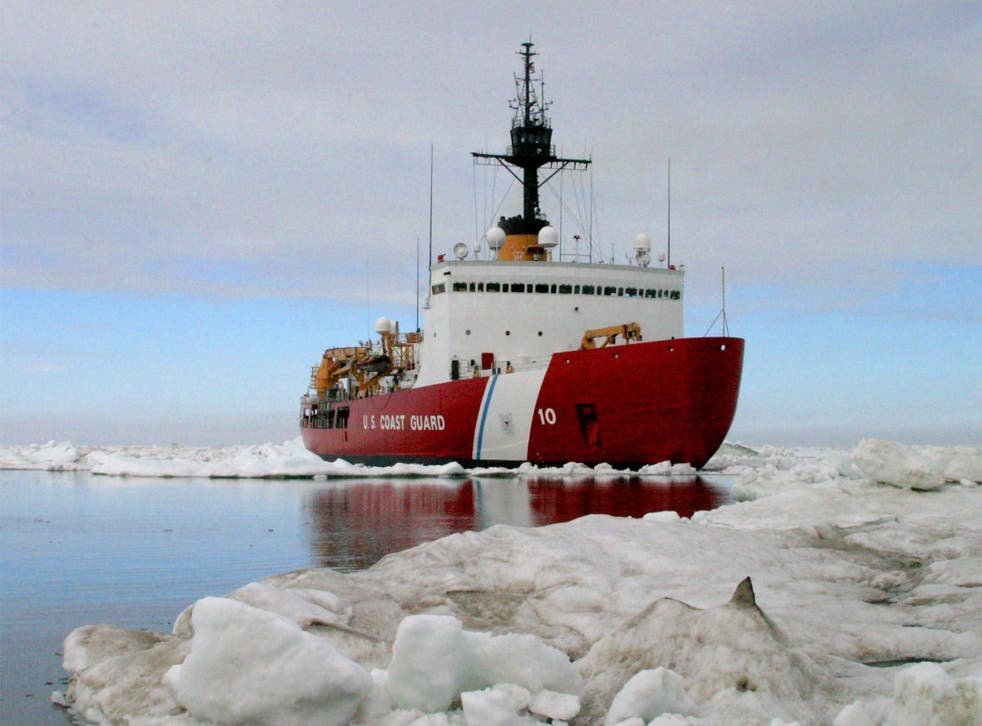 President Barack Obama has announced a plan to accelerate the acquisition and construction of new Coast Guard icebreaker vessels capable of operating in the Arctic year-round, as the US attempts to catch up with rival nations' resources in the region. The rapid melting of polar sea ice has led to an increase in maritime traffic and created new openings for trade, tourism and research. But the US has fallen well behind Russia in the race to capitalise on them.
Polar icebreakers are vessels built to cut through open water ice, and will be crucial to expanding exploration and shipping in the Arctic in the coming years. The US Coast Guard had a total of seven icebreakers at the end of the Second World War, but since then its fleet has diminished steadily to just two fully functional icebreakers, only one of which is considered a "heavy duty" vessel, according to a statement released by the White House this week.
Russia, meanwhile, has 40 such ships, with plans for at least 11 more. China recently refurbished one icebreaker and is currently constructing another. Mr Obama proposed bringing forward the planned acquisition of one new US icebreaker by two years from 2022 to 2020, and urged the US Congress to release "sufficient resources" to build further ships in quick succession. The vessels cost an estimated $1bn (£650m) each.
Mr Obama unveiled the proposals during a three-day visit to Alaska to highlight the issue of climate change, in a region that is already more than familiar with its effects. Some of the state's small communities are being forced to relocate due to rising sea levels and coastal erosion, while Alaska has this year suffered one of its worst wildfire seasons on record.
"Climate change is no longer some far-off problem. It is happening here. It is happening now," Mr Obama told a conference of senior ministers from Arctic nations in Anchorage. The President urged other countries to act quickly to combat climate change, or else "condemn our children to a world they no longer have the capacity to repair".
Mr Obama intends to hike to Alaska's vast Exit Glacier which, due to warming temperatures, has been receding at a rate of more than 40ft each year, according to the US National Park Service. During that trek, the President also intended to participate in an episode of the NBC show Running Wild With Bear Grylls, in which the British adventurer and television personality would teach him a range of basic wilderness survival skills.
Mr Obama also intends to visit the coastal town of Seward, named after Secretary of State William Seward, who negotiated the purchase of Alaska in 1867 from Russia. Increased marine traffic in the Arctic may be a by-product of climate change, but it will also bring its own negative impacts. "Arctic ecosystems are among the most pristine and understudied in the world, meaning increased commercial activity comes with significant risks to the environment," said the White House statement. "The growth of human activity in the Arctic region will require highly engaged stewardship to maintain the open seas necessary for global commerce and scientific research, allow for search and rescue activities, and provide for regional peace and stability."
Mr Obama also announced a mapping project of the Bering, Chukchi and Beaufort seas, which surround Alaska, by the National Oceanic and Atmospheric Administration (NOAA) and the Coast Guard. Existing maps and charts of the three seas are outdated. The White House also said NOAA would introduce new research equipment to the region to monitor the effects of climate change, such as rising sea levels and diminishing sea-ice.
The White House has recently come under fire for its decision to allow Royal Dutch Shell to begin drilling for oil in the Chukchi Sea, which climate campaigners say undermines the President's own professed climate agenda.
In pictures: Changing climate around the world

Show all 15
Register for free to continue reading
Registration is a free and easy way to support our truly independent journalism
By registering, you will also enjoy limited access to Premium articles, exclusive newsletters, commenting, and virtual events with our leading journalists
Already have an account? sign in
Join our new commenting forum
Join thought-provoking conversations, follow other Independent readers and see their replies