Amazon rainforest: More than half of tree species in region 'threatened with extinction'
Scientific study estimates deforestation and forest fires are threatening 8,700 of the Amazon's 15,000 species
Steve Connor
Science Editor
Friday 20 November 2015 21:27 Comments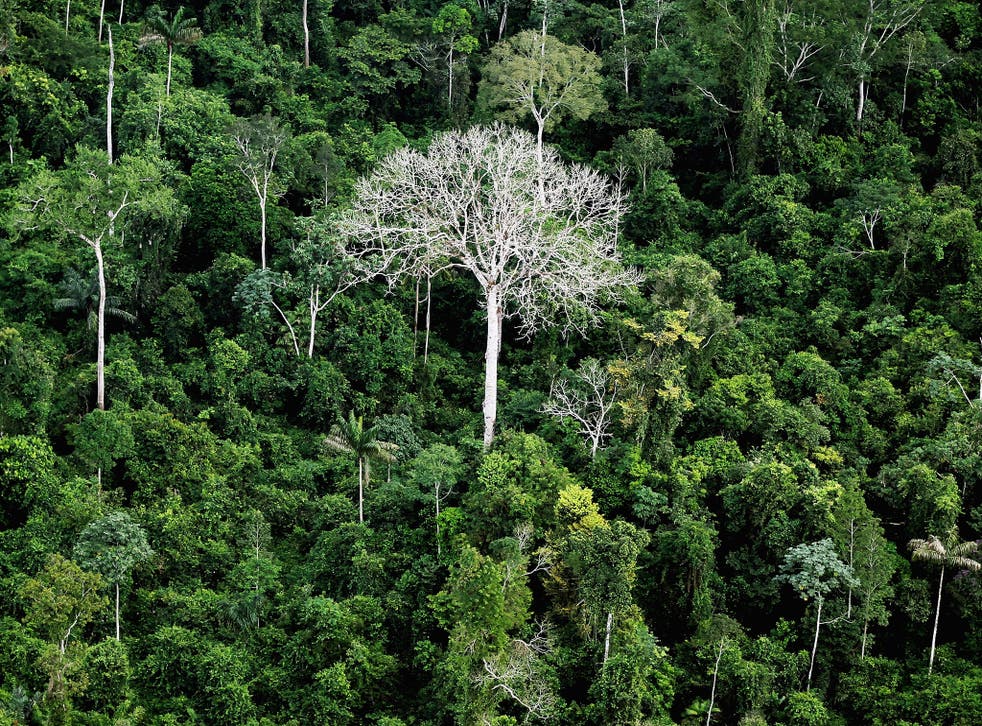 More than half of the tree species in the Amazon rainforest may be globally threatened with extinction because of environmental threats such as deforestation and forest fires, a large international study has found.
Scientists estimate that up to 8,700 of the 15,000 tree species in the Amazon are under threat as a result of current and projected deforestation across the region.
Other tropical rainforests elsewhere in the world are suffering similar environmental degradation which means that as many as 57 per cent of the more than 40,000 tropical tree species on earth could now be threatened with extinction under the Red List criteria of the International Union for Conservation of Nature, the researchers have concluded.
"Forests in the Amazon have been declining since the 1950s, but there was a poor understanding of how this has affected populations of individual species. Our research estimates that more than half of all species may face extinction," said Professor Carlos Peres of the University of East Anglia in Norwich, who was part of the study published in the journal Science Advances.
"Fortunately protected areas and indigenous territories now cover over half of the Amazon basin, and likely contain sizable populations of most threatened species," Professor Peres said.
"But parks and reserves will only prevent extinction of threatened species if they suffer no further degradation. Amazonian forests and reserves still face a barrage of threats – from dam construction and mining to wildfires and droughts intensified by global warming," he said.
Lead researcher Nigel Pitman of the Field Museum in Chicago said: "We aren't saying that the situation in the Amazon has suddenly gotten worse for tree species. We're just offering a new estimate of how tree species have been affected by historical deforestation, and how they'll be affected by forest loss in the future."
Register for free to continue reading
Registration is a free and easy way to support our truly independent journalism
By registering, you will also enjoy limited access to Premium articles, exclusive newsletters, commenting, and virtual events with our leading journalists
Already have an account? sign in
Register for free to continue reading
Registration is a free and easy way to support our truly independent journalism
By registering, you will also enjoy limited access to Premium articles, exclusive newsletters, commenting, and virtual events with our leading journalists
Already have an account? sign in
Join our new commenting forum
Join thought-provoking conversations, follow other Independent readers and see their replies