Photographer captures images of uncontacted ancient Amazon tribe
'I felt like I was a painter in the last century' says Ricardo Stuckert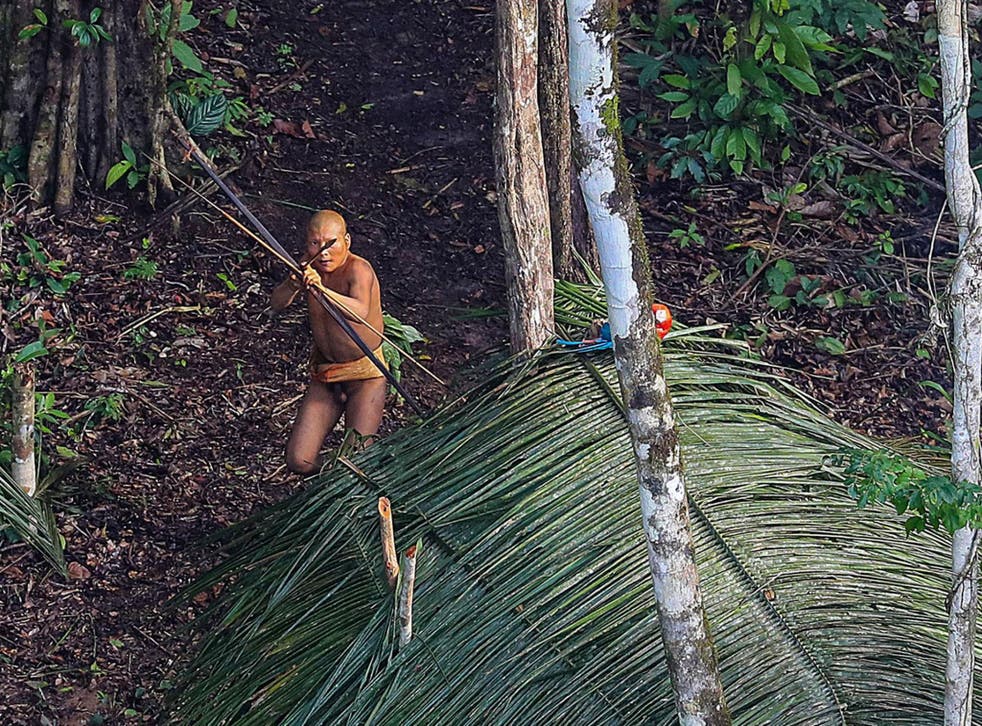 Bird's-eye view photographs of an entirely isolated Amazonian tribe have revealed a rare insight into a lost Neolithic way of life.
Brazilian photographer Ricardo Stuckert captured these high-resolution images from a low-flying helicopter above members of the indigenous tribe in a jungle in Jordao, close to the Brazil-Peru border.
"I felt like I was a painter in the last century," said father-of-four Mr Stuckert. "To think that in the 21st century, there are still people who have no contact with civilisation, living like their ancestors did 20,000 years ago – it's a powerful emotion."
The same tribe gained global attention in 2008 after officers from Brazil's indigenous affairs agency, Fundacao Nacional do Índio (FUNAI), released photographs of tribesmen in red body paint launching arrows at their low-flying plane.
On this ocassion, the tribespeople also fired a barrage of arrows at the helicopter.
FUNAI expert José Carlos Meirelles, who has worked with and studied Brazil's indigenous tribes for more than 40 years, said the same tribe kept moving locations. "These groups change locations every four years or so," said Mr Meirelles, speaking to National Geographic. "They move around. But it's the same group."
Earlier this year, extraordinary new photos emerged of a Yanomami indigenous tribe in the Brazilian Amazon close to the Venezuelan border. Mr Meirelles said the tribe, which includes around 300 people, appeared healthy. He said the plots of corn, manioc and bananas he saw could feed up to 100 people.
"It was surprisingly powerful and emotional," said Mr Stuckert. "The experience touched me deeply as a unique event.
Rio Olympics torch passes through Amazon rainforest
"We live in an age when men have been to the moon. Yet here in Brazil there are people who continue to live as humankind has for tens of thousands of years."
The state of Acre, home to this tribe, imposes strict anti-logging laws. The jungle across the border in Peru, however, is reportedly rife with illegal logging, gold prospectors and drug traffickers.
Deforestation in the Brazilian rainforest increased massively in 2014 when it rose by 467 per cent.
Forest covers approximately 31 per cent of the planet, according to the World Wildlife Fund, and up to 58,000 sq miles of forest is lost each year. The WWF says this is equivalent to around 48 football fields every minute.
Register for free to continue reading
Registration is a free and easy way to support our truly independent journalism
By registering, you will also enjoy limited access to Premium articles, exclusive newsletters, commenting, and virtual events with our leading journalists
Already have an account? sign in
Register for free to continue reading
Registration is a free and easy way to support our truly independent journalism
By registering, you will also enjoy limited access to Premium articles, exclusive newsletters, commenting, and virtual events with our leading journalists
Already have an account? sign in
Join our new commenting forum
Join thought-provoking conversations, follow other Independent readers and see their replies