Greenpeace challenges UK to phase out diesel and petrol vehicles by 2030 after Amsterdam announces ban
'Getting rid of diesel and petrol cars and vans will be crucial both to tackle the climate emergency and to clean up our air', spokeswoman says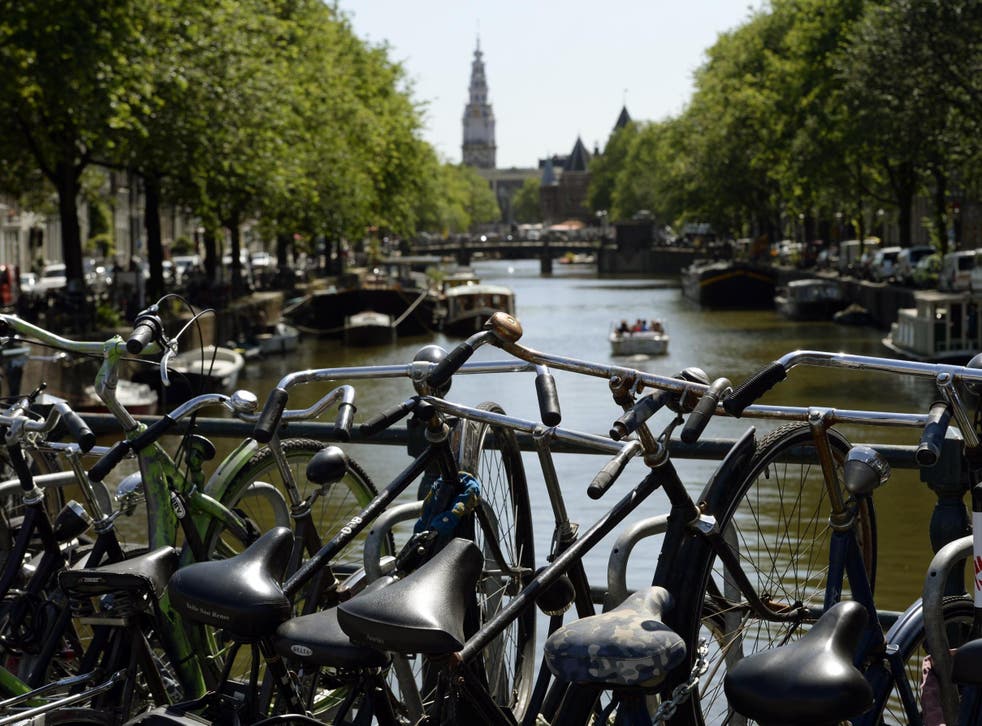 Greenpeace has challenged the government to phase out diesel and petrol-fuelled cars by the end of the next decade after Amsterdam said it would ban them from 2030.
"Amsterdam authorities are getting tough on air pollution and carbon emissions from road traffic, and that's exactly what the UK government should be doing," Rebecca Newsom, a spokeswoman for the charity, told The Independent.
She said transport had become the biggest contributor to Britain's carbon footprint, as well as a major source of air pollution.
"Getting rid of diesel and petrol cars and vans will be crucial both to tackle the climate emergency and to clean up our air, yet ministers have set a phase-out date for sales of new petrol and diesel vehicles that's more than 20 years away. The government needs to bring that date forward to 2030 while also boosting public transport and investing more in walking and cycling infrastructure."
Amsterdam announced on Thursday it intends to replace all diesel and petrol engines with emission-free alternatives, such as electric and hydrogen cars, by the end of the next decade.
The worst countries in the world for air pollution deaths

Show all 10
"Pollution often is a silent killer and is one of the greatest health hazards in Amsterdam," said Amsterdam's traffic councillor, Sharon Dijksma.
Next year it will ban diesel cars built before 2005 from the city, with plans to gradually expand the range of banned vehicles over the next few years.
Subsidies and parking permits will be offered to encourage people to switch to cleaner cars.
Amsterdam will need to increase the number of charging stations in the city from 3,000 to between 16,000 and 23,000 by 2025, Ms Dijksma, the traffic councillor, told Dutch News.
Although bicycles are popular among the Dutch, air pollution in the Netherlands is worse than European rules permit, mostly due to heavy traffic in Amsterdam and Rotterdam.
The plans received a mixed response.
Activists from the Extinction Rebellion movement tweeted: "The banning of petrol and diesel cars and motorbikes can be done because Amsterdam is doing it. If they can do it then your city should be able to also."
However, a spokesman for the RAI Association, Amsterdam's motoring lobby, said the plan would aversely affect poorer families, according to The Guardian.
"Many tens of thousands of families who have no money for an electric car will soon be left out in the cold," he said. "That makes Amsterdam a city of the rich."
Support free-thinking journalism and attend Independent events
Several other cities have introduced legislation to phase out diesel and petrol cars.
London introduced an ultra-low emission zone (Ulez) earlier this year, with plans to expand the boundary by 2021.
Edinburgh has recently joined an 18-month trial to examine the effects of banning vehicles from its historic Old Town between midday and 5pm on the first Sunday of each month.
Meanwhile Madrid has banned petrol vehicles made before 2000 and diesel vehicles made before 2006 from its city centre. Rome will also ban diesel vehicles from 2024.
Join our new commenting forum
Join thought-provoking conversations, follow other Independent readers and see their replies