Anaconda man interview: What it's actually like to (nearly) get eaten by a snake
Exclusive: Simon Usborne interviews Paul Rosolie, the man who almost became a snake snack
Simon Usborne
Wednesday 10 December 2014 17:21 Comments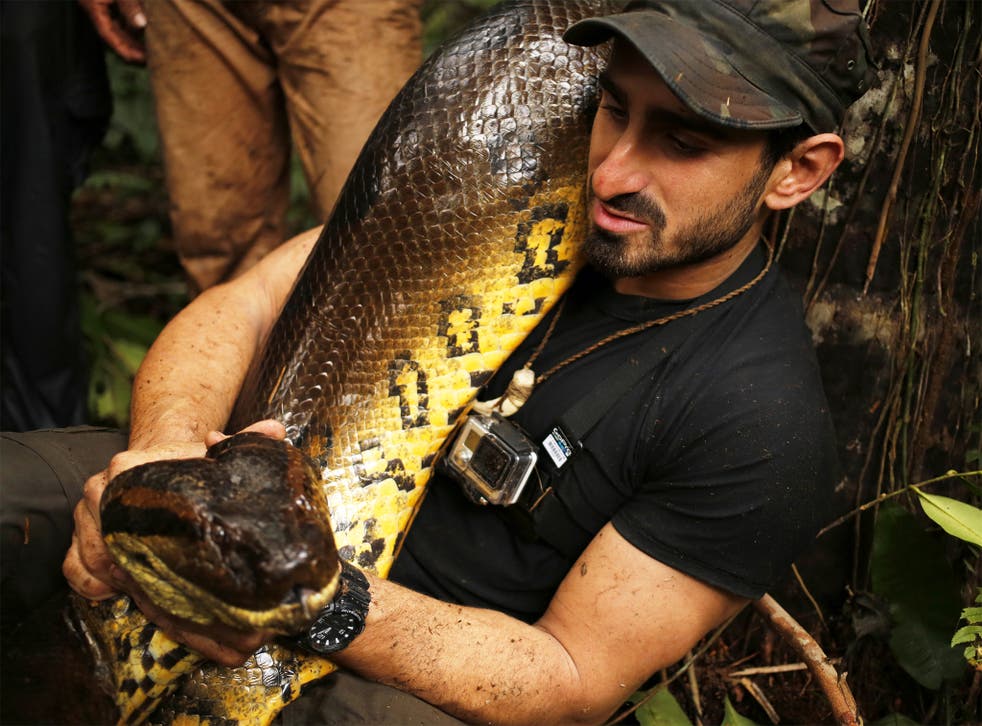 "Man forced to defend himself after failing to be eaten by a giant snake". It reads like a headline from The Daily Mash, but it's a true story for a young naturalist from New York at the centre of a very modern media storm. For starters, Paul Rosolie faced a backlash from animal welfare groups. Now he's digesting a main course from the four million hyped Americans who sat down on Sunday night to watch him disappear, head-first, into the jaws of an anaconda.
"It's been a pretty crazy week," the defiant filmmaker says from Brooklyn, the day after a rough ride on Jimmy Kimmel Live, the US talk show (the host suggested that for his next stunt Rosolie might like to have sex with a hippo). "But, you know, I don't care how people react, as long as we're raising awareness about the Amazon. And as long as I tried my best to really, honestly get eaten, I feel comfortable - the press can do what they want."
Let us rewind to the innocent days of early last month, when nature-bothering by TV presenters had evolved since Attenborough's gorilla hangout - but not that much. On 5 November, the Discovery Channel, home of Shark Week and the salmon-chomping Bear Grylls, released a trailer that sent the web wild. It showed Rosolie, who's 27, wrestling an anaconda in a river. "We're gonna get me inside a snake," he said. A shouty graphic added: "What happens next… won't go down easy." It ended as Rosolie prepared to submit to the animal wearing a protective suit smeared with pig's blood.
The clip generated headlines all over the world, and went on to score 21 million views on YouTube. In Britain, The Daily Star cleared its front page the next day. "I'll let giant snake eat my live on telly!" (inside: "I'll be monster snake sssupper"). The Times, Mail and this newspaper reported the immediate outrage of animal welfare charities. "Shame on this pseudo 'wildlife expert' for tormenting this animal," Peta said, demanding that the programme be canned.
"The show was called Eaten Alive and said I was going into the belly of the beast, which is a figure of speech but the news took the story and really made up the ending," says Rosolie, who has an environmental studies degree. "They said, 'Paul Rosolie was eaten', 'Paul Rosolie was eaten and the snake died'. There was so much controversy and speculation, it was really blown out of proportion."
By primetime on Sunday, more than 4.1 million hungry Americans drooled, jaws prepared to slacken, as Rosolie entered a muddy snakepit. Without the promise of human consumption, what followed would have been startling enough. "At first she wasn't interested in eating me," he recalls, months after the show was filmed (Discovery UK will screen it on Friday night). "Then she hit me hard, and wrapped me up. It was amazing to feel the power of that animal. Eventually she started to focus on my shoulders and head."
The biggest anacondas have heads the size of large dogs, are longer than buses and weigh as much as two average men. They eat lots and not often, spending time suffocating prey and crunching bones before dislocating their jaws to swallow mangled carcasses whole. "Once they crush your shoulders you'll go down the throat very easily," Rosolie says. "I know a chef whose father was eaten by an anaconda. It happens."
But human encounters with the animals in their native "floating forests" of the Amazon are rare. Earlier in the show, Rosolie leaps on a massive specimen, well over seven metres long, but it swims away and viewers are told that the smaller animal used for the feeding is a captive anaconda. Already relatively disappointing, but then, after an hour of snake-on-man writhing and squeezing, things start to go wrong.
"I thought I was going to be able to move my arms in a way that would be safe but she caught one and pinned it down," Rosolie says. Meanwhile, the animal's mouth opens over his head, and he describes hearing it "gurgling and wheezing" in anticipation. But, like small child trying to bite a large apple, it wasn't going to happen. "That changed it and when I felt the blood draining out of my arm, and she started really flexing the bone and I felt it about to break, I had to call it off."
The backlash started the second the crew wrestled them apart. Viewers tweeted suggestions that the show should have been called "Nibbled Alive". Media accused Rosolie and Discovery of misleading audiences, and Peta had another pop, suggesting the anaconda had been misled more than anyone ("She was forced to constrict and then not allowed to eat").
Rosolie insists he believed that he could be eaten, and planned to go in up to the waist before being dragged out or regurgitated. Only the bulk of the helmet and his breathing apparatus kept his head dry. He has little time for Peta, meanwhile, claiming that the anaconda did not suffer. "If they care about animals so much they should protect their habitats," he says. "Anacondas are being incinerated as the Amazon is destroyed and thousands of species are pushed to the edge of extinction. Where's the protest then?"
As a child, Rosolie devoured the films and work of Attenborough, Jane Goodall and Steve Irwin, the Australian killed by a stingray in 2006. Research projects and adventures followed and earlier this year he published Mother of God, a well-reviewed account of his journeys in the titular region of the Peruvian Amazon. He says that to engage his generation, stunts have become sadly necessary. "Is it Discovery's fault that people have become jaded, or that when a quiet documentary about hummingbirds comes out, only me and seven other guys watch it?" he asks. "People want a spectacle."
But he tacitly agrees that the show's marketing was a stretch, and is disappointed that several scenes that showed his anaconda conservation work were cut. But he has no regrets. "If I had hurt an anaconda I would regret it but some very good things came out of this," he says. "We're doing an anaconda study and with increased visibility comes all kinds of potential. While there are things I wish I could change, I gave it a good try."
Good humoured as well as sanguine about the attacks, Rosolie joked in his interview with Kimmel that "I owe it to the people of planet earth to get eaten by something, no?" but, on reflection he adds the next day: "I have no plans for any more eating events other than going to my grandma's house in Brooklyn for some Italian food. I'll definitely be able to manage that."
Register for free to continue reading
Registration is a free and easy way to support our truly independent journalism
By registering, you will also enjoy limited access to Premium articles, exclusive newsletters, commenting, and virtual events with our leading journalists
Already have an account? sign in
Join our new commenting forum
Join thought-provoking conversations, follow other Independent readers and see their replies