Anglers lose out in fight to conserve Tay salmon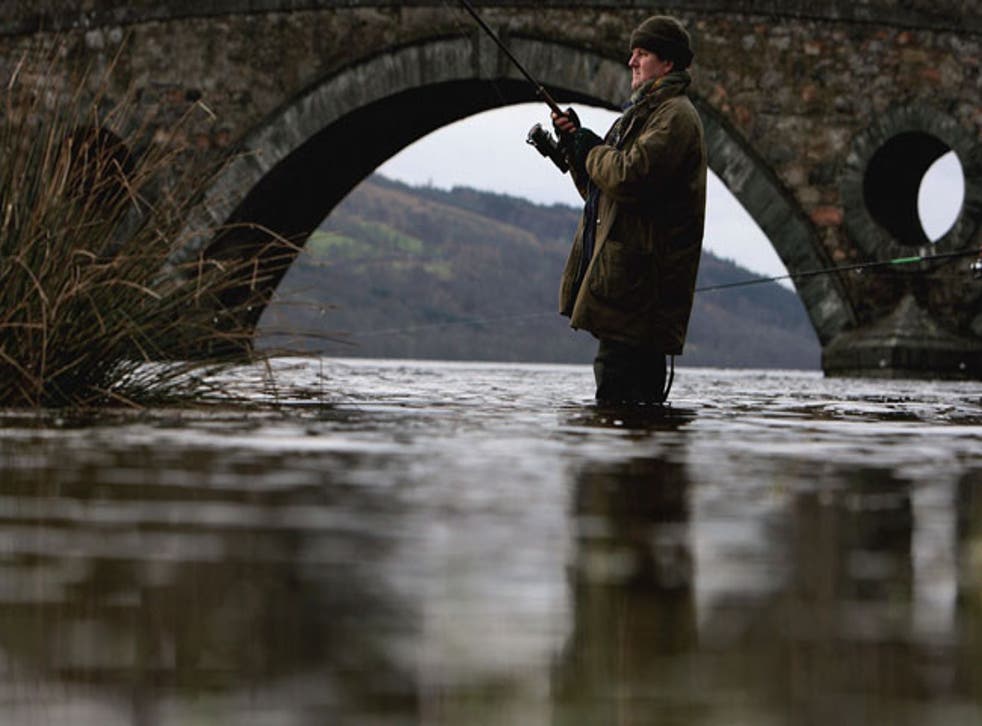 For generations, the Tay was without peer as a salmon river. Every season, the king of fish returned; every year, skilled anglers pitted their wits against it.
Declining populations of the wild fish, though, have devastated Scotland's reputation as the place to catch it. And now a further blow appears destined to finally wreck anglers' dreams of landing salmon on the banks of the Tay.
Rules announced this week will force them to pay between £50 and £400 a day for access to the Scottish river's banks – and for that they will not be allowed to take home more than one fish a day.
These drastic measures have been brought in following years of plunging salmon stocks. Anglers had pointed out the stocks had stabilised recently, but conservationists argue that the population is not increasing sufficiently.
Anglers have been able to take home half of all the fish they caught. Under the new regulations, they will also have to return to the water the first fish they catch, which will force some to go home empty-handed.
This rethink of angling policy has been introduced by a coalition of organisations in the area which wanted to address the declining salmon population before the start of the fishing season tomorrow.
Further measures will be taken when the breeding period begins in June, when enthusiasts will be prohibited from removing female salmon, as it is at this time they carry eggs. And from June, all fish weighing more than 15lbs will have to be returned.
Arguments continue about exactly why the wild salmon is in decline, with some people blaming poaching and over-fishing, while others suggest that global warming has been a factor.
The salmon farming sector is also at the heart of the arguments. Indeed, many anglers claim fish farming has harmed the ecosystem, while they have striven to protect it.
The Association of Salmon Fishery Boards, Scotland's salmon angling regulator, has described the urgent need for conservation. It says that in order to preserve the long-term future of the fish in Scotland, tough measures will need to be taken.
The Tay District Salmon Fisheries Board, the Tay Foundation and the Tay Ghillies Association are jointly responsible for the fishing clampdown.
Duncan Glass, secretary of the Tay Ghillies Association, said: "The catch-and-release policy will be far more strict this year. The general rule will be just one fish to take home per day. Then from June, you will be expected to return all hen fish and all fish over 15lbs so that bigger fish have a better chance of returning." The problem faced by decision makers was balancing the conservation needs of the area with the economic necessity of attracting the tourism that angling brings to the region.
"We don't want to chase anglers away to places like Norway and Russia, so if we allow them to take one fish home that's something," said Mr Glass.
Despite previously attempting various catch-and-release measures in the region, enforcing the rules has proved challenging. "We have had a catch-and-release policy in place before but there has been too much slackness in enforcing it," said Mr Glass. "The first year, only 10 per cent were returned, and even though it is now 50 per cent, it is behind other rivers."
More fish are killed on the Tay every year than any other salmon river in the UK, which is alarming conservationists. Campaigners say that even a slight improvement to the numbers of fish returned could make a substantial difference. "If we can get the rate up to 75 per cent then that will be a real achievement," said Mr Glass.
The president of the Scottish Anglers' National Association, Ronnie Picken, was sceptical of what lasting effect the regulations would have on Scotland's dedicated anglers.
"There will always be some fishermen who have fished all their lives and taken what they liked", said Mr Picken. "I doubt that will change whatever restrictions are brought in".
Join our new commenting forum
Join thought-provoking conversations, follow other Independent readers and see their replies