'Angry Mermaid' joins fight against climate change
Award inspired by Copenhagen's famous statue will go to organisation doing most to sabotage action over global warming
Jonathan Owen
Sunday 15 November 2009 01:00 Comments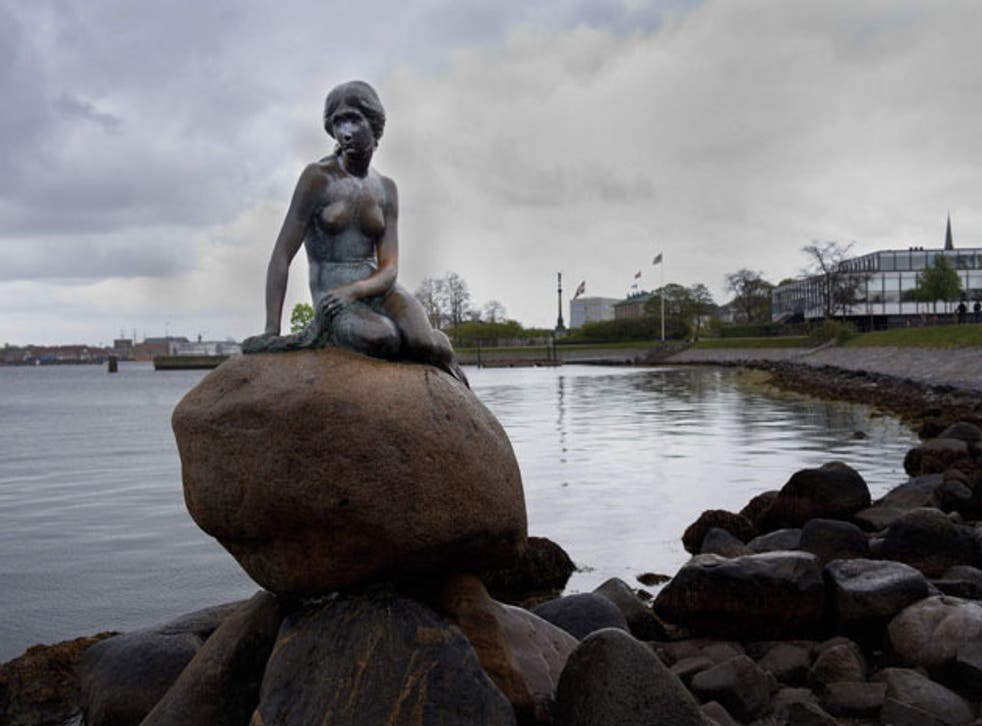 A new environmental award will be launched tomorrow with some of the biggest corporations and lobbying outfits in the world in contention for the top prize. But the winner will have nothing to celebrate.
The inaugural Angry Mermaid award, inspired by Denmark's famous Little Mermaid statue, will go to the organisation "doing the most to sabotage effective action on climate change" in the run-up to climate change talks in Copenhagen next month.
Contenders include the American Coalition for Clean Coal Electricity for promoting "clean coal" and funding a letter-writing campaign in an attempt to weaken the US climate bill; the American petroleum industry for spending millions lobbying against climate legislation; and the European chemical lobby for attempting to undermine EU attempts to cut carbon emissions. The International Air Transport Association (Iata) is cited for promoting weak voluntary efforts to cut emissions, while the International Emissions Trading Association (Ieta) is listed because it promotes emissions trading and carbon offsetting as the solution to climate change. The biotech giant Monsanto is included for presenting GM crops as another climate-change solution, while the South African company Sasol is shortlisted due to its lobbying for carbon capture and storage to compensate for the conversion of coal into petrol. Shell is also in the running over its promotion of carbon capture while investing in environmentally destructive oil extraction from the Canadian tar sands.
Campaigners accuse big businesses of trying to limit any restrictions that could interfere with their pursuit of the bottom line. Paul de Clerk from Friends of the Earth International, one of the organisers of the award, said: "All the candidates have lobbied to protect their own profits and prevent effective action to tackle climate change. The influence of major polluters and lobbyists needs to be exposed. We cannot tackle climate change and continue with business as usual – and that is what these companies and lobby groups want to do.
"People need to be aware that there are very powerful vested interests at work here, and those are the interests that have made a big contribution to climate change and have the most to lose by strong climate-change policy, which is why they will do everything they can to protect their interests."
Nina Holland from Corporate Europe Observatory, another of the groups behind the awards, said: "Anyone monitoring the progress of negotiations on a global climate agreement will be aware of the incredible levels of destructive corporate lobbying going on."
The winner of the Angry Mermaid will be announced at a ceremony in Copenhagen on 15 December. Organisers have had just one response from the nominees so far. Henry Derwent, president of Ieta, said: "We will be honoured to accept this recognition of the work we have been doing over more than 10 years. During that time we have been delighted to see that the principle of emissions trading has been more and more widely accepted."
Of those nominated, only two responded to an IoS request for comment. A Shell spokeswoman said: "By 2050 global energy demand will double, with three billion energy consumers being added to the world's population. All energy sources will be needed to meet this growth in demand, including oil sands, while rapid advances in carbon capture and storage could further reduce emissions."
And in a statement, the American Petroleum Institute said: "API is not against climate-change legislation. We are against harmful climate-change legislation that would kill American jobs but do very little to lower global greenhouse gas emissions."
Register for free to continue reading
Registration is a free and easy way to support our truly independent journalism
By registering, you will also enjoy limited access to Premium articles, exclusive newsletters, commenting, and virtual events with our leading journalists
Already have an account? sign in
Join our new commenting forum
Join thought-provoking conversations, follow other Independent readers and see their replies