Another climate summit, another chance goes up in smoke
A new deal on limiting carbon emissions is looking increasingly unlikely, with leading players remaining intransigent
Michael McCarthy
Friday 09 December 2011 01:00 Comments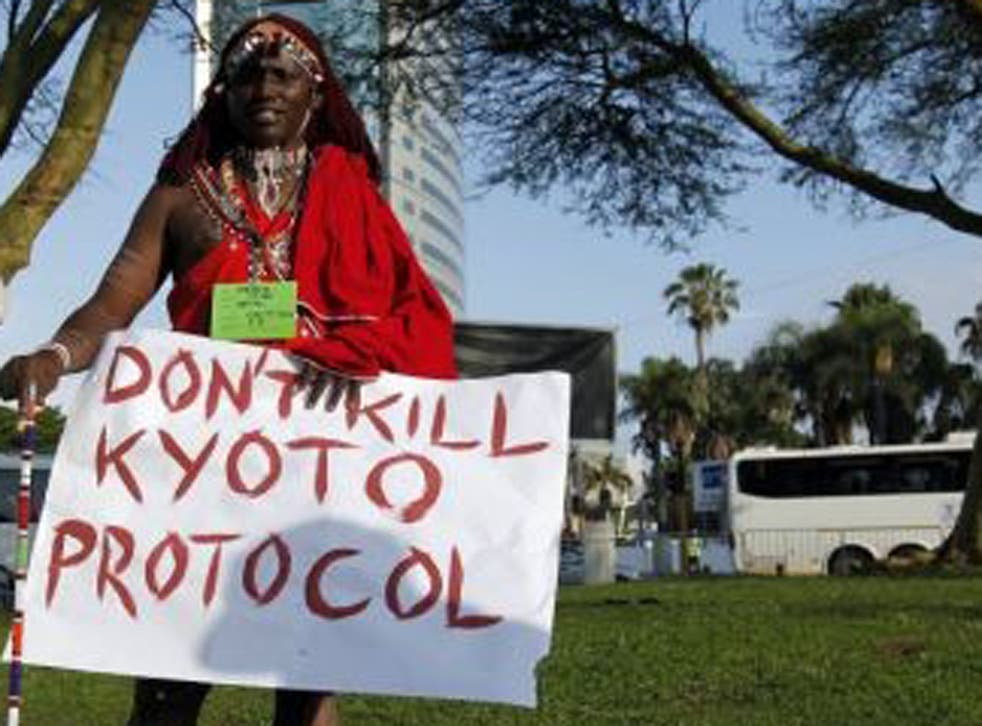 The chance of a binding new climate deal involving the world's biggest greenhouse-gas emitters, China, the US and India, looks increasingly unlikely as the UN climate conference in Durban draws to a close today. In an outcome that would dash the hopes of thousands of people and many countries who feel themselves threatened by global warming, an international treaty that would make the planet's biggest polluters cut back by a definite timetable on their carbon emissions is looking like an impossible dream.
More than 120 nations of the 194 present at Durban, including the whole 43-strong bloc of the Least Developed Countries, were yesterday supporting the plan put forward by Britain and the EU to agree a "road map" to a global, legally-binding climate pact, involving all nations, to be signed by 2015 and come into force not later than 2020.
But, despite emollient noises being made in public by the "Big Three" emitters, the Chinese, American and Indian line in negotiations was much harder, and their participation in a credible deal was looking very doubtful.
Xie Zhenhua, the avuncular, broad-cheeked and smiling Chinese Climate Change Minister, who looks like a Chinese Santa Claus, said at the start of the week that China might accept a legally-binding climate deal, but in the talks between officials there were no concessions coming out of his sack.
And Todd Stern, the US climate envoy who by contrast is a lean and bony Harvard lawyer, said yesterday that the US supported the EU idea of a road map, but other countries said they would believe it when they saw it. "Thank you very much, let me see that in the negotiation room," Grenada's Foreign Minister, Karl Hood, said in response.
Participation of the leading emitters is crucial because the three nations alone account between them for 46 per cent of global emissions – China for 24 per cent, the US for 16 per cent and India for 6 per cent – yet none of them shows any sign of making emissions cuts, and Chinese and Indian emissions in particular are growing at nearly 10 per cent annually. The mere increase in Chinese CO2 between 2009 and 2010 of 694 million tonnes dwarfs all the carbon emissions that Britain produces in a year.
The US has taken on a target, but given no sign of how it will achieve it, while the other two have said they will reduce the energy intensity of their economy, but not the emissions themselves. All are reluctant to cut their carbon for fear it would damage their economies. The Americans are wholly constrained by a Republican-dominated, climate-sceptic Congress, while the Chinese and Indians are desperate to maintain their growth rates.
There is no doubt there will be some sort of agreement in Durban, probably in the early hours of tomorrow morning, presented in the best light possible – but it may do virtually nothing to save the planet. For if the negotiations do fail to get a credible deal, 20 years of effort to slash the gases causing the atmosphere to warm will run into the sand.
It will mean a "lost decade" for climate change in which no real steps are taken to curb emissions until after 2020. Emissions now total more than 32 billion tonnes of CO2 globally and are growing at an unprecedented 6 per cent per year. This is despite the fact that to have any chance of holding global warming below the danger threshold of 2C, scientists agree that, before 2020, emissions must peak.
The present climate treaty, the Kyoto Protocol, which runs out at the end of next year, only covers about 15 per cent of global CO2, because when it was signed in 1997 it only covered what were then the rich industrialised countries. This was for reasons of historical equity – the rich nations put most of the excess CO2 into the atmosphere in the first place, and in 1997 America, with 5 per cent of the world's population, was alone producing 25 per cent of the world's CO2.
But in 2001 George W Bush withdrew the US from Kyoto, and since then the globe has changed in a way nobody predicted. The explosion of the Chinese economy has led to its soaring greenhouses gases: Chinese CO2 doubled from three to six million tonnes between 1996 and 2006 and the following year it overtook the US as the leading polluter.
China, India and other developing countries have hitherto been insistent on a renewal of Kyoto without wanting a further treaty: it was over this issue that the 2009 Copenhagen climate conference foundered. But since then more and more countries have come to see a renewed Kyoto as less important than a new global deal involving everybody.
The EU has proposed that it will renew Kyoto, but the price is a new over-arching, legally-binding, time-limited agreement. Chris Huhne, the Energy and Climate Change Secretary, who is leading the UK's talks at Durban, has been one of the most enthusiastic proponents of a new global deal and last night he said he was still hopeful.
"The vast majority of countries here in Durban are behind the programme we have put forward, and support our vision of a genuine, over-arching global climate agreement, with a road map on how to get there," he said. "We are making progress, but it's too early to say we're going to be able to achieve a really good deal here. It's not a done deal."
The important point was that a deal had to be credible, he added. That meant a road map had to have a date in it, and the proposed pact had to be legally binding, although that could be phrased differently. "But one thing politicians cannot do, however hard they try, is compromise on the science," he said. "We basically have to accept the best scientific advice we have, and that is very clearly that we have to get a peak in global emissions by 2020. We have to get global emissions coming down by then."
A load of hot air: Failed talks
1990 World Climate Conference in Geneva gave the international community a mandate to negotiate a global warming treaty.
1992 The Earth Summit in Rio de Janeiro saw the signing of the UN Framework Convention on Climate Change (UNFCCC), to prevent "dangerous anthropogenic interference with the climate system". All countries are signatories.
1997 Signing of the Kyoto Protocol to the Convention, which committed the rich countries only to make legally-binding cuts to their greenhouse gas emissions; the "first commitment period" is due to run out in December 2012 and is up for renewal.
2007 Bali climate conference set out a "road map" to draw up a new climate treaty within two years, which would eventually surpass Kyoto and involve all countries, developing as well as developed.
2009 Copenhagen climate conference ended in deadlock and near-collapse after developed and developing countries (the latter led by China) could not agree on a successor to Kyoto.
2010 Cancun climate conference mended the negotiating process, made progress on climate aid for poor countries and protecting forests, but left the question of a successor treaty to Kyoto on one side.
2011 Durban climate conference comes back to the thorny issue. What will succeed Kyoto, and who will be involved? Who does what, to save the planet?
Register for free to continue reading
Registration is a free and easy way to support our truly independent journalism
By registering, you will also enjoy limited access to Premium articles, exclusive newsletters, commenting, and virtual events with our leading journalists
Already have an account? sign in
Join our new commenting forum
Join thought-provoking conversations, follow other Independent readers and see their replies