Massive Antarctic iceberg is drifting out to sea, new satellite images reveal
Weighing about a trillion tonnes, the A68 iceberg is one of the largest on record
Ian Johnston
Environment Correspondent
Saturday 16 September 2017 16:17 Comments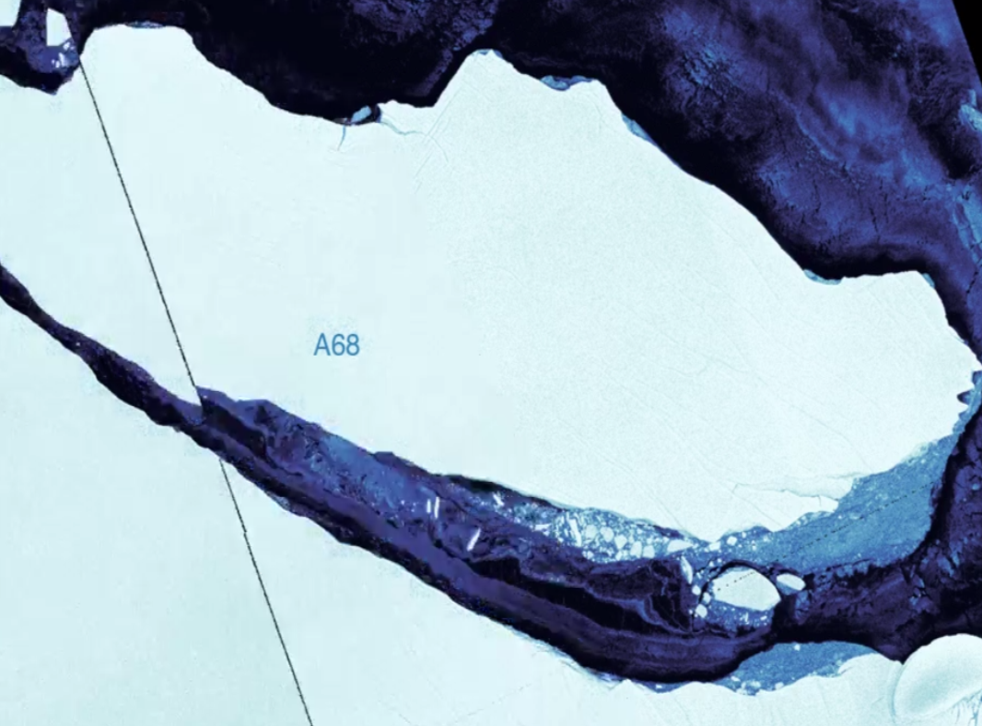 A massive iceberg four times the size of London has started to drift out to sea from Antarctica, new satellite images have revealed.
When the A68 berg broke off from the Larsen C ice shelf, it was unclear what would happen.
Icebergs can remain in place for decades, depending on sea currents and the topography of the seabed.
However, the vast slab of ice now appears to be on the move.
At about 5,800 sq km and a trillion tonnes, A68 is one of the largest icebergs ever known, although it is only about half the size of the record-holder, which broke off the Ross Ice Shelf in 2000.
Professor Stef Lhermitte, of Delft University in the Netherlands, posted some of the latest satellite images on Twitter, saying: "After some initial back-and-forth movement, Larsen C's iceberg A68 seems on drift now."
And he added that the iceberg "continues to drift", tweeting an image showing the latest position on Saturday and comparing that to a picture taken on Wednesday.
There is concern that the iceberg could break up into smaller pieces which then drift into shipping lanes.
If these were too small to track on satellite, they could pose a significant risk to vessels.
Scientists have said it does not appear that global warming played a role in the calving of the iceberg.
Scott's lost photos of Antarctica are bought for nation

Show all 7
Dr Natalie Robinson, a marine physicist at New Zealand's National Institute of Water and Atmospheric Research, said it was "a 'normal', if relatively large, calving event" and "very different from the collapse of its neighbouring ice shelves".
However, another expert, Professor Nancy Bertler, of the Antarctic Research Centre at Victoria University of Wellington, said global warming and the hole in the ozone layer had caused the sudden break-up of "numerous ice shelves" in the region "some of which have been shown to have existed for 10,000 years or more".
Register for free to continue reading
Registration is a free and easy way to support our truly independent journalism
By registering, you will also enjoy limited access to Premium articles, exclusive newsletters, commenting, and virtual events with our leading journalists
Already have an account? sign in
Join our new commenting forum
Join thought-provoking conversations, follow other Independent readers and see their replies