Plastic and hazardous chemicals found in 'remote and pristine wilderness' of Antarctica, tests reveal
'Even the most remote habitats of the Antarctic are contaminated'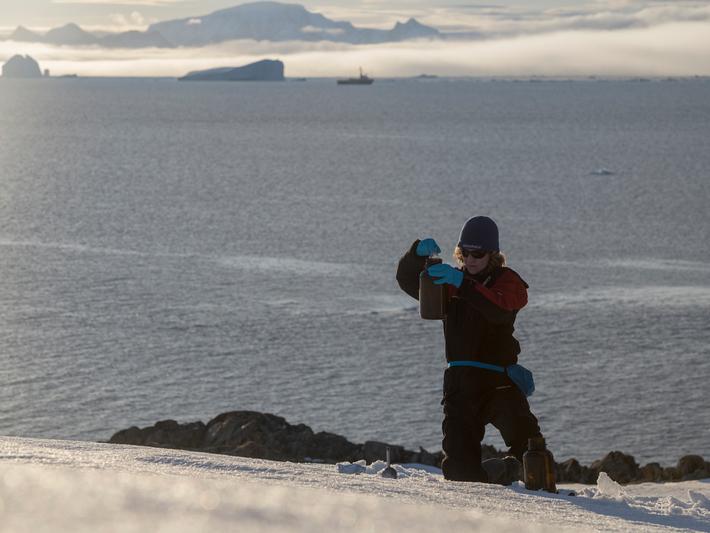 Analysis of water and snow samples from some of the remotest parts of Antarctica has uncovered tiny fragments of plastic, environmentalists say.
Tests carried out by Greenpeace on an expedition to the polar region found the majority of samples obtained contained "microplastics" or potentially dangerous chemicals.
The findings come after a German research trip found an unprecedented number of microplastics frozen in Arctic sea ice – showing "nowhere is immune" to the ubiquitous pollutants.
While the impact microplastics are having in the marine environment has not been categorically defined, a growing body of evidence suggests they should cause significant concern.
Tiny shards of plastic, often less than a twentieth of a millimetre wide, can be mistaken for prey by tiny marine animals like plankton.
After being consumed by these creatures, microplastics can make their way up the food chain, potentially inflicting harm on larger animals such as seabirds and whales.
Frida Bengtsson, of Greenpeace's Protect the Antarctic campaign, said: "We may think of the Antarctic as a remote and pristine wilderness, but from pollution and climate change to industrial krill fishing, humanity's footprint is clear.
"These results show that even the most remote habitats of the Antarctic are contaminated with microplastic waste and persistent hazardous chemicals."
Out of eight samples of seawater taken by the team on the Greenpeace vessel Arctic Sunrise, seven were found to contain at least one tiny piece of plastic or microplastic per litre of water, such as microfibres that can come from clothing.
Tests using trawl nets also found microplastic fragments in two of the nine samples taken.
Greenpeace said there was relatively little data on microplastics in Antarctic waters and the analysis provided new information on contamination in the region.
Plastic waste across the world: in pictures
Show all 15
Seven of nine samples of snow were also found to have detectable concentrations of persistent chemicals known as PFAs or PFCs, including in freshly-fallen snow – suggesting they were deposited from the atmosphere.
The chemicals are widely used in industrial processes and consumer products, such as waterproof finishes on clothing, and have been linked to issues with reproduction and development in animals.
These chemicals degrade only very slowly, if at all, in the environment.
Greenpeace previously revealed the chemicals were found in snow and water samples from eight remote mountainous areas worldwide.
The environmental group is calling for urgent action to stem the flow of plastic into the world's seas and curb pollutants at the source, and for a huge Antarctic Ocean Sanctuary to protect the wildlife and habitats found there.
"We need action at source, to stop these pollutants ending up in the Antarctic in the first place, and we need an Antarctic Ocean Sanctuary to give space for penguins, whales and the entire ecosystem to recover from the pressure they're facing," said Ms Bengtsson.
She said the group saw "all kinds of waste from the fishing industry" in the Antarctic.
"Buoys, nets and tarpaulins drifted in between icebergs, which was really sad to see," she said.
"We took them out of the water, but it really made clear to me how we need to put vast parts of this area off-limits to human activity if we're going to protect the Antarctic's incredible wildlife."
Besides the record quantities of microplastics found in polar sea ice, plastic has been found in fertilisers being applied to farmland and at the very bottom of the ocean in the Mariana Trench.
Additional reporting by PA
Join our commenting forum
Join thought-provoking conversations, follow other Independent readers and see their replies