Rare Arabian sand cat spotted by scientists after ten year search
The rare felines live in the desert, hunt rodents and can survive in very high temperatures
Gabriel Samuels
Tuesday 09 August 2016 22:52 Comments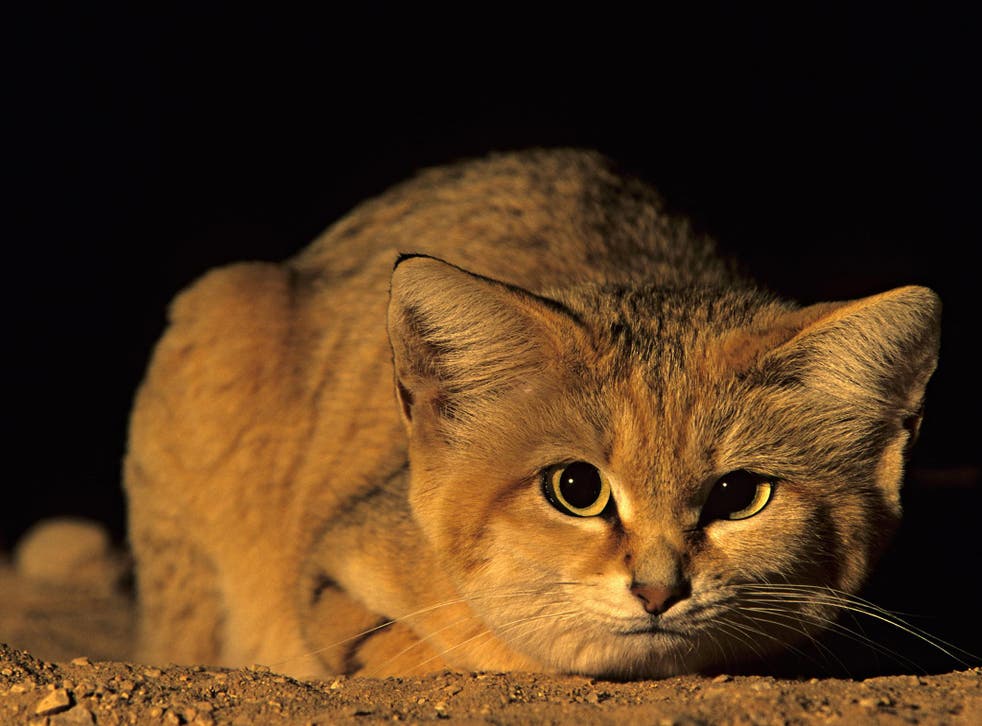 The rare and elusive Arabian sand cat has been photographed in the deserts of Abu Dhabi for the first time in over ten years, giving valuable scientific insights into the reclusive feline.
Sightings of the nocturnal creature in the wild are particularly unusual, largely due to their endangered status in Middle Eastern countries.
Researchers from Ead and Al Ain Zoo initially set up five cameras around a 1,990-square-metre area in the Western Region, about 150 kilometres west of Abu Dhabi.
The team of scientists baited camera traps with food over several months and eventually managed to capture 46 photos of three of the cats over several moonlit nights.
The images were then sent to species experts, who confirmed they were the sand cats by observing the animals' unique markings.
Sand cats are listed as being "near threatened" across Africa and as "endangered" in the United Arab Emirates, according to the International Union for Conservation of Nature.
Shakeel Ahmed, who formed part of the expedition, said he hoped the photos and data would help researchers get a better impression of the sand cat population.
"We have collected the basic information and now we have expanded the area to explore more cats in that area," he told The National. "The traps were very effective in attracting the animals."
The felines are primarily found in sandy and stony deserts and shrubland feeding on rodents, and are able to survive in temperatures of up to 52 degrees Celsius.
John Newby of the Sahara Conservation Fund said the findings were significant as the sand cat population is thought to be declining globally due to habitat loss.
Wildlife Photographer of the Year

Show all 26
"Sand cats are naturally rare," he told New Scientist. "There's an absence of scientists working on sand cats and very few assessments are being made to assess the behaviour, population and status of the species.
"It is clear that field research will all be extremely valuable in putting together conservations plans for the sand cats and their habitat, as well as pinpointing those areas and their extent that may be turned into protected areas to conserve the cats.
"Scientists need to be doing more research on how the sand cats live in order to create a suitable protected area."
Over 30 Arabian sand cats currently live in captivity in Al Ain Zoo, situated in the foothills of the Jebel Hafeet Mountains.
In the 1990s, several sand cats were radio-collared by scientists working in south Israel and Jordan, and in Syria in the early 2000s, in an effort to obtain a better picture of the felines' lifestyles.
Register for free to continue reading
Registration is a free and easy way to support our truly independent journalism
By registering, you will also enjoy limited access to Premium articles, exclusive newsletters, commenting, and virtual events with our leading journalists
Already have an account? sign in
Join our new commenting forum
Join thought-provoking conversations, follow other Independent readers and see their replies