Arctic drilling: Royal Dutch Shell granted final permit for exploration of possible oil reserves off Alaska
US Bureau of Ocean Energy Management has said there is a 75 per cent chance of 'one or more large spills' within 10 years of drilling in the area
Independent Staff
Tuesday 18 August 2015 00:43 Comments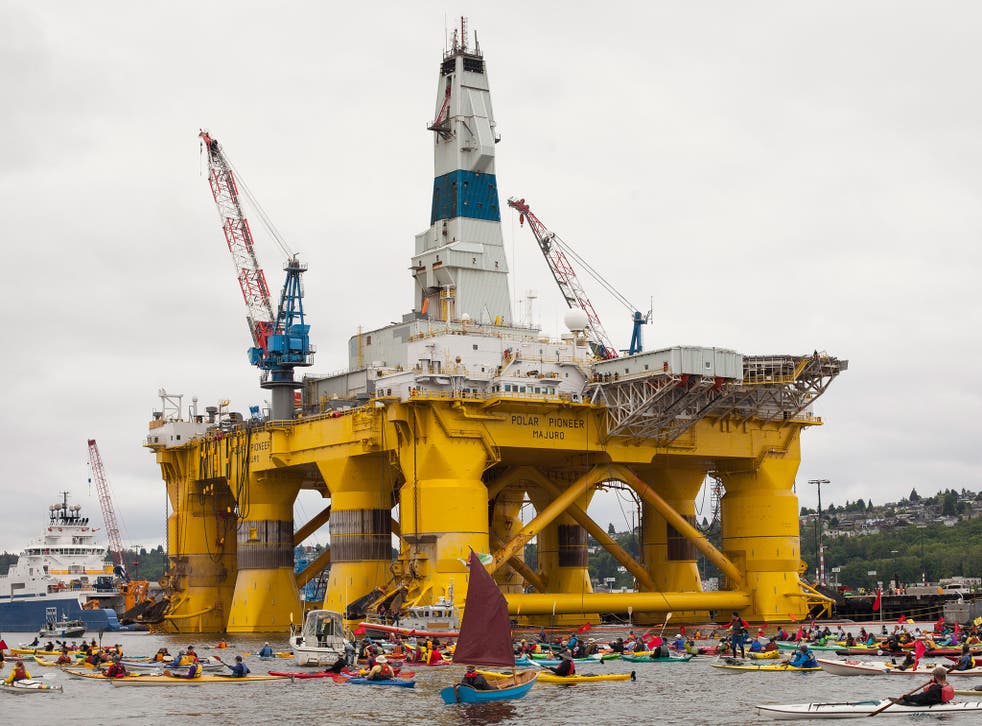 Barack Obama has been accused of contradicting his commitment to tackle climate change after Royal Dutch Shell was granted the final permit required for deep drilling into possible oil reserves in the Arctic.
The US Bureau of Safety and Environmental Enforcement, America's offshore regulator, on Monday awarded the company the final permit required to drill into rocks at the Burger J well in the Chukchi Sea off the north-west coast of Alaska.
Shell restarted its shallow-drilling operations in the area on 30 July, but US safety standards have until now prevented it from sinking a well deep enough to strike oil until a key safety mechanism, called the Fennica, was in the Chukchi Sea. Experts say the Fennica, described as a "capping stack", could be used to seal the well in the event of a leak.
Campaigners have reacted angrily to the decision, blaming the Obama administration for drilling in the Arctic, which activists say risks damaging the local environment.
Save the Arctic photoshoot

Show all 22
The US Bureau of Ocean Energy Management has said there is a 75 per cent chance of "one or more large spills" within 10 years of drilling in the area.
Friends of the Earth climate campaigner Marissa Knodel said: "Today's decision makes it final: President Obama is willing to allow the pristine Chukchi Sea to become an energy sacrifice zone and worsen climate disruption.
"President Obama should know better — Shell has no business in our Arctic Ocean, and he will bear responsibility for the damage that Shell wreaks there."
Michael Brune of the Sierra Club, another US environmental group, said the permit award "goes against science, the will of the people, and common sense". He added: "This fight is far from over."
Nonetheless the move is likely to be seen internally as a major step forward for the company, which has spent around $7bn on its plans to explore the Arctic, without yet being able to complete a single well. The firm's chief executive, Ben van Beurden, acknowledged to the BBC earlier this year that there were risks involved in Arctic drilling, but said he had gone on a "personal journey" before reaching the decision.
Register for free to continue reading
Registration is a free and easy way to support our truly independent journalism
By registering, you will also enjoy limited access to Premium articles, exclusive newsletters, commenting, and virtual events with our leading journalists
Already have an account? sign in
Join our new commenting forum
Join thought-provoking conversations, follow other Independent readers and see their replies