Arctic's 'pristine' seas under threat from Russian and Norwegian fishing trawlers
Melting ice means industrial-scale vessels are able to venture much further north in search of catches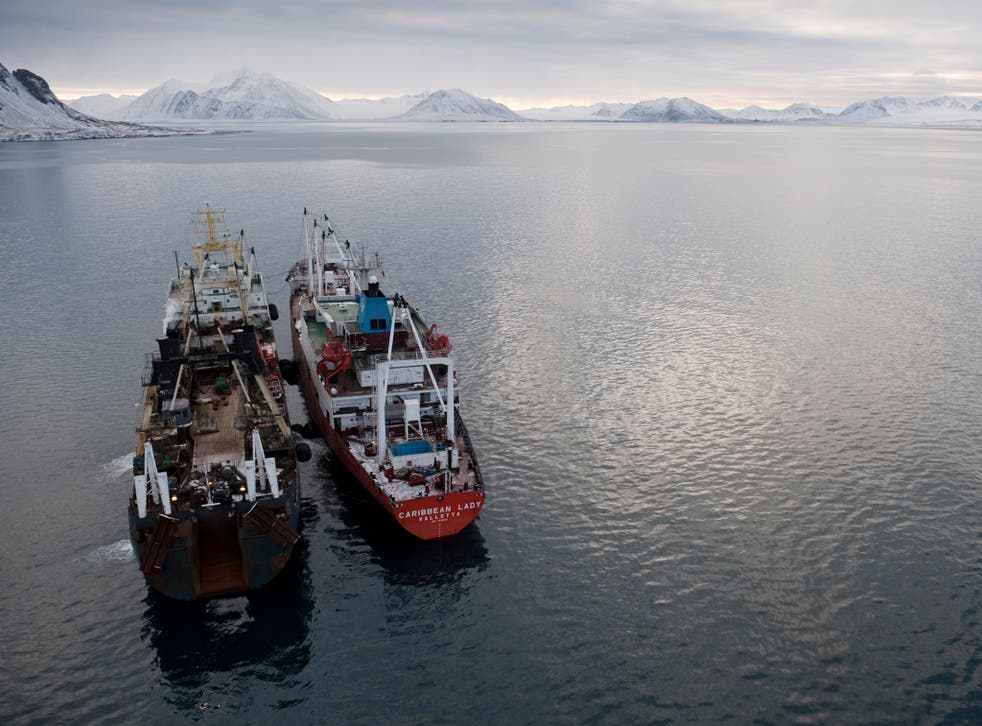 Fishing fleets are increasingly venturing into the pristine seas of the Arctic as the ice cover retreats, according to a report.
Vessel-tracking data analysed by Greenpeace showed that more than 100 Russian and Norwegian trawlers had fished in the northern Barents Sea near the Svalbard islands in the past three years, according to The Times.
Catch reports by Norwegian boats also showed a five-fold increase in the amount of cod caught in the northern Barents Sea since 2001.
Scientists have become increasingly concerned about the dramatic temperature rises in the Arctic, which is warming faster than the rest of the world. Last week Dr Peter Gleick, president of the Pacific Institute in California, warned it could have a "possibly catastrophic" effect on the planet's climate. Temperatures have hit record highs of about 4C above the average for the region between 1951 and 1980 and it is thought this is having an effect on storms affecting much of the northern hemisphere.
However, the melting ice means industrial-scale trawlers are able to venture much further north.
Climate change around the world - in pictures

Show all 17
But this method of fishing, in which the nets are dragged across the seabed, threatens colonies of 50-year-old sea pens, and basket stars, animals with several arms that look like moving plants. Humpback, beluga and blue whales also feed in this area during the summer months.
Callum Roberts, professor of marine conservation at York University, told The Times that the international community should act to prevent the Arctic seas from being wrecked.
"Areas of the Arctic protected by sea ice represent one of the last pristine refuges from trawling and need urgent protection," he said.
"Bottom trawling is one of the most destructive methods of fishing. Over the last 200 years it has converted once rich and complex sea bed habitats to endless expanses of shifting sands and mud."
Fish companies Young's and Birds Eye said they would examine Greenpeace's findings.
However Seafish, a public body that supports the British seafood industry, said: "The Barents Sea is one of the most well-managed regions in the world... and for Greenpeace to suggest otherwise is unwarranted."
Register for free to continue reading
Registration is a free and easy way to support our truly independent journalism
By registering, you will also enjoy limited access to Premium articles, exclusive newsletters, commenting, and virtual events with our leading journalists
Already have an account? sign in
Register for free to continue reading
Registration is a free and easy way to support our truly independent journalism
By registering, you will also enjoy limited access to Premium articles, exclusive newsletters, commenting, and virtual events with our leading journalists
Already have an account? sign in
Join our new commenting forum
Join thought-provoking conversations, follow other Independent readers and see their replies