Arctic sea ice near its all-time winter low and could break previous record
Scientists predict that Arctic summers could be completely free of sea ice within the next 20 or 30 years
Steve Connor
Sunday 08 March 2015 20:01 Comments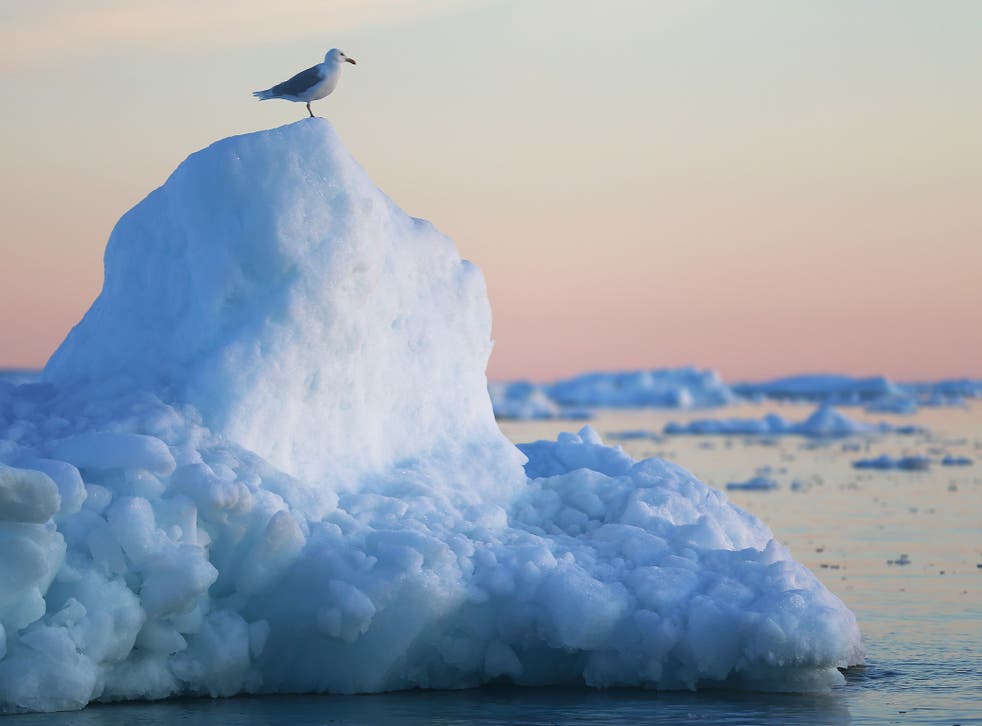 Sea ice in the Arctic is near its all-time minimum for the end of winter and could break the previous record within the next two weeks if it fails to grow, according to the latest satellite data.
The area of the Arctic covered by floating sea ice is already the lowest for this time of year, highlighting the long-term warming trend experienced by the region in both winter and summer months.
Sea ice expands and contracts with the seasons but satellite data collected since the 1970s shows that it is retreating further and further during the summer months compared to 20 or 30 years ago.
Sea ice in summer has shrunk by 30 per cent on average over the past 30 years while average temperatures in the Arctic have risen by about 4C – more than 3C warmer than the global average.
In pictures: Changing climate around the world

Show all 15
Scientists predict that Arctic summers could be completely free of sea ice within the next 20 or 30 years, and some studies have suggested it could be even earlier.
Satellite records show that the area of the Arctic covered by sea ice in March has also dwindled over recent decades, although to a lesser extent than in summer when the natural minimum point is reached in September.
Scientists at the US National Snow and Ice Data Centre (NSIDC) in Boulder, Colorado, who are monitoring the sea ice in both the Arctic and Antarctic, said that it is still too early to say whether the record winter minimum is likely to be reached this year.
Weather patterns – such as cloudiness and wind speeds and directions – have a strong influence on sea-ice formation and it is still possible for the rapid formation of ice in the next couple of weeks, they said.
But even if the winter minimum record is broken, it does not automatically mean that a summer record minimum is also going to happen, said Mark Serreze, director of the NSIDC.
"Having a record low winter minimum would tend to set us up for a low September extent because we'd be starting off on a bad footing. Essentially, we are setting the table," Dr Serreze said.
"Having said that, the low extent for the Arctic as a whole is mostly due to mild ice conditions in the sea of Okhotsk and the Bering Sea, which are areas that, even in an average year, will melt out anyways during summer," he said.
"Looking towards September, a great deal will depend on the summer weather patterns, and we can't predict what they will be," Dr Serreze added.
Ted Scambos, a senior researcher the centre, said that low sea ice at the end of winter does not always mean low sea ice in summer. The summer of 2012 set a new record for summer sea ice, yet the previous winter was near the long-term average, Dr Scambos said.
"What a record low 2015 Arctic sea ice extent winter maximum – or low winter sea ice in general – means climatologically is still a matter of debate," Dr Scambos said.
"I think it is safe to say that the summer minimum trend is more important in terms of knock-on effects," he said.
"The Arctic is continuing to change to less and less ice cover, at the decadal scale, with lots of noise on a year-to-year basis, and this appears to be a global arming-anthropogenic climate-change signal," he explained.
Register for free to continue reading
Registration is a free and easy way to support our truly independent journalism
By registering, you will also enjoy limited access to Premium articles, exclusive newsletters, commenting, and virtual events with our leading journalists
Already have an account? sign in
Join our new commenting forum
Join thought-provoking conversations, follow other Independent readers and see their replies