Are e-cars the future of motoring? Find out on a long, but not long enough, drive up the Electric Highway
Despite scoffs and derision, Jamie Merrill has always felt e-cars were the way forward. Now that battery technology has caught up with him, he takes a charge and heads for Glasgow to make a point. But...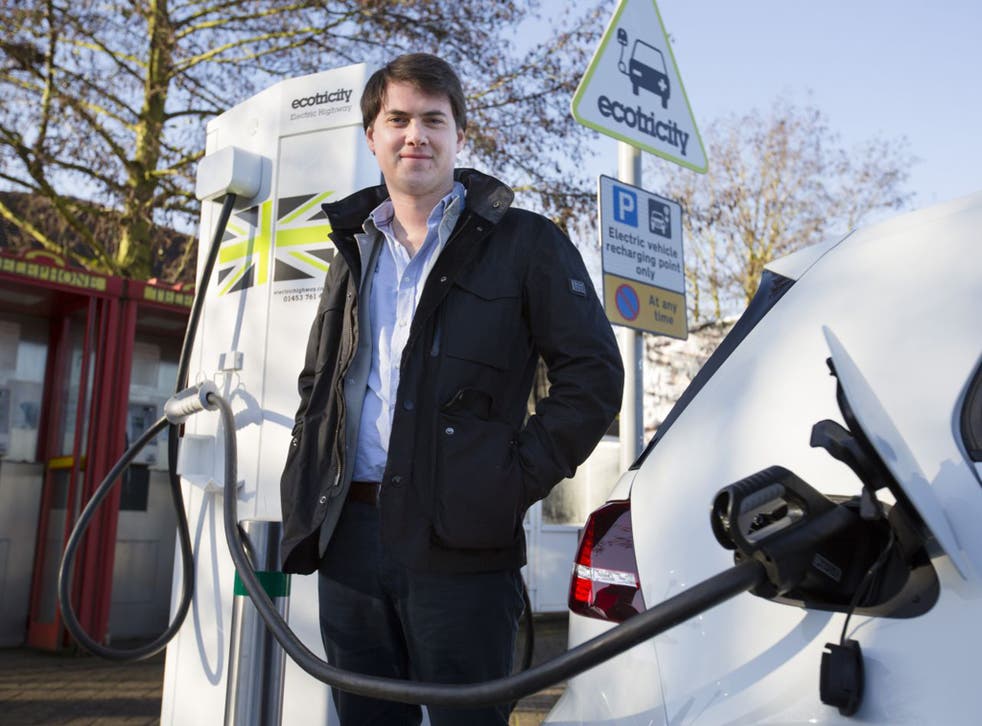 The choice is simple. Either I play safe and turn left on to the M58 and go on a 20-mile detour, or I push on up the M6 and hope my electric car's fading battery will make the 28 miles to the next services outside Wigan.
This is the sort of arithmetic increasingly being played out on Britain's roads, as drivers of electric cars attempt to make use of the expanding fast-charge network.
In my case, I'm on the M6 to Glasgow from London in order to test the new Electric Highway. Provided free of charge by the green energy firm Ecotricity, it's the country's biggest inter-city network, covering 89 per cent of the motorway system and due to be fully completed by April.
In theory, the battery in the new VW e-Golf I'm driving has enough range to reach Wigan, but the sun has set, it is raining, and the temperature is dropping as the motorway ahead weaves around the western edge of the Pennines.
Cold weather is a killer for electric-car batteries, dropping the theoretical range of the e-Golf from a respectable 118 miles in summer to somewhere closer to 60 miles in winter. Unlike hybrids, the e-Golf is purely electric. I have no engine to fall back on, and my energy-thirsty headlights and windscreen, plus the inclines ahead, are already making trouble for my lithium-ion battery.
Once this sort of long-distance trip would have been impossible, but thanks to Ecotricity and its network of 207 rapid chargers, it's fast becoming a reality – as long as you are willing to stop 30 minutes to charge every 90 or so miles.
"What we are offering electric car owners is the chance to drive the length and breadth of Britain. Three years ago, it took eight hours to charge an electric car, which we knew was never practical, but now that's down to just 30 minutes," says Dale Vince, the founder of Ecotricity. "There has been a quantum leap in car and battery technology, and now we are seeing an exponential rise in demand."
That electric surge is translating into 1,000 new Ecotricity members a month, including Mike Baker, an electrical engineer I met earlier at Warwick's M40 services, parked in the Ecotricity charging bay in a giant SUV. Thankfully, I spot his charging cable before I get out to harangue him for parking a Chelsea tractor in a virtuous green-only space. "I live on the Isle of Wight, and [this hybrid] is perfect for short trips on battery power," he says. "On longer trips, like this, I can top up electricity for free en route to keep my petrol bill down on the main engine."
Waiting for Mr Baker to free up from the charging slot gives me time to reflect on my test car. It's an accomplished machine and on the inside is practically identical to the standard Golf. The only real difference is the limited range and near-instant acceleration given by the electric motor.
New figures this week are expected to show a massive surge in electric car sales in 2014, thanks to new models from VW, BMW and PayPal billionaire Elon Musk's Tesla.
Tesla has its own network of 15 super-fast charging stations for its luxury car owners, but they are in the minority among more than 3,000 fast and slow public charging locations across the UK. Frustratingly, says Mr Baker, most are "slow trickle-chargers, located in expensive car parks or sitting empty on city centre streets where there are few electric car owners."
This is one of the many areas on which Ecotricity takes issue with the Government, says Mr Vince. "We've all seen empty charging bays in central London and we know there's been a heavy subsidy for charging points at new homes, but what we really need is more inter-city capacity."
Back on the M6, I've covered 190 miles with three charging stops, but at Knutsford services my luck runs out, and I arrive to find only an error message and a dead terminal. I had expected this, as Ecotricity has freely admitted that it has had some problems perfecting the so-called "electric handshake" between the e-Golf and "Combined Charging System" (CCS) it uses. It's one of the several types of fast chargers used by the firm in a form of VHS versus Betamax situation.
The firm says the problem will be fixed by April, but at the side of the M6 this offers little consolation –with a nervous run to Wigan ahead of me on a reduced charge.
The digital display on the dashboard says I have 31 miles of range left, which should technically get me to the next CCS point 28 miles away at Charnock Richard, just north of Wigan; but so far the e-Golf's display has seen the range drop far quicker than the milometer readings.
In desperation, I call Mark Tebbutt, an electric car owner who took delivery of the third Nissan Leaf ever to come to Britain in 2011. He advises me to "turn off the heater and stick in the slow lane at 48mph". His kind advice does little to reduce my anxiety.
Amazingly, I make it to the services ready to celebrate with Mr Tebbutt, who comes to meet me. We pull into the bays at the same time and he leaps eagerly into the seat of the e-Golf to compare it to his Leaf.
I'm not so happy; the Ecotricity charger is ominously dark, and won't read my charging card. This time, I'm well and truly stranded.
"It's a shame you didn't make it to Glasgow," says Mr Tebbutt. "In the early days, this sort of thing was fairly common, but it's actually not that hard to get around the country these days." He helpfully suggests I sneak down an access road to try the other carriageway's charger, but that is out too. As I don't have enough charge to take up his offer of an overnight charge at his Chorley home, I am forced to call the AA and return to London by train as the blameless VW e-Golf makes its way home on the back of an recovery lorry driven by a somewhat confused petrolhead.
Speaking to Mr Vince the next day, he's still upbeat about my experience. "When petrol cars came along, there wasn't a national network of petrol stations; overnight, they had to be built," he says. "It's important to remember this is just the start of a revolution."
Join our new commenting forum
Join thought-provoking conversations, follow other Independent readers and see their replies