Artificial North Sea island: Danish, Dutch and German firms launch bid to make 'science fiction' plan a reality
The proposed island, complete with harbour and airport, is designed to act as a hub for vast new offshore wind farms supplying power for more than 80 million people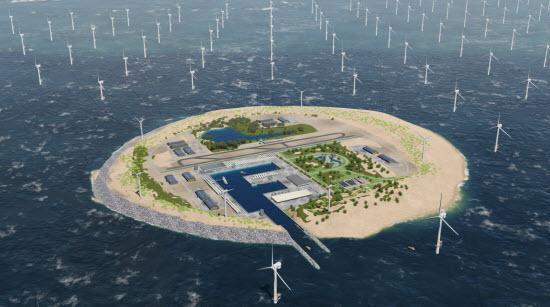 A vast artificial island is to be built at Dogger Bank in the North Sea, complete with a harbour, airstrip and homes, to help provide a vast new supply of renewable energy, under plans drawn up by two companies with the blessing of the European Union.
The North Sea Wind Power Hub would act as a hub for offshore wind turbines and a new place to put solar panels, according to the German and Dutch arms of electricity firm TenneT and Danish company Energinet.
The firms will sign a deal creating a consortium to develop the plan further in Brussels on 23 March in the presence of European Energy Union Commissioner, Maos Sefcovic.
​Torben Glar Nielsen, Energinet's Danish technical director, said: "Maybe it sounds a bit crazy and science fiction-like, but an island on Dogger Bank could make the wind power of the future a lot cheaper and more effective."
It is thought the island – or possibly islands – could act as a hub for thousands of new wind turbines, which would eventually generate green electricity for more than 80 million people.
Under the proposals, the island would be connected by electricity cables to the UK, Norway, the Netherlands, Germany, Denmark and Belgium.
Mel Kroon, TenneT's chief executive, said: "This project can significantly contribute to a completely renewable supply of electricity in north-west Europe.
"TenneT and Energinet.dk both have extensive experience in the fields of onshore grids, the connection of offshore wind energy and cross-border connections.
"I am happy that we are going to take this step with our Danish colleagues and I look forward to the participation of other transmission system operators and possibly other partners."
In a statement, Energinet said European targets to reduce carbon dioxide emissions meant that major new sources of solar and wind energy were required.
"Wind and solar energy complement each other: there is more sun from spring to autumn, and more wind in the colder and darker months of the year," it said.
"So a sustainable and stable energy system for the future will need solar and wind energy, both on a large scale.
"This requires optimum cooperation and synergy because it cannot be accomplished by individual member states on their own."
The company said Dogger Bank was an ideal location for an artificial island as it was "centrally located and in relatively shallow water" and also had "optimal wind conditions".
10 photographs to show to anyone who doesn't believe in climate change
Show all 10
"Staff, components and assembly workshops can be stationed on the island, thus optimising and simplifying complex offshore logistics," it said.
"An island in an area with a lot of space will provide the scale necessary to reduce costs (through economies of scale)."
Join our commenting forum
Join thought-provoking conversations, follow other Independent readers and see their replies