Asian hornet has arrived in Britain, government confirms, and could destroy precious resources
The insects wait outside bees' hives and bites their heads off as they emerge so that they can steal honey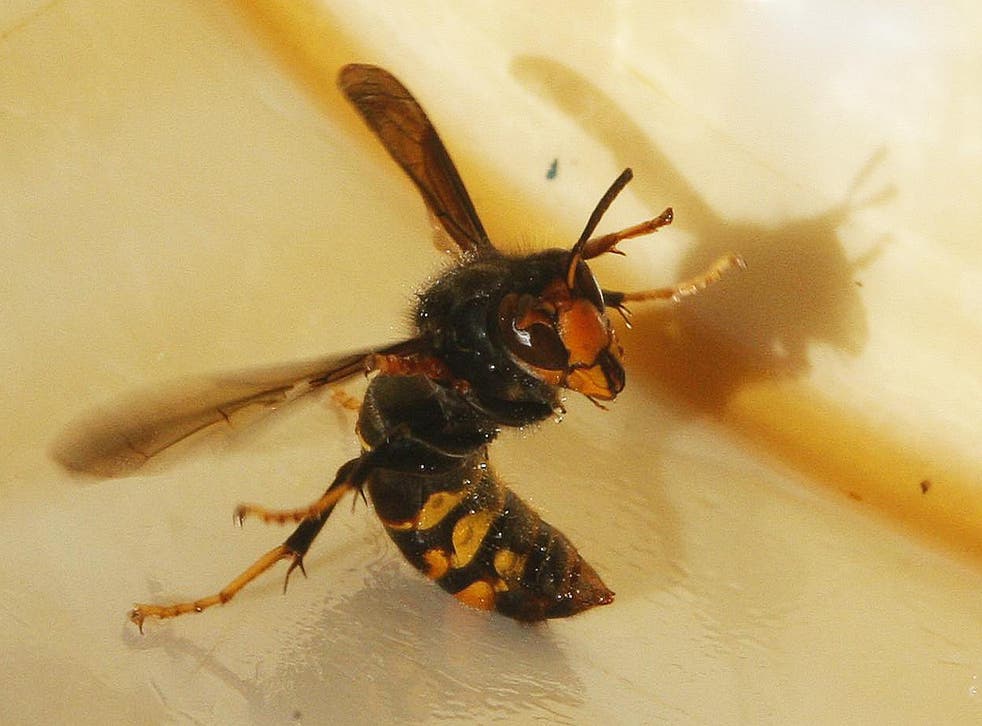 The first Asian hornets have been spotted in Britain and could be about to cause huge damage to bees, one of our most precious resources.
The hornets pose no risk to human health. But they pose a huge risk to the life of honey bees, one of our most precious and threatened natural resources.
Authorities are now launching a plan to find and destroy any nests belonging to the species, in an attempt to wipe them out in the UK.
Climate change protests around the world

Show all 25
Honey bees are in decline and are central to the life of many of the crops we use to feed ourselves. But the hornets pose a huge risk to them – waiting outside their hive's entrance, biting their head off to kill them, getting rid of the entire group and then stealing their honey.
Our own bee colonies haven't evolved to cope with the threat of attack from the hornets, and so could be at risk from them.
The hornets have long been the subject of worry in the media that the "killer" insects would make their way to British shores. That has now been confirmed after one was spotted in Gloucestershire, the government has said.
The hornets have become widespread in central and southern France. For years, authorities have worried that they could arrive in imported plantpots, timber or even flying over themselves.
The hornets were first found in Jersey and Alderney over the summer. But officials hoped that they wouldn't be able to make their way over the rest of the channel to the mainland.
The hornets are about 2.5cm long, and smaller than European hornets. They pose no more risk to human life than the normal honey bee.
The government said that they had been worrying that the hornet would arrive for some years and that it had a plan to eradicate them.
"We have been anticipating the arrival of the Asian hornet for some years and have a well-established protocol in place to eradicate them and control any potential spread," said Nicola Spence, deputy director for plant and bee health at the Department for Environment, Food and Rural Affairs (Defra).
Beekeeper covered in 1.1 million bees
"It is important to remember they pose no greater risk to human health than a bee, though we recognise the damage they can cause to honey bee colonies. That's why we are taking swift and robust action to identify and destroy any nests.
"We remain vigilant across the country, working closely with the National Bee Unit and their nationwide network of bee inspectors."
The hornet that was discovered has been killed and has been sent for DNA testing at the National Bee Unit in North Yorkshire. Scientists there will look to work out how it arrived in the UK.
In the meantime, authorities have established a three-mile surveillance zone, using infrared cameras and traps to find any nests. If any are found, then disposal experts will kill the hornets and destroy them.
Register for free to continue reading
Registration is a free and easy way to support our truly independent journalism
By registering, you will also enjoy limited access to Premium articles, exclusive newsletters, commenting, and virtual events with our leading journalists
Already have an account? sign in
Register for free to continue reading
Registration is a free and easy way to support our truly independent journalism
By registering, you will also enjoy limited access to Premium articles, exclusive newsletters, commenting, and virtual events with our leading journalists
Already have an account? sign in
Join our new commenting forum
Join thought-provoking conversations, follow other Independent readers and see their replies