Australia refuses to ditch coal despite UN warning it must be abandoned to avert climate catastrophe
Prime minister says nation will not be held to report's conclusion emissions must be cut by nearly half within 12 years
Josh Gabbatiss
Science Correspondent
Tuesday 09 October 2018 14:15 Comments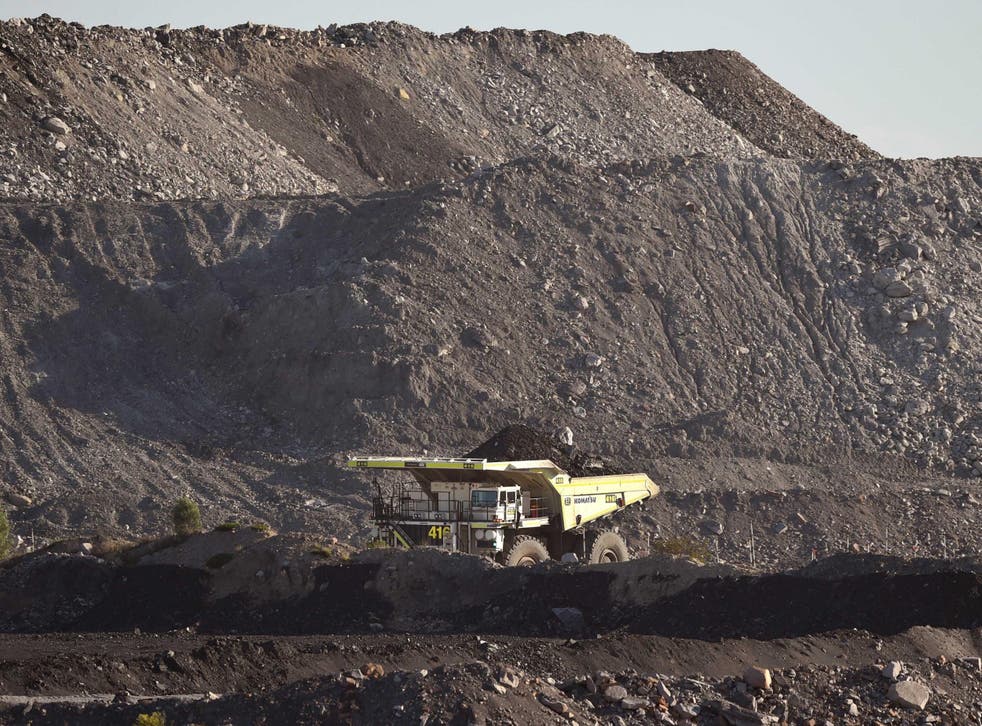 The Australian government has dismissed calls from a major UN climate change report to abandon coal by the middle of the century.
Deputy prime minister Michael McCormack said that Australia would "absolutely" continue to use its coal reserves, insisting they could not be replaced by renewable energy.
Released on Monday morning, the report by the UN's Intergovernmental Panel on Climate Change concluded nations must stop using coal by 2050 if they are to avoid increasing the global temperature by more than 1.5C.
The report contained particularly bad news for Australia's Great Barrier Reef, predicting that if the planet hits 2C of warming more than 99 per cent of the world's coral will be wiped out.
Despite this warning, along with the droughts and heatwaves that are likely to exacerbate Australia's already extreme conditions, ministers were unwilling to commit to phasing out fossil fuels.
"The fact is, coal mining ... and coal-fired power stations do play an important part of our energy mix in Australia and will do so going forward," Mr McCormack told Sky News Australia.
"The government [is] supportive of small business, of industry, of farms and of coal mining."
10 photographs to show to anyone who doesn't believe in climate change

Show all 10
The prime minister, Scott Morrison, said Australia would not give up on its Paris agreement commitment to reduce emissions by 26 per cent from 2005 levels by 2030.
However, he said that the government would not be "held" to the IPCC report.
On a global scale, the report concluded that emissions would need to be reduced by 45 per cent by 2030 if the most devastating consequences of global warming are to be avoided.
Besides coral reef extinction, these would include regular Arctic sea ice disappearance and millions of people in low-lying areas being forced from their homes by rising tides.
While the scientists concluded "unprecedented changes" would be needed in every aspect of society, fossil fuels were singled out as one of the biggest factors in contributing to greenhouse gas emissions.
The leader of the opposition Labor Party, Bill Shorten, said he thought a greater proportion of energy in Australia should be generated by renewable sources, but did not commit to phasing out coal.
Australia is without an official policy to cut greenhouse gas emissions beyond 2020 after infighting within the government led to former prime minister Malcolm Turnbull jettisoning it from his energy strategy.
Mr McCormack said that coal mining was vital for Australia as it provides 60 per cent of the nation's electricity, thousands of jobs and a major component of its exports.
Despite the nation's reliance on fossil fuels, Australia has shown some progress towards a transition to renewable energy.
The state of South Australia gets the bulk of its power from wind and solar sources, and has invested in major projects such as the world's largest lithium ion battery.
Register for free to continue reading
Registration is a free and easy way to support our truly independent journalism
By registering, you will also enjoy limited access to Premium articles, exclusive newsletters, commenting, and virtual events with our leading journalists
Already have an account? sign in
Join our new commenting forum
Join thought-provoking conversations, follow other Independent readers and see their replies