Australia's plan for world's largest coalmine sparks environmental concerns
The £7.8bn mine in Queensland will cover an area seven times the size of Sydney Harbour and has been labelled 'a complete disaster for the climate and for the Great Barrier Reef'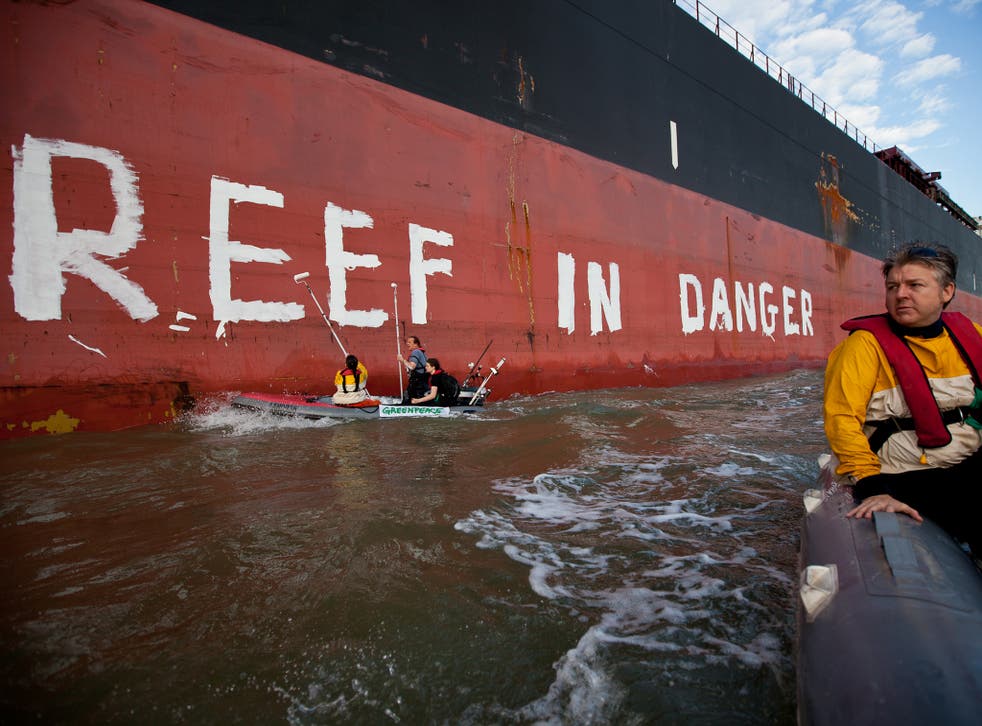 The Australian government has approved the country's largest and most controversial coalmine, sparking outrage among environmentalists, who warn it will damage the Great Barrier Reef and emit more carbon dioxide than the whole of New Zealand.
The A$16.5bn (£7.8bn) mine in Queensland, to be built by the Indian mining giant Adani, will be one of the world's largest, covering an area seven times the size of Sydney Harbour. About 66 million tons of coal a year will be dug up for export, mostly to India. Adani says the project will create 10,000 jobs and inject A$22bn into the Queensland economy. Critics accuse it of exaggerating the jobs figure, and say Australia should be focusing on renewable energy.
The go-ahead for the mine was announced by the federal Environment Minister, Greg Hunt, who imposed 36 conditions, describing them as "the strictest... in Australian history". They include protection of 31,000 hectares of habitat used by the threatened black-throated finch.
Australia's stunning Great Barrier Reef

Show all 8
Two rare reptiles, the yakka skink and ornamental snake, were the basis of a successful court challenge in August by an environmental group against a previous approval of the project. The new conditions include additional protection for them.
However, a spokeswoman for Greenpeace Australia Pacific predicted the mine would be "a complete disaster for the climate and for the Great Barrier Reef". It would mean "more dredging in the Great Barrier Reef, more ships through its waters and more carbon emissions", she said.
Because of its size and feared impact, the mine has been a flashpoint for protests. The Australian Conservation Foundation (ACF) says it will add 128.4 million tons of carbon dioxide a year to global emissions. The ACF's president, Geoff Cousins, described Mr Hunt's decision as "grossly irresponsible", saying: "At at time when the world is desperately seeking cleaner energy options, this huge new coalmine will make the effort to combat climate change all the more difficult."
Environmental groups have not ruled out a fresh legal challenge. Commentators also note that Adani is struggling to raise funds for the project. The National Australia Bank has refused to finance it, and other major banks are being urged to follow suit. The Queensland government welcomed the mine's approval. Adani said the mine and rail link were "at the heart of... [our] plans to build a long-term future with Queensland".
Register for free to continue reading
Registration is a free and easy way to support our truly independent journalism
By registering, you will also enjoy limited access to Premium articles, exclusive newsletters, commenting, and virtual events with our leading journalists
Already have an account? sign in
Register for free to continue reading
Registration is a free and easy way to support our truly independent journalism
By registering, you will also enjoy limited access to Premium articles, exclusive newsletters, commenting, and virtual events with our leading journalists
Already have an account? sign in
Join our new commenting forum
Join thought-provoking conversations, follow other Independent readers and see their replies