Climate crisis: Pregnant women exposed to extreme rainfall in Amazon have smaller babies
Extreme bouts of rainfall associated with lower birth weights due to premature delivery or restricted growth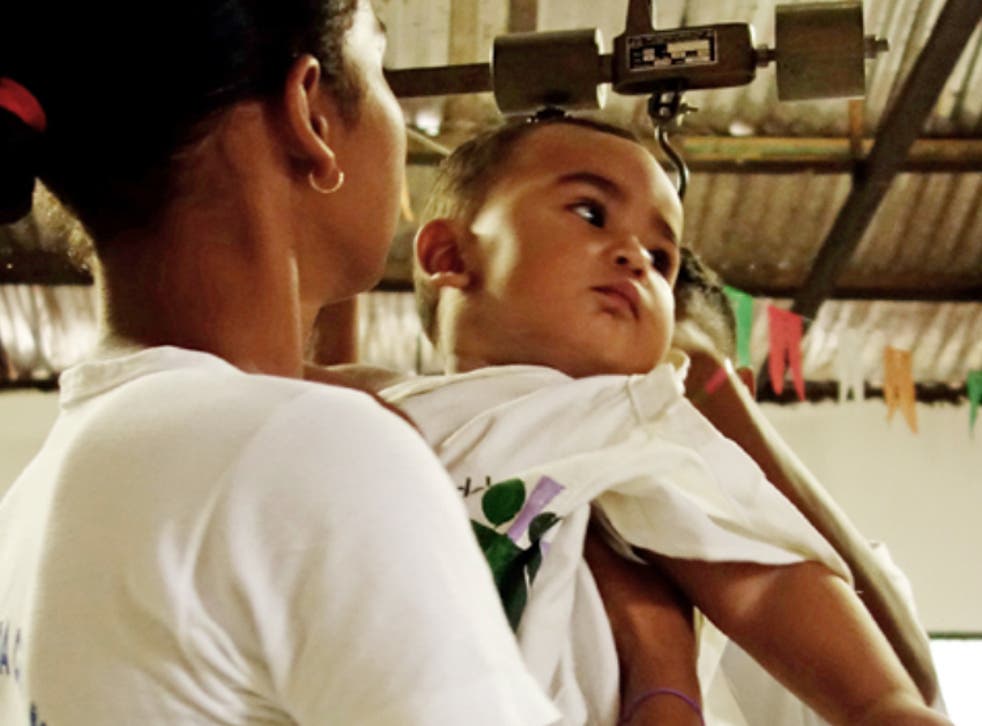 Pregnant women who are exposed to extreme bouts of rainfall are more likely to have babies with lower birth weights, according to new research.
The findings come from a decade-long study of communities along rivers banks in Amazonas State, Brazil, where people are already experiencing severe impacts of the climate crisis.
Researchers from Lancaster University and the Brazilian FIOCRUZ health research institute looked at 291,479 births between 2006 and 2017, to analyse how birth-weight, foetal growth and pregnancy duration were affected by local rainfall variability.
Extreme rainfall was associated with severely reduced mean birth-weight, due to premature delivery or restricted growth. The average birth-weight reduction was nearly 200 grams (7oz).
The study also found that even intense rainfall, which was not considered extreme, resulted in a 40 per cent greater likelihood of low birth weight. When there was less rainfall than expected, babies were born 39g (1.4oz) lighter, on average.
Low birth weight and premature birth can negatively impact a child's health and development.
Climate extremes can have consequences for pregnant women in a number of ways. If extreme weather leads to crop failures it can limit access to food, especially in subsistence farming communities.
Major floods and droughts have a major impact on people's everyday lives. Additional stress and anxiety in pregnancy can contribute to premature birth and impair normal childhood development.
The flooding which follows extreme rainfall provides ample breeding conditions for mosquitos, leading to outbreaks of malaria or dengue fever.
Malaria infection during pregnancy can affect both the mother and unborn baby and lead to maternal anaemia, foetal loss and premature delivery, according to the Centers for Disease Control and Prevention (CDC). Dengue fever is also potentially harmful and can lead to death of the foetus, low birth weight, and premature birth.
Climate shocks strike particularly hard in the marginalised populations of Amazonas, where communities live along rivers in remote "jungle towns" with no access to road networks.
In Amazonas, major floods struck in 2009, 2012, 2013 and 2014, and severe droughts in 2005, 2010 and 2015.
Sustained periods of exceptionally heavy rain are now more common in the region, and flooding is five times more likely than only a few decades ago.
Last year, deforestation in the Amazon soared to a 12-year high. The decimation of the Amazon rainforest along with global climate change is leading to increased temperatures and unpredictable rain patterns. This is likely to not only impact water resources, biodiversity and agriculture but also human health.
However the health impacts of the climate crisis are under-researched, the study, published Monday in Nature Sustainability, noted.
Lead author Dr Erick Chacon-Montalvan of Lancaster University said: "Our study showed that even intense but non-extreme rainfall was harmful.
"Increasing climatic variability in Amazonia is concerning, in part because subsequent disadvantages associated with low birth weight include in lower educational attainment, poorer health, reduced income in adulthood, and mortality-risks."
Researchers collected urban and rural birth registrations from an 11-year period in 43 highly river-dependent municipalities. They then analysed satellite data to calculate the number of weeks of prenatal exposure, including the pre-pregnancy trimester, to varying levels of rainfall, and compared with birth weight and length of pregnancy.
Jesem Orellana from FIOCRUZ in Brazil said: "Rainfall shocks confer inter-generational disadvantage for river-dependent populations living in neglected areas of Amazonia.
"These marginalised populations experience injustice because, despite contributing little to climate change, they are responsible for safeguarding most remaining forest and highly susceptible to climatic shocks."
Co-author Dr Luke Parry, also from Lancaster University, added: "Reducing the health risks found by the team will require much greater investment into poverty alleviation and better healthcare if we are to help Amazonia's river-dwelling populations adapt to changing rainfall patterns and increasingly frequent and severe floods and droughts."
Join our new commenting forum
Join thought-provoking conversations, follow other Independent readers and see their replies