Back to black: return to coal power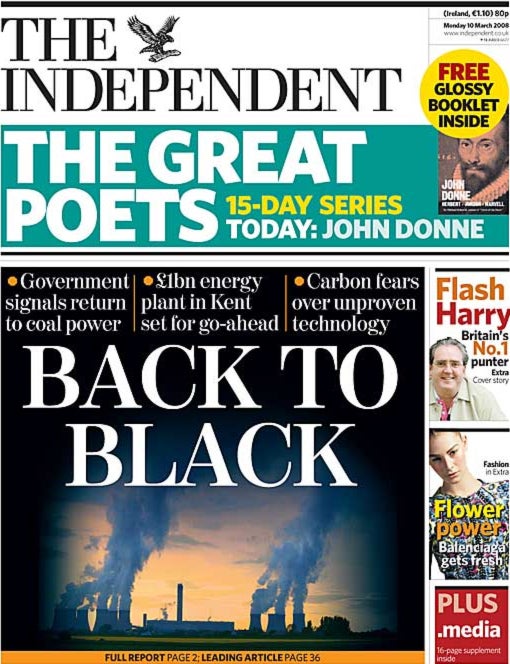 The Government will today anger environmentalists by signalling its support for a controversial new generation of coal-fired power stations and warning that Britain needs to burn more fossil fuels to prevent power cuts.
John Hutton, the Secretary of State for Business, will say that "clean coal" has a crucial role to play in filling Britain's energy gap for the future. He will accuse the green lobby of "gesture politics" by opposing any coal-fired plants, putting energy supplies at risk and presenting a false "black and white" choice to the public over coal.
Mr Hutton, the cabinet minister responsible for energy, will speak about the future of coal for the first time at a speech to the free market Adam Smith Institute in London.
But his speech is bound to raise questions about government environmental policy just two days before the the Chancellor, Alistair Darling, tries to reassure the green lobby by raising taxes on gas-guzzling vehicles.
Mr Hutton's remarks will be seen as a clear sign that the Government will approve plans to build Britain's first coal-fired power station since 1984 at Kingsnorth, Kent.
Green campaigners view the £1bn proposal as a vital test of the Government's commitment to the environment. The energy company E.ON UK wants to demolish an outdated plant and replace it with two units using cleaner coal to supply 1.5 million homes by 2012.
The firm claimed it would cut carbon emissions by nearly two million tones a year and could be a ground-breaking "clean coal" plant, with the carbon emitted stored under the North Sea.
Critics are worried the new technology remains unproved and a new coal programme would undermine efforts to secure a new worldwide agreement to combat global warming.
A further seven coal-fired plants are in the pipeline if, as expected, ministers give the go-ahead to Kingsnorth. Other possible sites include Blyth, Northumberland; Tilbury, Essex; Ferrybridge, West Yorkshire; High Marnham, Nottinghamshire; Longannet, Fife and Cockenzie, East Lothian.
Ministers insisted they recognised the environmental concerns, claiming Britain was taking a global lead on clean coal power generation. They argued the Government could not afford to play fast and loose with energy supplies and must ensure "the lights stay on". Mr Hutton will tell the Government's critics that its commitment to "decarbonise" Britain's electricity mix by the middle of the century remains "non-negotiable".
"But over this period, as we develop low-carbon technologies, we should be under no illusion – generation from fossil fuels will continue to play a key role," he will add.
Mr Hutton will say that nuclear and renewable sources jointly account for just over 20 per cent of UK electricity at present. By 2020, the nation may need to secure about 15 per cent of the total from renewables in order to meet its EU target. A new generation of nuclear plants might maintain or increase the nuclear contribution. But that would still leave a significant proportion of electricity, and the majority of overall energy, coming from fossil fuels, he will argue.
Mr Hutton will declare: "As a country we have to accept the reality that, even in meeting our EU 2020 renewables target, fossil fuels will still play a major part for the next couple of decades at the very least. And there is nothing wrong with that – provided we are meeting our international obligations to reduce our carbon emissions.
"For critics, there's a belief that coal-fired power stations undermine the UK's leadership position on climate change. In fact the opposite is true. Developing economies need to be able to see by the actions that we are taking that it is possible to use indigenous energy reserves and decarbonise your economy.
"Leadership isn't about forcing people into making binary choices. Low carbon energy production or fossil fuels, particularly when the primary goal – substantial emission reductions – can be achieved without having to make binary choices in the short term. The world will use a mix of energy sources for the foreseeable future. Our leadership role is best promoted by the actions we take on capping emissions, carbon pricing and supporting the development of new CCS (carbon capture and storage) technology. Not by gesture politics that could put our future energy security at risk."
Environmental groups last night denied that they would be playing "gesture politics". Russell Marsh, director of policy at the Green Alliance, said: "The reason UK emissions have risen for the past 10 years is because we have increased our reliance on coal-fired generation. The Government cannot expect to meet its legally binding targets, soon to be imposed through the Climate Change Bill, if it sanctions a new fleet of unabated coal-fired power stations."
Mr Marsh said that this week's Budget could only be viewed as "tinkering" on green issues if the Government went ahead with an expansion of both aviation and coal.
The minister will argue that fossil fuels will also play an important role in ensuring the flexibility of the electricity generation system for which demand fluctuates, particularly in winter. Neither wind nor nuclear power could fulfil this role, so back-up from fossil fuels will be needed, with coal seen as the most reliable source.
Although gas is cleaner than coal, Mr Hutton will warn that an over-reliance on gas would leave us more exposed to the international gas market as Britain's own resources decline.
Within seven years one of the world's first commercial-scale clean coal demonstrator plants could be up and running in the UK, generating electricity from coal with up to 90 per cent less carbon emitted.
Join our commenting forum
Join thought-provoking conversations, follow other Independent readers and see their replies