Badger cull expanded to 11 new sites despite cruelty claims
Government claims progress in fight against TB but campaigners call for 'medicine, not marksmen'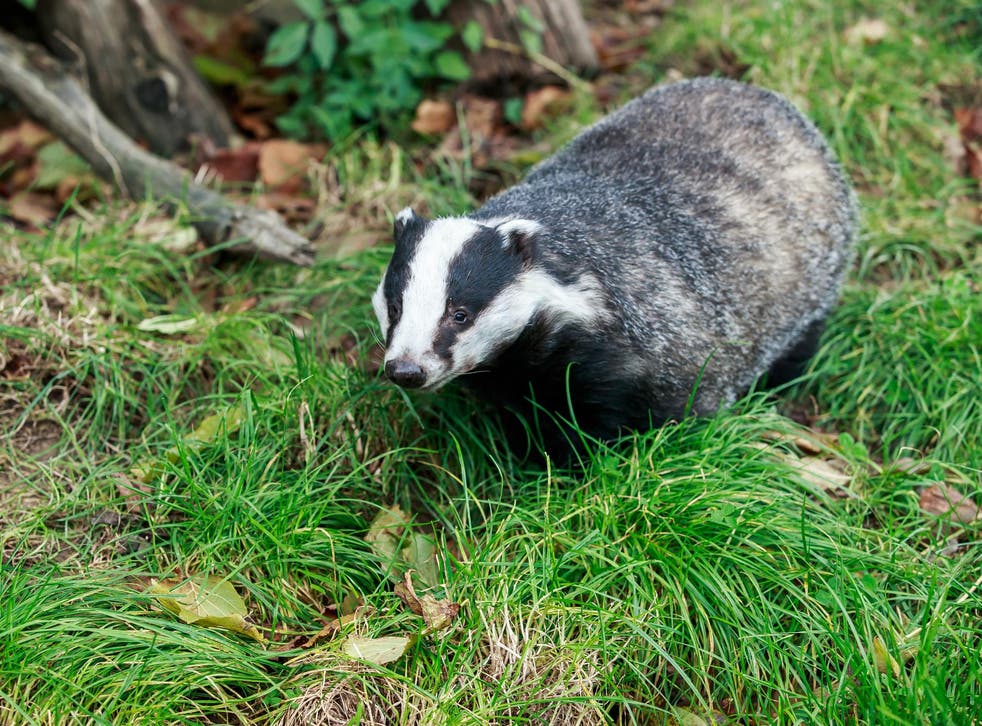 The government has given permission for 11 new badger culls to go ahead across England, despite widespread opposition by wildlife groups.
A fall in TB cases in two areas has been cited as a sign of progress in the fight to eradicate the cattle-killing disease.
Badgers will now be culled in Staffordshire and Cumbria, as well as existing areas in Gloucestershire, Somerset, Dorset, Cornwall, Devon, Herefordshire, Cheshire and Wiltshire.
Campaigners say the new licences could see over 40,000 badgers killed by the end of 2018, more than during the last five years of the badger cull combined.
Badgers have been blamed for the spread of TB among British cattle, but the government has faced bitter opposition over the policy, which many campaigners regard as unnecessary and ineffective.
Data released by the government appeared to show rates of TB in Gloucestershire and Somerset falling by half since the cull began – a result the government has welcomed as a victory.
Farming minister George Eustice said: "Today's figures showing reductions in TB cases in Somerset and Gloucestershire are evidence that our strategy for dealing with this slow moving, insidious disease is delivering results.
UK news in pictures

Show all 50
He added that TB is one of the "greatest animal health threats to the UK" and said the government is investing in a range of measures to eradicate the disease within 20 years.
"No one wants to be culling badgers forever so the progress reported today is encouraging," he said.
Chief vet Christine Middlemiss said the cull was "currently the best available option", alongside improved biosecurity and vaccination programmes.
Licences have been granted to 10 new areas in the high risk area for TB, as well as one additional licence for a pocket of infection in a lower risk part of Cumbria.
Campaigners have criticised the badger culling operation as cruel, and claimed it is not an effective strategy for limiting the spread of the disease.
In July The Badger Trust wrote to Natural England chiefs calling for an immediate halt to badger trapping to stop the animals dying of thirst in hot cages.
CEO of the Badger Trust Dominic Dyer said the government had yet to provide any reliable evidence that culling was linked to the decline in TB.
"Over 40,000 more badgers could be killed this autumn bringing the total killed since 2013 to over 75,000," he said.
"By 2020 over 150,000 badgers are likely to have been killed as a result of the cull policy, pushing this protected species to verge of extinction in parts of Britain which it has inhabited since the Ice Age."
In response to the latest announcement, Ellie Brodie, senior policy manager at The Wildlife Trusts, said that the government should be investing in "medicine, not marksmen".
"It is unacceptable that the government has not waited for the results of their own review – which we understand is to be published imminently – before forging ahead with another year of ineffective and expensive badger culling," she said.
"The badger cull is a dangerous distraction from addressing the main route of bTB transmission in cattle which is between cattle."
Register for free to continue reading
Registration is a free and easy way to support our truly independent journalism
By registering, you will also enjoy limited access to Premium articles, exclusive newsletters, commenting, and virtual events with our leading journalists
Already have an account? sign in
Register for free to continue reading
Registration is a free and easy way to support our truly independent journalism
By registering, you will also enjoy limited access to Premium articles, exclusive newsletters, commenting, and virtual events with our leading journalists
Already have an account? sign in
Join our new commenting forum
Join thought-provoking conversations, follow other Independent readers and see their replies