Balcombe fracking row takes fresh twist as it emerges parish council raised no objection to drilling
Tom Bawden
Wednesday 07 August 2013 18:25 Comments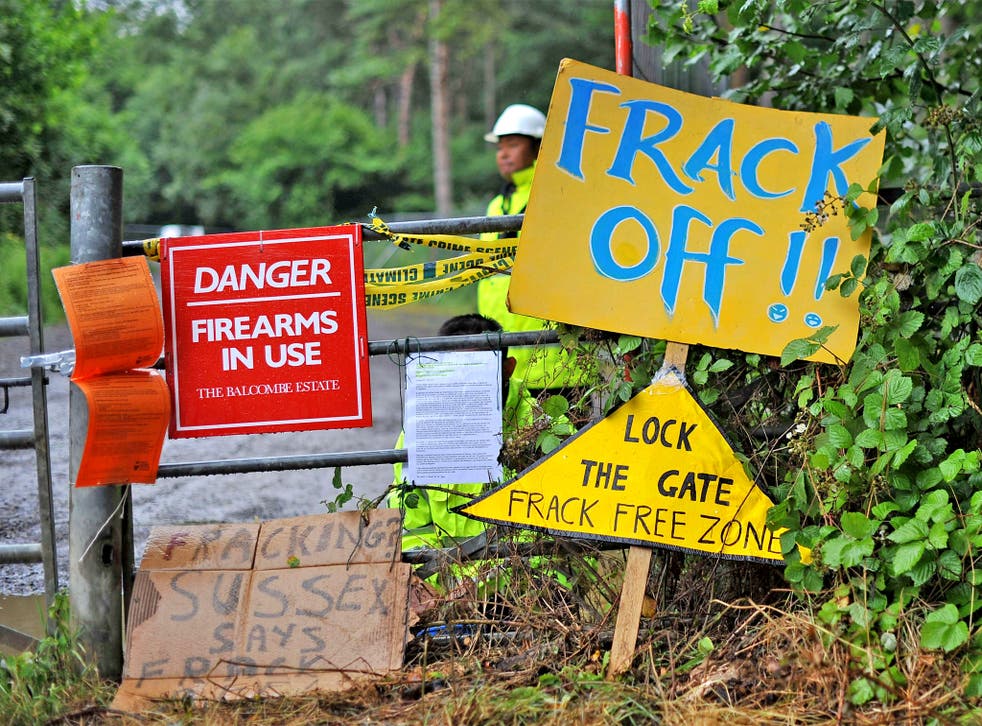 The two-week protest against potential fracking in Balcombe took a dramatic twist today as it emerged that the local parish council had lodged "no objection" to the planning application, without consulting the West Sussex village - a decision the council chair said she was now "gutted" about.
Alison Stevenson, a member of the parish council when the matter was dismissed without discussion in 2010 and now its chair, said no-one at the meeting had any reason to suspect an application by Cuadrilla, the fracking company chaired by former BP chief executive Lord Browne, would have any repercussions for the village.
This is because the site was just outside the village and was already barren having previously been used to produce oil without causing any problems, she said.
"Because it was an established site and is still an oil platform and is heavily shielded from the road we didn't feel a need to object to it or to take the matter any further. I fully accept now that this was a bad judgement call. We're as gutted as anybody else that we missed it," said Ms Stevenson.
"If we'd known for a second how significant this would be we would have plastered posters all round the village in a second," she said.
Back in 2010 very few people had heard of fracking, or hydraulic fracturing, a practice that has been linked to water pollution and earth tremors that releases oil and gas from shale by blasting a mixture of sand, water and chemicals into the rock at high speed.
Cuadrilla's 300-page planning application contained one reference to "hydraulic stimulation" which Ms Stevenson said she missed and wouldn't have understood anyway.
"We are a volunteer crew, with no qualifications. If we'd had a drilling expert that may have been different," she said.
The lack of a debate within the village was highlighted yesterday by Kathryn McWhirter, a resident and key opponent of Cuadrilla's plans to produce oil in the village. She said she first learned of Cuadrilla's plans from an article in the Independent in December 2011, more than 18 months after the village council was notified of the planning application.
Cuadrilla says it may not need to resort to fracking to extract any oil or gas it finds on the site and has neither sought nor received permission to frack on the site. However, most locals are concerns the company will end up concluding that it will need to deploy the technique and then secure the necessary permits.
They began protesting at the site gate two weeks ago and the campaign shows no sign of ending.
Register for free to continue reading
Registration is a free and easy way to support our truly independent journalism
By registering, you will also enjoy limited access to Premium articles, exclusive newsletters, commenting, and virtual events with our leading journalists
Already have an account? sign in
Join our new commenting forum
Join thought-provoking conversations, follow other Independent readers and see their replies