Campaigners call for 'cruel, barren' cages to be banned for over 350 million farm animals in Europe
Activists encouraged by vote in California to free egg-laying hens and sows – but some farmers warn it would push up prices
Jane Dalton
Saturday 10 November 2018 20:05 Comments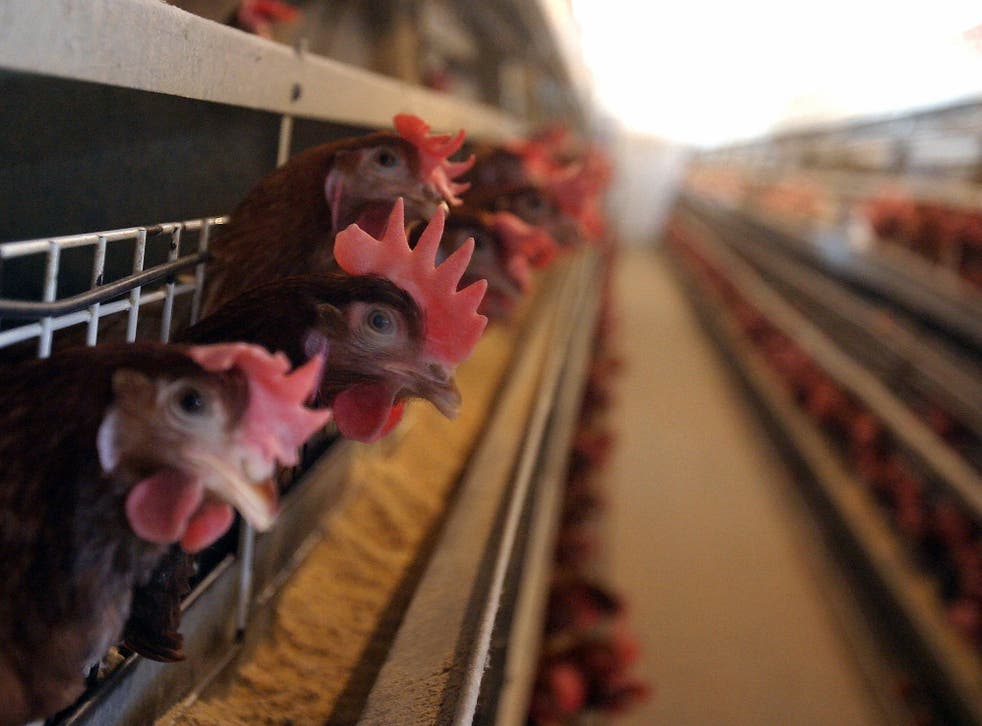 An ambitious campaign has been launched to ban animal cages on all farms across Europe, days after California passed a similar "historic" measure.
The move would affect at least 350 million hens, pigs, calves, rabbits and ducks in Europe that are held in "cruel" cages that activists say at worst are filthy and barren and at best restrict animals' natural roaming instincts.
Farmers in California opposed the plan, warning it would force up prices of food from farmed animals, ranging from eggs to ham.
But voters in the US state last week passed a measure obliging farms to give more space to certain animals and banning cages for egg-laying hens.
By 2022, female pigs used for breeding must by law have at least 24 sq ft of space each, and hens must have cage-free housing offering at least a square foot of space each.
Products from farms where the requirements are not met will not be allowed on sale in California, even if the farms are outside the state. Campaigners hailed the "historic step forward" for animal welfare.
The drive for similar legislation across Europe is being organised by more than 130 charities and groups, who say most EU citizens oppose confining animals to cramped cages.
They are using a European Citizens' Initiative mechanism, which allows people to suggest specific legal changes to EU institutions if a million signatures are gathered within a year.
If that number of signatures is reached, the commission must consider taking action.
British charity Compassion in World Farming, which is lobbying the British, Scottish, Welsh and Northern Irish agriculture ministers, said: "Cages inflict immense misery on enormous numbers of farm animals every year. They are cruel and unnecessary, as higher-welfare cage-free systems are viable. This cannot be the future of British farming.
"In many cases animals never see an open field or straw-covered floor. They may spend their whole life trapped, perhaps unable to turn around. Yet most people have no idea that animals are caged to produce cheap food."
The activists plan to launch a series of roadshows to show the public "the hidden cruelty" of cages and to win support.
They say that in Britain alone, 16 million animals are kept in cages. However, at 37 per cent of hens and 53 per cent of sows, the UK is not the worst offender.
Figures from CiWF show the worst is Malta, where all sows, 97 per cent of hens and 96 per cent of meat rabbits are reared in cages.
Portugal, Estonia, Latvia, Lithuania and Spain also all keep high proportions in cages.
The "End the Cage Age" campaign has just been launched in the Czech Republic, where all sows and 84 per cent of hens are caged. But poultry industry chiefs there have warned a cage ban would significantly drive up the cost of eggs and animal agriculture companies could go out of business.
Support free-thinking journalism and attend Independent events
In the UK, the new Agriculture Bill sets out how farmers will be paid to be environmentally friendly, taking measures such as curbing flooding and improving access to the countryside after Brexit, and environment secretary Michael Gove will face pressure to outlaw cages in future legislation.
Register for free to continue reading
Registration is a free and easy way to support our truly independent journalism
By registering, you will also enjoy limited access to Premium articles, exclusive newsletters, commenting, and virtual events with our leading journalists
Already have an account? sign in
Join our new commenting forum
Join thought-provoking conversations, follow other Independent readers and see their replies