Barack Obama unveils strict new US climate change measures to Congress
President brushes off Republican critics and global-warming sceptics with plan of action against 'threat of our time'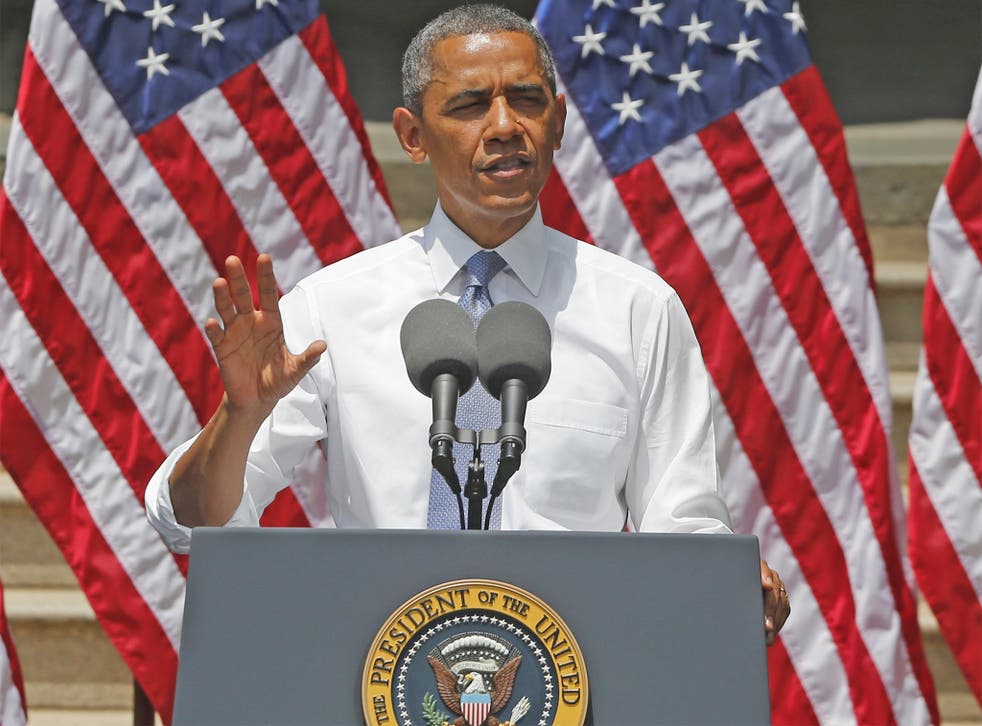 Facing down a recalcitrant US Congress as well as a sceptical American public, President Barack Obama has unveiled a swathe of measures designed finally to put his administration's back into tackling global warming, notably imposing strict new curbs on carbon dioxide emissions from electricity-generating plants.
The measures, which can be implemented without recourse to any votes by Congress, had been widely expected and were harshly criticised by the president's Republican critics even before he laid them out in a speech at Georgetown University in Washington DC.
"The question is not whether we need to act, the overwhelming judgment of science, of chemistry and physics, millions of measurements have put all that to rest," Mr Obama said, dismissing those still debating the cause of warming.
"Ninety-seven per cent of scientists, including, by the way, some who originally disputed the data, have put that to rest. They have acknowledged the planet is warming and human activity has contributed to it.
"As an American as a president, as a father, I am here to say, 'We need to act.' Our planet is changing in ways that will have profound impacts on all of humankind."
While environmental activists welcomed the initiatives, there was a clear risk that they could be halted or watered down in the courts.
A spokesman for Senator Mitch McConnell, the top Republican in the US Senate, signalled dismay with the plan, suggesting it amounted to hidden taxation. "Will the president explain the massive costs to American jobs? Will the president explain how low-income Americans would pay for their new, higher utility bills?" Don Stewart asked.
While Mr Obama made combating climate change a central plank of his election platform in 2008, his supporters were disappointed when the issue lost traction during his first term, largely because of opposition on Capitol Hill. Under his watch, however, the Environmental Protection Agency has gradually introduced standards on emissions, notably so far on vehicles.
This is the first time, however, that Washington has pledged to put in place a strategy of mandatory limits on CO2 exhaust from all power plants, both existing and new, using the provisions of the 1970 Clean Air Act. Only by doing so will the US be able to meet the Obama administration's pledge to slice greenhouse gas emissions by 17 per cent from 2005 levels by 2020. Mr Obama is also promising to step up support for alternative energy projects.
Polling has consistently shown a widespread lack of concern with climate change among the US public, which may in part be due to successful lobbying by the fossil fuel industry in particular aimed at debunking scientific evidence that humans are to blame for it. A Pew Research survey recently found that only four out of 10 Americans consider climate change a threat to the country's future.
Mr Obama has made no secret of his intention to act, most recently when he spoke at the Brandenburg Gate in Berlin when he said that climate change was the "global threat of our time".
In the US, emissions from generating plants, many coal-fired, stand out as the biggest component of the emissions problem. Electricity generation accounted for 32.8 per cent of CO2 emissions last year, the EPA reported, with coal at 25.7 per cent.
"The country is facing a threat; the president is facing facts," noted Dan Lashof of the Natural Resources Defense Council. "Reducing that pollution is the most important step we can take as a nation to stand up to climate change."'
Register for free to continue reading
Registration is a free and easy way to support our truly independent journalism
By registering, you will also enjoy limited access to Premium articles, exclusive newsletters, commenting, and virtual events with our leading journalists
Already have an account? sign in
Register for free to continue reading
Registration is a free and easy way to support our truly independent journalism
By registering, you will also enjoy limited access to Premium articles, exclusive newsletters, commenting, and virtual events with our leading journalists
Already have an account? sign in
Join our new commenting forum
Join thought-provoking conversations, follow other Independent readers and see their replies