Greenpeace 'shuts down' 100 Barclays branches over fossil fuel funding
Campaigners call on bank to stop giving billions to firms that are not aligned with the Paris climate agreement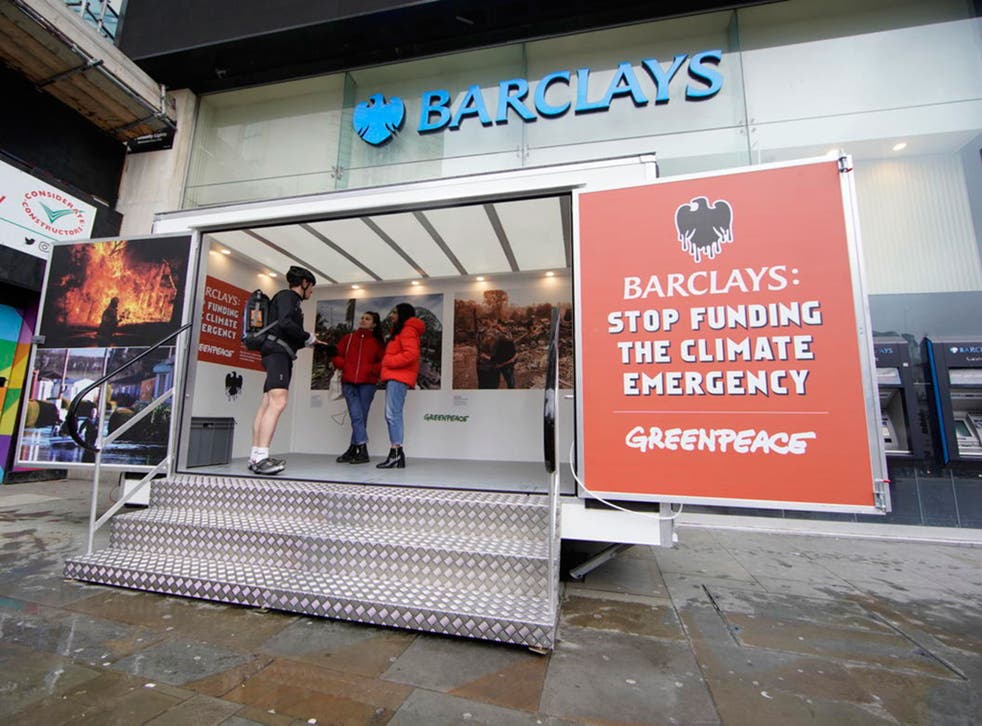 Environmental campaigners forced nearly 100 Barclays branches across the UK to close on Monday.
Greenpeace activists installed pop-up exhibitions in bank entrances to highlight how Barclays funds fossil fuel companies.
They blocked 97 branches in towns and cities including Belfast, Cardiff, Edinburgh, London and Manchester.
Greenpeace is demanding Barclays scales back its support for companies and projects that are not consistent with the Paris Agreement's target of limiting global warming to 1.5C.
Barclays was recently named as Europe's biggest funder of fossil fuels, providing £66bn between 2016 and 2018.
UK news in pictures

Show all 50
This includes lending money for some of the most damaging forms of oil and gas extraction. Barclays lent $13bn (£10bn) to the top 30 fracking companies, $3.3bn to coal power firms and $2.5bn to tar sands pipeline companies.
The bank has been urged by NGOs to establish a policy outlining how it will reduce its funding of fossil fuels. Barclays also faces a shareholder resolution at its annual general meeting in May to stop financing companies that are driving the climate crisis.
In the first resolution of its kind filed against a European bank, 12 pension funds managing more than £130bn are calling on the bank to bring its activities in line with the Paris Agreement.
Morten Thaysen, climate finance campaigner at Greenpeace UK, said: "Barclays must stop funding the climate emergency, that's why we've taken action today.
"From floods to bushfires and record heat in Antarctica, the impacts of this crisis are staring us in the face.
"Yet Barclays keeps pumping billions into fossil fuel companies at exactly the time we need to stop backing these polluting businesses."
Barclays has been criticised as a laggard among banks in adapting to the climate crisis. Other European banks have begun to take steps to align with the Paris Agreement. In June, French lender Crédit Agricole committed to fully phase out its exposure to the coal industry by 2030 for EU and OECD countries; 2040 for China; 2050 for the rest of the world.
Outside the Castle Place branch in Belfast, Richard George, head of oil for Greenpeace, said: "Barclays is the biggest funder for the fossil fuel industry for the whole of Europe and the UK.
"We're here to send a message that they need to move their money out of fossil fuels and start supporting real climate change solutions instead."
He added: "Banks are just as responsible for the climate emergency as the fossil fuel companies they fund, yet they've escaped scrutiny for years."
A Barclays spokesperson said: "We recognise that climate change is one of the greatest challenges facing the world today, and are determined to do all we can to support the transition to a low-carbon economy, while also ensuring that global energy needs continue to be met.
"Greenpeace has a view on these issues to which they are completely entitled, but we would ask that, in expressing that view, they stop short of behaviour which targets our customers, and our colleagues, going about their lives in communities around the country."
Join our new commenting forum
Join thought-provoking conversations, follow other Independent readers and see their replies