Bass Rock: Visiting the Scottish island on the front line battling a declining sea bird population
Bass Island enjoys special EU protections which have helped the gannet population to thrive, but the water around it does not - that may be about to change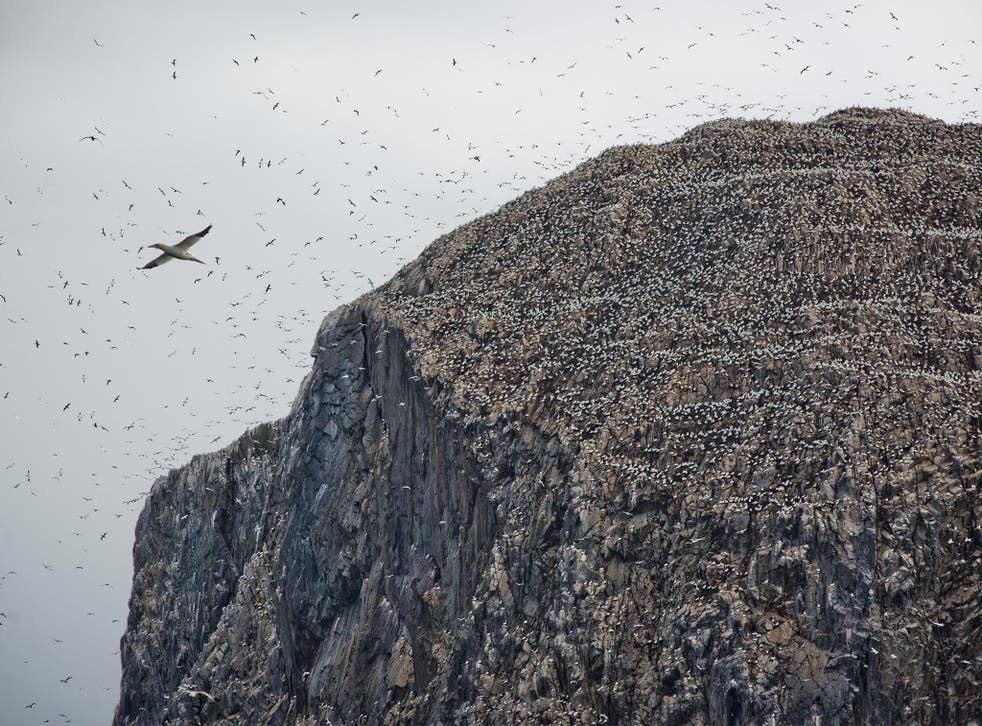 On a giant lump of volcanic rock off the east coast of Scotland a dozen fledgling gannets prepare to walk the plank.
They are trapped behind the ruined castle battlements on Bass Rock - home to 150,000 gannets – and find themselves in a life-or-death situation.
They won't be able to survive for much more than a day without food and the clock is ticking for them to fly over the battlement to the sea 200ft below and go fishing.
But they have never flown and even under less pressing conditions one in twenty fledglings die from their first flight.
Conservationists have helped them out by providing a plank laid from the foot of the battlement to the top. "Walking up the gangplank seems somehow appropriate," says John Hunt, of the Scottish Sea Bird centre..
But while these hardy gannets will hopefully thrive, other Scottish seabirds will need more than a plank of wood if they are to have a future.
Scotland's sea bird population has halved since 2000, with much greater declines among some species. Over the past two decades, Arctic terns have declined by 72 per cent, Arctic Skuas are down by 80 per cent and kittiwakes by 68 per cent. Puffins, razor bills and guillemots are also under pressure.
Approaching the island – the world's largest gannet population - by boat, however, Scotland's seabird population seems anything but precarious.
There are gannets everywhere. Male birds swoop past with seaweed in their mouths, taking it back to refurbish the nest, while others dive for fish.
And on the gannet-covered island tens of thousands of birds engage in a range of activities in a seemingly endless wave of motion.
Some are beak-fencing – mates playfully swordfighting as a bonding activity – while others are performing a territorial display involving bowing, dipping their heads and spreading their wings out backwards.
Sky-pointing – pushing your beak into the sky – is another popular activity, communicating to your partner that you about to fly. As is vigorous head shaking - another form of territorial display - and preening, as the birds spread oil over their feathers from a gland on their back to make them waterproof.
"I always enjoy this journey," says Phil Taylor, of RSPB Scotland. "Starting on the beach and looking at this white blob, which is 'the bass' and as you approach it becomes this cloud around the top. And as you get closer this cloud resolves into 50,000 birds flying in the sky."
Looking at the approaching rock, he added: "There is literally no real estate left - every available ledge has a nest on it."
"The gannets are massive, versatile scavengers at the top of the food chain and they can eat all sorts of things. But other seabirds require big shoals of fish – like sand eels, sprats, herrings - that are easy to get at. Scottish sea birds are facing a massive problem. There has been a huge decline in the fish they feed off as a result of climate change which has made the water warmer. This is affecting zoo plankton, which is affecting life all the way up - the fish, the seabirds, the dolphins and the porpoises," he said.
He also blames the industrialisation of the sea, as fishermen damage the sea bed by dredging for scallops, fish farms proliferate and wind farms spring up – damaging key habitat and reducing the supply of staple foods, sand eels in particular.
"In 2013, one of my colleagues on Orkney observed 300 kittiwake nests and only one chick fledged [due to lack of food]. These are the indicators of the health of our sea. Seabirds are the barometers because we can't see how many porpoises are failing to raise their young or how many dolphins are failing to give birth."
Bass Island enjoys special EU protections which have helped the gannet population to thrive, but the water around it does not. That may be about to change.
The Scottish government is considering introducing protections for up to 14 areas around the coast, that, for example, would make it harder to build offshore windfarms and dredge for scallops.
One area being considered is the Outer Firth of Forth and Tay Bay Complex, which takes in the waters around Bass Rock. If introduced, the SPA would stretch from St Abbs Head, the National Trust nature reserve, to the south east of North Berwick, going up around the Firth of Forth up past Edinburgh and up the Aberdeenshire coast.
Mr Taylor believes the Scottish government is dragging its heels on making a decision on the Special Protection Areas and is calling on it to introduce all 14 proposed areas as soon as possible.
"Seabirds have suffered catastrophic population declines. The Scottish government has the opportunity to remedy this and lead the way for the UK. Further delay will just push this amazing part of our natural history closer to the edge," said Mr Taylor.
The Scottish government said it expects to make a decision on the SPAs later this year.
Cabinet Secretary for Rural Affairs, Food and Environment, Richard Lochhead said:
"Designation of Special Protection Areas are an essential measure to help protect and enhance our marine environment so that it remains a prized asset for future generations," he added.
Join our new commenting forum
Join thought-provoking conversations, follow other Independent readers and see their replies