Battling climate-change: How snakes and ladders could save the planet
Experts think putting eco-sensibility into fun childhood games will engage people more than 'misery messages'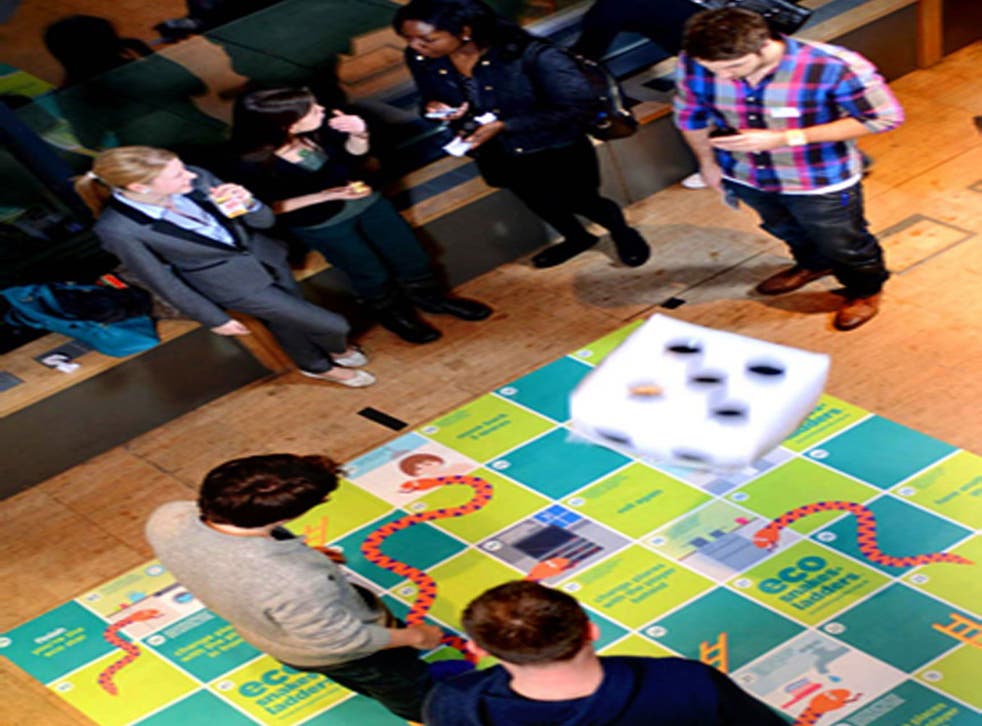 Snakes and ladders, bingo and top trumps might be old-fashioned games most associated with childhoods past, but if climate-change experts are to be believed, they could just help us to save the planet.
Paula Owen is on a one-woman mission to discover if a bit of fun and competition can convince people to lead more environmentally friendly lives. Firefighters, city workers, museum-goers, teachers, schoolchildren and university students will test out her eco-inspired games over the next year as she tries to show that learning about sustainability does not have to be dull.
Next week, Science Museum Lates, in London, will display her take on the classic games – including life-size snakes and ladders, where squares containing good activities (walking to work, say) send you up the ladders, while bad squares (overheating your home) send you sliding down snakes. And there's eco-bingo, where you can expect to hear: "Lag your loft; you'll save a ton – it's number one."
The former chemist told The Independent on Sunday: "I am trying to find a way to get the message across that's new, affirmative, positive and inclusive. I want to move people who are not informed by the messages of old into doing something – even if it's just the smallest thing. People are bored with the misery messaging that tries to guilt you into doing things; it means most people end up dismissing the whole thing."
Her new e-book, How Gamification Can Help Your Business Engage in Sustainability, is gaining attention worldwide. Venezuela, Brazil, Australia and Canada are all following Dr Owen's study and she says that the US Environmental Protection Agency is interested in a version of her eco-top trumps. Meanwhile, Manchester University wants 2,000 of the cards for this year's freshers.
But Paula Owen is not the only one to notice how games can be used to change people's behaviour in the real world. Gartner, a technology research company, predicts that more than 50 per cent of organisations involved in innovation will be "gamifying" processes by 2015, applying the mechanics of games in the real world. Deloitte, the consultancy firm, rates it as one of the top 10 trends to watch in coming years.
"The games aren't new; what's new is that we're taking games seriously," said Oliver Lawder, creative planner at Futerra, a sustainability communications agency. "Climate change is a massive global issue; lots of things individuals can do feel small and insignificant. What game mechanisms can do is start to reward, incentivise and show the collective effort of everyone coming together to have a positive effect."
The idea is not without critics who see it as just another gimmick. Plus, there are practical difficulties in collecting data for the more complex, digital games. But Mr Lawder predicts that we will move towards a "Gamification 2.0" as technology improves. As for the eco-factor, the idea is catching on. Nissan's Leaf line of electric cars now monitors efficiency-based achievements in the form of trees on the steering wheel, which drivers can compare, receiving virtual medals.
For Dr Owen, early results look good. More than 60 per cent of those playing her eco-games at the Science Museum's launch last month said they learnt new information which they could take home; and 64 per cent of the fire-fighters who piloted them said they could help the London Fire Brigade become greener.
Register for free to continue reading
Registration is a free and easy way to support our truly independent journalism
By registering, you will also enjoy limited access to Premium articles, exclusive newsletters, commenting, and virtual events with our leading journalists
Already have an account? sign in
Register for free to continue reading
Registration is a free and easy way to support our truly independent journalism
By registering, you will also enjoy limited access to Premium articles, exclusive newsletters, commenting, and virtual events with our leading journalists
Already have an account? sign in
Join our new commenting forum
Join thought-provoking conversations, follow other Independent readers and see their replies