Bearded vulture: Rare bird of prey spotted in UK for only second time
Birdwatchers flock to Peak District to catch glimpse of one of world's largest raptors 
Chris Baynes
Tuesday 14 July 2020 01:48 Comments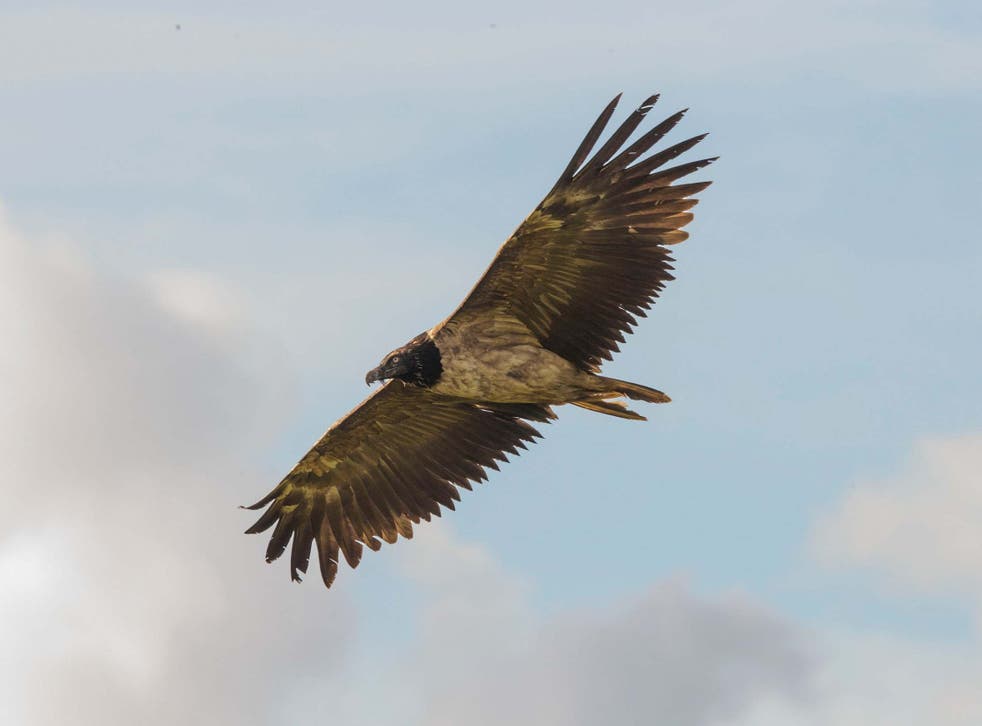 A "magnificent" bearded vulture, one of the world's largest birds of prey, has been spotted in the UK for only the second time in recorded history.
The distinctive scavenger was pictured by photographers on Howden Moor near Sheffield after reported sightings sent excited birdwatchers into the Peak District hoping for a glimpse of one of Europe's rarest raptors.
The species, which feeds on the bones of animal carcasses, is thought to have been seen in the country just once before in 2016.
"It's a truly magnificent sight, to see Britain's largest bird of prey in Yorkshire, and hundreds of birders from all over the country have made the journey," said William Bowell, a retail manager who watches and photographs birds as a hobby.
The bearded vulture, also known as a lammergeier, was tracked down by enthusiasts after it was first seen in West Midlands in late June. It is currently in a remote area owned by the National Trust in North Derbyshire.
The raptor is believed to be two years old and wild-born from a population that was reintroduced to the Pyrenees or Alps.
"These birds wander long distances but usually return to places of origin," the Derbyshire Wildlife Trust said.
The bearded vulture was spotted in Belgium before arriving in the UK, where it has attracted birdwatchers from across the country.
Mr Bowell said he was told of the bird's location by another spotter and then walked for two hours to get to the remote location.
"He spotted it on Friday night so I went down on Saturday morning. I missed it by about 20 minutes, and went back on Sunday morning. I left home at half three in the morning," said Mr Bowell, who lives in south Lincolnshire.
He added: "They were sublime views, I just never expected it. When we got there after missing it on Saturday it was elation.
"I never expected to get anything like those views, it was mind-blowing. Quite unexpected and quite remarkable."
Mr Bowell said he would not attempt to photograph the bird again while it stays in the area.
"I just don't think I'll be able to repeat it, so unless it roosts somewhere a bit more accessible... I'll wait for the next rare bird to appear," he added.
The bearded vulture is classified as a near-threatened species by the IUCN Red List.
The mountain birds, which can have a wingspan of up to three metres, eat mostly bones from carcasses which have been stripped of meat by other animals.
They are known to drop skeletons from a height to break them into smaller pieces before swallowing them.
The species is found in mountainous regions in Europe, Asia and Africa. It was once common in the Alps but was driven to extinction by the early 20th century, in part because of unfounded stories about the birds stealing livestock or even babies.
A reintroduction programme began in the Alpine range in the 1970s and there are now estimated to be 250 of the birds in the region.
Register for free to continue reading
Registration is a free and easy way to support our truly independent journalism
By registering, you will also enjoy limited access to Premium articles, exclusive newsletters, commenting, and virtual events with our leading journalists
Already have an account? sign in
Join our new commenting forum
Join thought-provoking conversations, follow other Independent readers and see their replies