'Beautiful' nuclear power stations can win over sceptics, says Energy Secretary Amber Rudd
The country is set for a complete overhaul of its energy infrastructure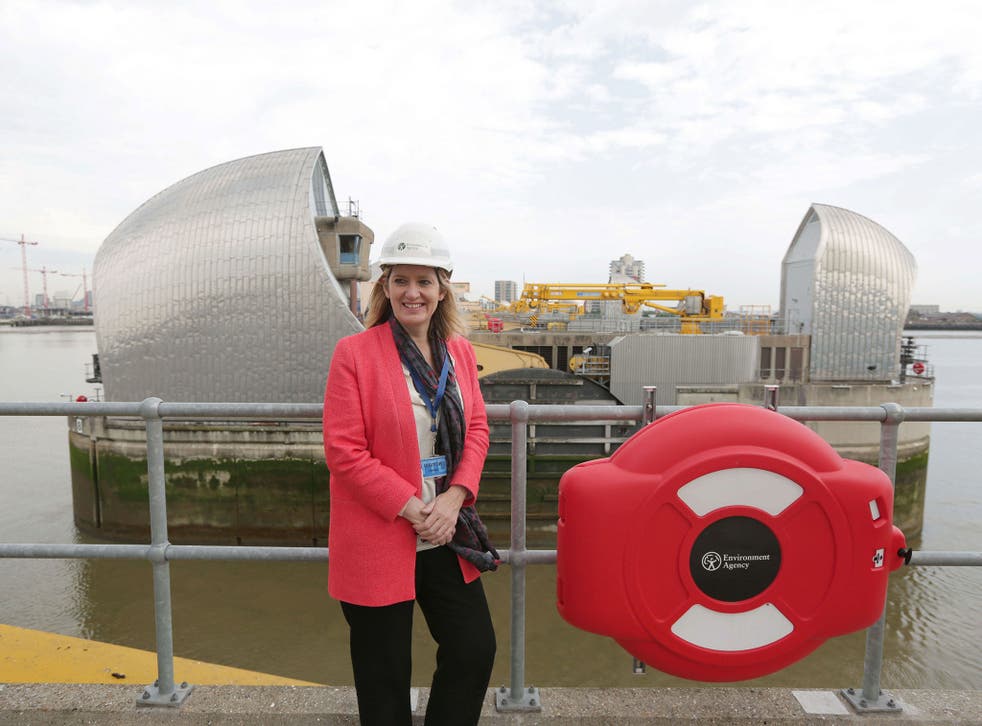 Britain's new nuclear power stations and other energy infrastructure projects must be designed to look beautiful to garner essential public support, the Energy Secretary, Amber Rudd, has said.
The country is set for a complete overhaul of its energy infrastructure in the next decade as new green sources of electricity such as nuclear, wind and solar power stations replace polluting coal and gas plants.
Furthermore, flood defences will need to be built to protect buildings, along with weather-resistant transport, waste and water services, as climate change makes weather conditions increasingly extreme.


With so much costly construction planned it is crucial to make sure the public is on side – by making the projects visually inspiring, the Energy and Climate Change Secretary told The Independent.
Britain's current nuclear power stations, which are all located at coastal sites, are notorious for their ugly functionality. "People in general want public structures to look good, as well as being functional. It's not a trivial thing, when you have a big infrastructure project that you put time, effort and money into," Ms Rudd said.
"We're hoping to build new nuclear plants in the UK over the next few years and I think it is a reasonable ambition to make sure that these big projects have aesthetic appeal as well to help win the public over," added Ms Rudd, in an interview at the Thames Barrier.
Ms Rudd said that her campaign to beautify Britain's infrastructure had been inspired by her visit to the flood barrier, which she said is being used far more than originally anticipated as climate change increases flooding.
"These big infrastructure projects – that are part of climate-change adaptation or energy generation – are an integral part of our lives and I think we should make them more attractive to the public.
"The Thames Barrier is such an extraordinary, iconic structure protecting London – I'm feeling inspired to review what I look at in the future to make sure they don't neglect [aesthetic considerations]."
Ann Robinson, of the uSwitch price comparison website, welcomed Ms Rudd's call to visual arms. "I think she's absolutely right. We're a small island and it's important to do things in a sensitive way. Public acceptability is important and the key to that is making the infrastructure as attractive as possible."
Ms Robinson added: "A lot of these projects can be controversial and Amber Rudd is proposing to give people more say in local developments. Against this backdrop, it's increasingly important that projects fit in with their surroundings."
What does five more years of the Tories mean for Britain?

Show all 8
The furore over plans for a new plant at Hinkley Point nuclear power station is an example of how controversial some projects can be. The Government has been locked in discussions with energy company EDF for years over the size of its subsidy and no agreement is in sight.
Ms Rudd visited the Thames Barrier in Woolwich with The Independent to mark World Environment Day.
In a wide-ranging interview, she pledged to keep pressuring the Big Six energy suppliers to cut their bills and to do her best to win over climate change sceptics – both in and outside her party. Ms Rudd wrote to each of the Big Six a week ago putting pressure on them to reduce prices, which have fallen a lot less than wholesale costs.
She said reducing energy prices will be her No 1 priority in office – but that it could take some time to achieve. "I've got to build that relationship so the Big Six realise I'm very serious about this – about making sure that energy prices come down when they should and I wanted to put that marker down early."
She also put a brave face on Michael Gove's refusal to let her attend the annual UN convention on climate change in Lima last December – even though she was the climate change minister.
"I was obviously disappointed. But it was six months before the election and he was the Chief Whip. I thought it was in the nature of government. Ed Davey [the then Energy Secretary] was going – I wasn't unhappy."
Ms Rudd admits the Conservative Party has an issue with climate change sceptics – although she insists that Labour harbours just as many MPs who are sceptical.
"In my experience as minister I found there were just as many Labour MPs as Conservative MPs who spoke out with their doubts about it. I'm not in denial – I'm aware that some of my colleagues aren't as committed as I and the Prime Minister are. But I'm going to be engaging with them, talking to them and hopefully winning them over," she says.
She has set up a meeting with Lord Lawson, Britain's most high-profile climate-change sceptic, as the first part of her campaign to win over the doubters.
"I will be having a conversation with him. I'm hoping to win him over, so great is my ambition. But we will see.
"He's a big voice and he was a remarkable Conservative politician and Chancellor so I'm interested in what he has to say. And I hope he will be interested in what I have to say.
"He's an intelligent man and I'd like to engage with him on what his issues are."
Oxfam: 'Britain can wean itself off coal'
The UK could stop burning coal for its energy supply by 2023 if it took decisive measures to use energy more efficiently and to become better at storing it, a new report from Oxfam claims.
In the week that leading scientists and economists launched a global research initiative to make green energy cheaper than coal within a decade, and a day after a report from the US National Oceanic and Atmospheric Administration that global warming may be speeding up, Oxfam challenged leading economies such as the UK to phase out coal-powered plants during the 2020s.
The new report claims that coal plants will cost the world more than £300bn a year by the end of the century as they fuel climate change that damages crops and buildings. It says the emissions produced by the G7 group of leading economies, including the UK, will be the biggest driver of climate change in coming decades, with Africa set to be hit particularly hard.
Join our new commenting forum
Join thought-provoking conversations, follow other Independent readers and see their replies