Berta Cáceres: Hondurian environmental activist killed in own home over opposition to hydroelectric dam
The campaigner is known for her opposition to several major hydroelectric projects in the country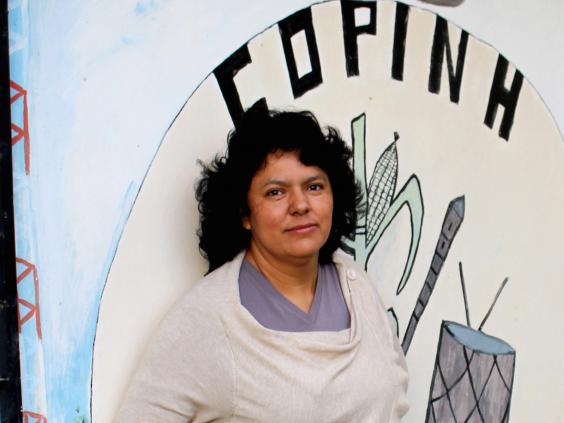 Berta Cáceres, a Honduran indigenous and environmental rights campaigner, has been murdered in her own home a week after she was threatened over her opposition to a hydroelectric dam project.
Ms Cáceres was shot dead when gunmen entered her home in La Esperanza in the west of the country at around 1am on Thursday.
Her attackers fled without being identified, but also wounded her brother. Police say they have arrested a suspect but did not release a name.
Police told Italian newspaper La Repubblica she had been killed during a botched robbery but her family have said they believe she was assassinated for her high-profile campaigns against dams, illegal loggers and land owners.
Her 84-year-old mother, Austrabertha Flores, said on Hondurian radio: "I have no doubt that she has been killed because of her struggle and that soldiers and people from the dam are responsible, I am sure of that. I hold the government responsible".
Last year, Ms Cáceres, a member of Honduras' largest indigenous group the Lenca, was awarded the Goldman Environmental Prize for her opposition to the Agua Zarca cascade - four giant dams in the Gualcarque river basin.
In pictures: Biggest threats to the rainforests
Show all 10
Her campaign held up the project by local firm Desa leading to the withdrawal of funding by a Chinese firm and the private sector arm of the World Bank, the International Finance Corporation.
She said she had regularly received threats because of her work: "They follow me. They threaten to kill me, to kidnap me, they threaten my family. That is what we face.
"They have guards which have made death threats against us. They've been on the point of shooting us. I've received threats and had my vehicle followed."
Three of her colleagues at the campaign group she co-founded, the Council of Indigenous Peoples of Honduras (Copinh), have been murdered over their opposition to the dam and two of her four children have reportedly already fled the country over safety concerns.
A 2015 report by Global Witness found Honduras to be the most dangerous country in the world for environmental activists with more killed in suspicious circumstances per capita than anywhere else.
The report said at least 111 activists were killed in the country between 2002 and 2014.
Erika Guevara-Rosas, Americas Director for Amnesty International, said in a statement that "the cowardly killing of Berta is a tragedy that was waiting to happen".
She said: "For years, she had been the victim of a sustained campaign of harassment and threats to stop her from defending the rights of indigenous communities.
"Berta's death will have a devastating impact for many human rights activists and organisations."
Additional reporting by AP
Join our commenting forum
Join thought-provoking conversations, follow other Independent readers and see their replies