International treaty needed to stop 'Big Food' industry driving obesity and climate change, report says
Industry groups say the latest proposals will see the cost of everyday essentials rise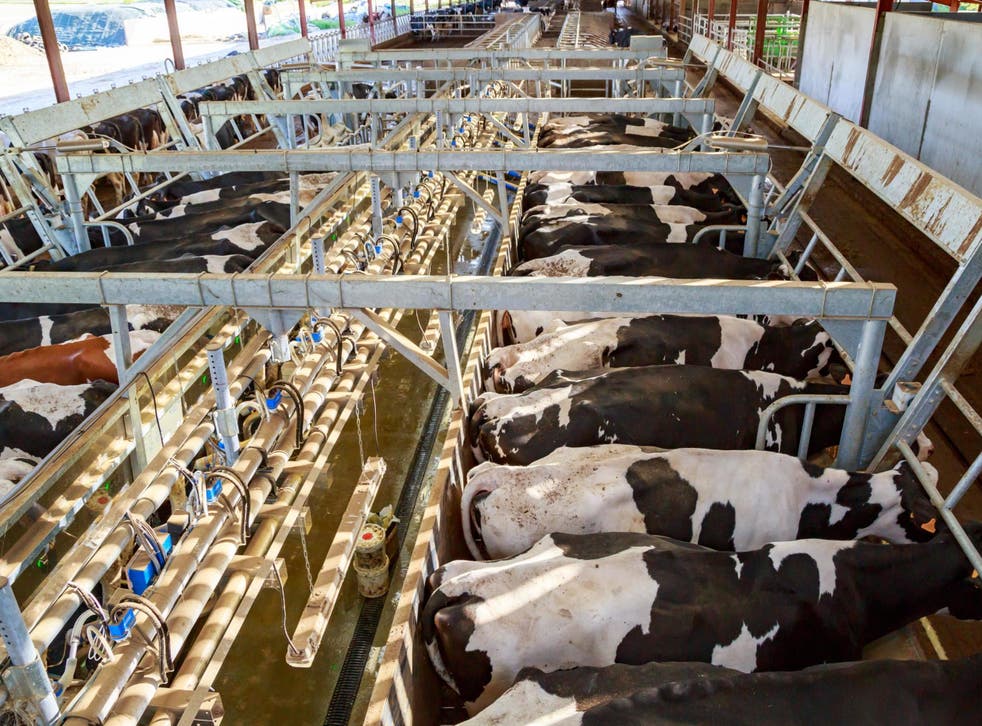 Lobbying by multinational corporations and trillions in government subsidies for unsustainable agriculture and fossil fuels are driving obesity, malnutrition and climate change, a major report has warned.
Taxes on red meat and subsidies for more efficient crops that could feed many more people are among the measures proposed by the Lancet Commission on Obesity report.
Drafted by an international panel of 43 biologists, climate scientists and policy experts, it also calls for a global treaty to limit the influence of "Big Food" which is hamstringing moves to more sustainable diets and lifestyles.
Similar measures were agreed to limit the influence of tobacco companies in health policy.
"The similarities with Big Tobacco lie in the damage they induce and the behaviours of the corporations that profit from them," author Professor William Dietz, from George Washington University, said.
Environment news in pictures

Show all 8
The report, published in The Lancet, comes after a separate commission proposed a "planetary health diet" which called for red meat to be limited to the equivalent of one burger a fortnight.
While industry groups said the latest proposals would see the cost of everyday essentials rise, climate change will also drive up prices from crops lost to droughts and flooding – meaning many more may go hungry.
The food system generates 25-30 per cent of greenhouse gas emissions, and cattle production accounts for over half of those, the report says.
"Until now, undernutrition and obesity have been seen as polar opposites of either too few or too many calories," said Professor Boyd Swinburn, co-chair of the commission.
"In reality, they are both driven by the same unhealthy, inequitable food systems, underpinned by the same political economy that is single-focused on economic growth, and ignores the negative health and equity outcomes."
"Climate change has the same story of profits and power," he added.
Sugar taxes, pioneered in Mexico and now implemented in the UK and beyond have sparked a major industry pushback with $50m spent in 2016-17 to lobby against national sugar reduction schemes.
Support free-thinking journalism and attend Independent events
Chilean senator Dr Guido Girardi helped spearhead initiatives in 2011 to curb junk food advertising in his country, where three-quarters of adults are overweight or obese.
"This was not without a great deal of resistance, of course," he told the commission. "The food industry, marketing companies, and politicians of the opposition alike, all claimed that there was no valid basis for the law."
Chile increased taxes on drinks with high levels of sugar in 2014.
Kay Johnson Smith, president and chief executive of the Animal Agriculture Alliance said US farmers are reducing greenhouse emissions "to record lows".
"The Lancet Obesity Commission ... ignores evidence of meat and dairy's contribution to healthy, sustainable diets," he added. "Experts in nutrition and the environment have repeatedly warned these radical recommendations are counterproductive and have serious, negative consequences for the health of people and the planet."
A spokesperson for the International Council of Beverages Associations said: "Beverage companies agree that the global challenge of obesity demands meaningful, practical solutions and we have taken significant and innovative steps to support sugar reduction.
"We have long believed in the importance of partnerships and collaborations in our communities around the world and find it unfortunate that the authors of this article take a restrictive and exclusionary approach to broad problems."
Join our new commenting forum
Join thought-provoking conversations, follow other Independent readers and see their replies