Big Six energy companies have 'quietly abandoned their green electricity tariffs'
Major suppliers made public commitments to reduce their carbon emissions
Tom Bawden
Wednesday 02 September 2015 09:42 Comments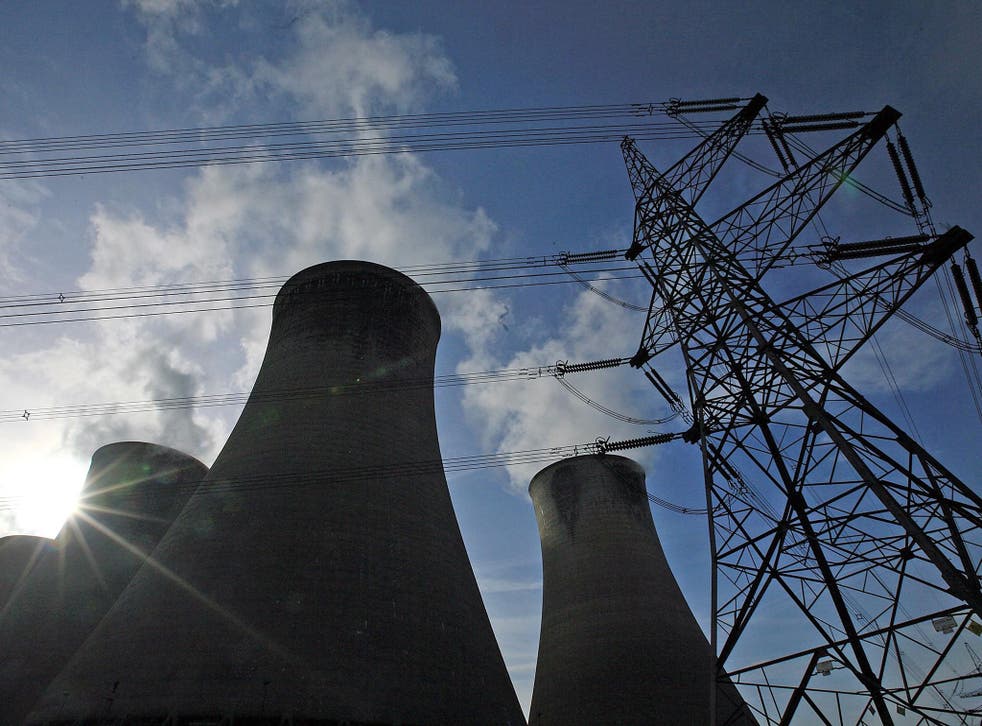 The commitment of the Big Six energy companies to tackling climate change has been called into question after it emerged that they have all quietly dropped their green electricity tariffs.
A day after The Independent revealed that British Gas and SSE use more coal to produce electricity now than they did ten years ago, it can now be disclosed that not a single one of Britain's biggest suppliers – which together provide 90 per cent of UK household power – offers a renewable energy tariff.
The is despite the major suppliers making public commitments to tackle climate change by reducing carbon emissions.
Will Hodson of consumer collective The Big Deal, which on Monday launched The Clean Energy Switch – a drive to persuade consumers to switch energy suppliers providing zero-carbon electricity with campaigning group 38 Degrees – said: "The Big Six's abandonment of their green tariffs is an appalling abdication of responsibility.
"Profits are what matter to these companies, not people, and certainly not the planet. With climate change looming, this approach is completely unacceptable."
Dr Doug Parr, Greenpeace Policy Director, said: "The big utilities talk a good game on green credentials but when the going gets even a little bit tough, they drop their green tariffs and revert to type."
The Big Six defended their decision to axe their 100 per cent renewable electricity tariffs - saying the decision had been forced upon them after the regulator Ofgem cut the number of tariffs they were allowed to offer to just four in 2013, in a bid to simplify the market.
In pictures: Changing climate around the world

Show all 15
The firms also maintain that overall the energy they generate and sell is greener than it was ten years ago. And they argue that because green tariffs are more expensive than the typical fossil-fuel dominated ones, there is relatively little customer demand. .
An SSE spokesman said: "All energy companies including SSE are bound by Ofgem regulations to restrict the number of tariffs they offer to a maximum of four…SSE welcomes a measure that allows it to offer customers a wider choice of tariffs than it currently can."
A spokesman for Npower added: "Npower's green energy tariff….is an example of the kind of innovative tariff that has been lost due to regulation limiting the number of tariffs energy suppliers can offer. However, npower's work to lower its environmental impact has not changed."
A DECC spokesperson said: "This Government's priority is to keep bills down for hardworking households and combat climate change in the most cost-effective way. Thanks to Government reforms there are now 29 energy suppliers in the market offering a range of options, including green tariffs, so consumers can find and switch easily to a deal that suits them."
Clean Energy Switch: You can sign-up for free at www.thebigdeal.com or at www.38degrees.org.uk by entering just an email address and postcode. Signing up does not mean you have to take the deal.
Register for free to continue reading
Registration is a free and easy way to support our truly independent journalism
By registering, you will also enjoy limited access to Premium articles, exclusive newsletters, commenting, and virtual events with our leading journalists
Already have an account? sign in
Join our new commenting forum
Join thought-provoking conversations, follow other Independent readers and see their replies