Bill Gates calls for Manhattan Project-style renewable energy drive
The world's richest man said he planned to double his own investment in green technologies to nearly £1.3bn
Ian Johnston
Friday 26 June 2015 20:43 Comments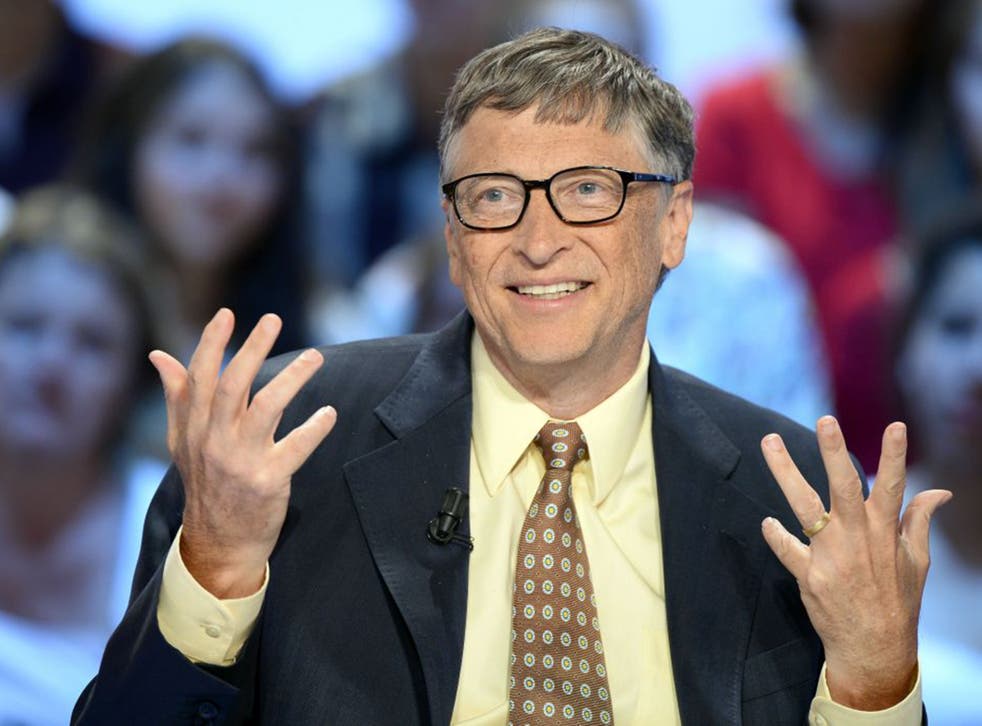 Governments should invest in research into renewable energy on the same scale as the Manhattan Project and the Apollo moon missions, Bill Gates has said as he revealed he planned to double his own investment in green technologies to nearly £1.3bn.
The world's richest man told the Financial Times that he had invested $1bn (about £650m) in companies involved in carbon capture technologies, next-generation nuclear, new kinds of batteries and other types of research in the field. And he said: "Over the next five years, there's a good chance that will double."
Mr Gates, the founder of Microsoft, said "great innovation" was still needed to make energy in a way that would reduce carbon dioxide emissions significantly.
And this would only be achieved if governments spent tens of billions of dollars on research and development into new renewables, he said.
"Because there's so much uncertainty and there are so many different paths, it should be like the Manhattan Project and the Apollo Project in the sense that the government should put in a serious amount of R&D," he told the FT.
The Manhattan Project was the US research programme that led to the creation of the first nuclear bombs. It ultimately employed 130,000 people and cost more than $23bn in today's prices.
But Mr Gates also suggested savvy private investors stood to make a fortune in the renewable industry in much the same way as those who picked the right firms at the dawn of the computer age.
"If I came and talked to you about software in the late 1970s, I would tell you: 'Hey, somebody's going to make a lot of money'. Now there's a tonne of software companies whose names will never be remembered.… If you happened to pick Microsoft, Apple or Google, you would have made lots of money," he said.
Mr Gates highlighted several areas of research that could prove promising, including technologies that would harness the power of the wind at altitudes of about 20,000 feet.
These could involve kites, kite-balloon hybrids known as kytoons or flying turbines capable of harnessing the energy of the jet stream.
"Capturing that energy is very difficult. It's classic capitalism. There's some wild-eyed companies, but it's great. I wish governments would help those guys out because there's a 10 per cent chance it's the magic solution," he said.
Another nascent technology to attract his attention is "solar chemical", a kind of artificial photosynthesis that could be used to create hydrogen for fuel.
And Mr Gates has invested several hundred million dollar in "nuclear recycling", which sees reactors powered by waste uranium from existing power plants as well as their own waste.
"Nuclear technology today is failing on cost, safety, proliferation, waste and fuel shortage, and so any technology that comes in has to have some answer to all of those things," he said.
Register for free to continue reading
Registration is a free and easy way to support our truly independent journalism
By registering, you will also enjoy limited access to Premium articles, exclusive newsletters, commenting, and virtual events with our leading journalists
Already have an account? sign in
Join our new commenting forum
Join thought-provoking conversations, follow other Independent readers and see their replies