'Wow, wow, wow': Stunning bioluminescence lights up Irish beach
Rare phenomenon captured on camera at Fountainstown Beach, just south of Cork City
Samuel Lovett
Tuesday 18 August 2020 20:25 Comments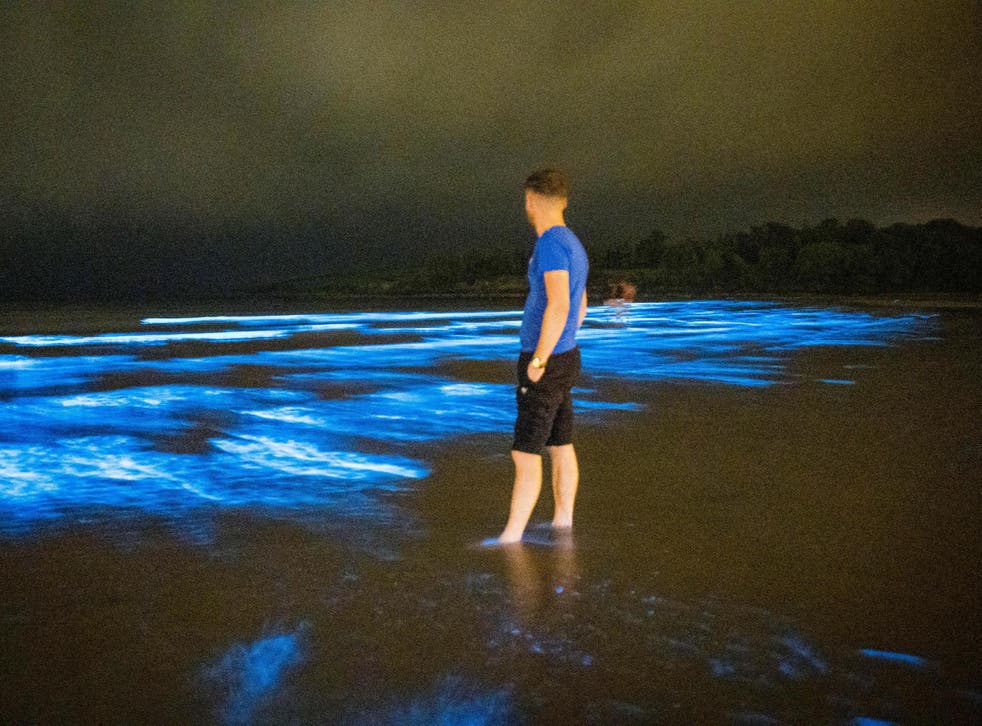 Nature lovers were treated to a rare sight this week after a stretch of coastline in the Republic of Ireland was lit up by bioluminescent plankton.
The phenomenon was captured on camera at Fountainstown Beach, just south of Cork City, by photographer Joleen Cronin and other locals.
Bioluminescence is the production and emission of light by a living organism. These creatures are found throughout marine habitats, from the ocean surface to the deep seafloor, and include bacteria, algae, jellyfish and plankton.
Ms Cronin likened the nighttime experience to a "disco".
"The intensity was incredible, each wave splashing millions of sparkles on to the beach," she told the BBC. "Wow, wow, wow!
"I was completely mesmerised by the whole thing, it was amazing.
"When you put your feet in the water it would just kind of explode beneath you.
"We went paddle boarding and when the paddle hit the waves, it was like a disco."
Ms Cronin said a number of local people had made the trip down to the beach, "even though it was almost midnight".
"It was worth leaving the house," she added.
Fountainstown Beach is well known for its bioluminescent seas.
Bioluminescence occurs when chemical reactions within plankton produce light in response to the water being disturbed.
Warmer weather and waters gives the plankton the opportunity to 'charge up' and glow even brighter than normal.
Register for free to continue reading
Registration is a free and easy way to support our truly independent journalism
By registering, you will also enjoy limited access to Premium articles, exclusive newsletters, commenting, and virtual events with our leading journalists
Already have an account? sign in
Join our new commenting forum
Join thought-provoking conversations, follow other Independent readers and see their replies