Bird spotted feeding chick cigarette butt in 'devastating' picture
'The baby needs to become a poster child for change'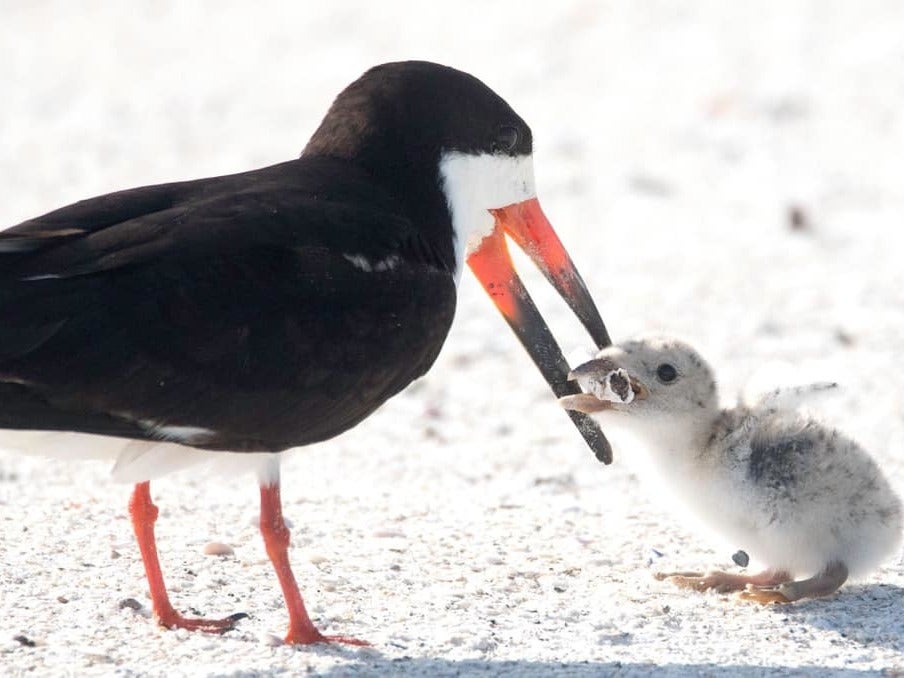 A parent bird has been spotted feeding its chick a cigarette butt, highlighting environmental concerns and prompting a wave of anger at careless smokers.
The black skimmer bird was photographed at a beach in Florida, US, picking the butt up and putting it in the baby's mouth.
Karen Mason, who took the photographs, issued a simple plea as she posted the pictures online: "If you smoke, please don't leave your butts behind."
She added: "It's time we cleaned up our beaches and stopped treating them like one giant ash tray. #nobuttsforbabies."
Commenters endorsed her plea, saying the sight was "heartbreaking and devastating".
Susan Nagi wrote: "The baby chick needs to become a poster child for change."
"People are disgusting!" wrote Josee Noel. "They don't want their butts, as if we do! Time to ban them, everywhere! What about our rights? Nature's? Toxicity off the charts!"
Ms Mason, known online as Karen Catbird, was inundated with requests from the world's media to reproduce her photos. "Whatever helps to get people to think before they toss," she said.
She explained that the birds feed by skimming along the water with their beaks open. "They don't see what they are getting. This parent must have latched on to a butt in the shallow water," she wrote.
"People won't go anywhere without a way to carry their cell phone but they apparently don't want to be bothered with carrying something small enough for their butts."
Liette Ricard pointed out discarding butts does not just hurt animals and environments, it can start forest fires too.
Cigarette butts were the most common item of all types of rubbish collected from beaches globally, according to a report by Ocean Conservancy last year.
"Tobacco butts are so ubiquitous that most of us have become blind to them," said Rachel Kippen, of the Santa Cruz County Tobacco Education Coalition. "There are 4.5 trillion of them littering our streets, parks and beaches around the globe.
"Most people don't realise that butts are made from cellulose acetate, a plastic that never entirely degrades.
"These filters provide no health benefit to smokers but create a lasting environmental threat, especially for the ocean, when they are inappropriately discarded – which most are."
Black skimmers – also known as scissor-bills or shearwaters – live mostly in estuaries and along wide rivers in warm regions.
Support free-thinking journalism and attend Independent events
Join our commenting forum
Join thought-provoking conversations, follow other Independent readers and see their replies