London's black cabs 'up to thirty times as toxic as personal cars of same age', research reveals
Mayor of London welcomes 'damning report' and calls for faster uptake of electric vehicles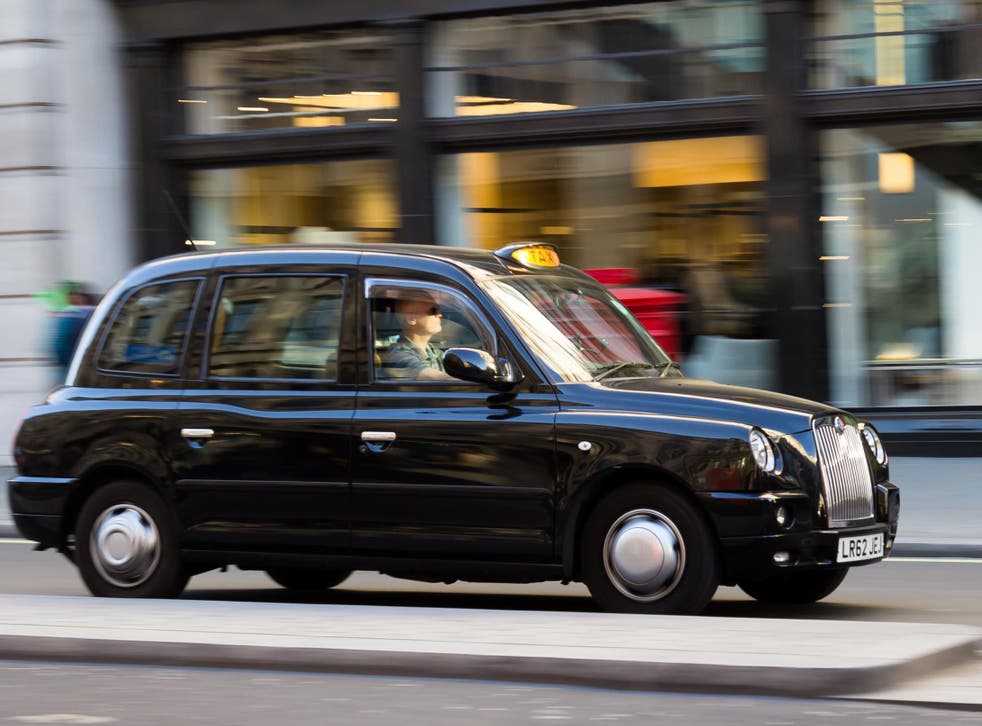 Some of the most common models of London's world-famous black cabs are emitting up to 30 times as much pollution as personal cars the same age, research has found.
Measurements of nitrogen oxide (NOx), particulate matter and carbon dioxide (CO2) emissions from over 100,000 vehicles in London have revealed the "disproportionate impact of black cabs on London's streets", The Real Urban Emissions (True) initiative report said.
Some newer models of the black cabs were found to emit even more pollution than older models.
The Chinese-owned London Electric Vehicle Company, formerly known as the London Taxi Company, based near Coventry, was the maker of the TX4 Euro 5 model which was found to produce at least 50 per cent more NOx than either of the company's earlier Euro 3 or Euro 4 models.
This means the average NOx emissions from black cabs have risen, per kilo of fuel used, over the past five years.
The research shows Euro 5 models along with older models are responsible for about 60 per cent of greater London's NOx emissions from passenger cars.
Euro 5 and Euro 6 diesel cars are on average producing six times more NOx than equivalent petrol cars, the research adds.
Sheila Watson, deputy director of the FIA Foundation which works with the True initiative, said: "Dirty vehicles, have been clogging the air with their toxic exhaust fumes, and taking a huge toll on the health of Londoners, especially children, for too long. Both policy makers and consumers have not seen the improvements in emissions which they should have based on the measured emissions of vehicles.
"The issue of dirty air is seen in cities across Europe, particularly as a result of a policy focus on diesel vehicles over petrol."
She added: "Cities like London have been working to improve air quality for years, with limited success as they haven't had the data to address the real emissions on the streets. The whole point of supporting this remote sensing work, is that it brings information and data to the policy arena which is not currently available. That data can only help policymakers, consumers and even manufacturers to understand better what is happening on our roads.
"The data does show a worrying trend in regards to black cabs in London to make a disproportionate impact on London's air quality."
True used the International Council on Clean Transportation's (ICCT's) methodology to create a traffic light rating system which grades cars based on their real-world nitrous oxide (NOx) exhaust emissions.
Extinction rebellion: Climate change protesters block London bridges

Show all 25
The mayor of London, Sadiq Khan, said: "London's air is so toxic it damages children's lung growth, causes thousands of premature deaths and increases the risk of asthma and dementia.
"We know that dirty vehicles are responsible for half of our NOx air pollution – and this new data from True and ICCT reveals the stark health impact of polluting diesel taxis on our streets."
Support free-thinking journalism and attend Independent events
He added: "We all need to play a part in cleaning up our toxic air and while I am encouraged that almost 1,000 taxi drivers have switched to cleaner electric taxis, this damning report really highlights why we need to accelerate their uptake."
A spokesperson for the London EV Company (LEVC), which no longer makes the Euro 5 diesel vehicles and manufactures London's first electrified black cab told The Independent it has invested £500m "to achieve the best-possible emission standards in developing the latest generation of London taxis.
"Recognising the growing challenge of inner-city congestion and pollution, we have been the industry leaders in developing ultra-low emission electrified taxis, symbolised by the new electric taxi TX eCity."
"More than a thousand LEVC electric taxis are now on the road in the UK and we are confident of further significant expansion of the fleet over the next few years. These new vehicles will gradually replace existing diesel taxis and we have tabled a number of proposals to the Mayor's Office aimed at speeding up this transition so we can meet the Mayor's target to have 9,000 electric taxis in London by the end of 2020."
Register for free to continue reading
Registration is a free and easy way to support our truly independent journalism
By registering, you will also enjoy limited access to Premium articles, exclusive newsletters, commenting, and virtual events with our leading journalists
Already have an account? sign in
Register for free to continue reading
Registration is a free and easy way to support our truly independent journalism
By registering, you will also enjoy limited access to Premium articles, exclusive newsletters, commenting, and virtual events with our leading journalists
Already have an account? sign in
Join our new commenting forum
Join thought-provoking conversations, follow other Independent readers and see their replies