Blackpool earthquake: Largest ever tremor hits UK's only fracking site
It is the fourth "micro seismic event" at the Preston New Road site in just 11 days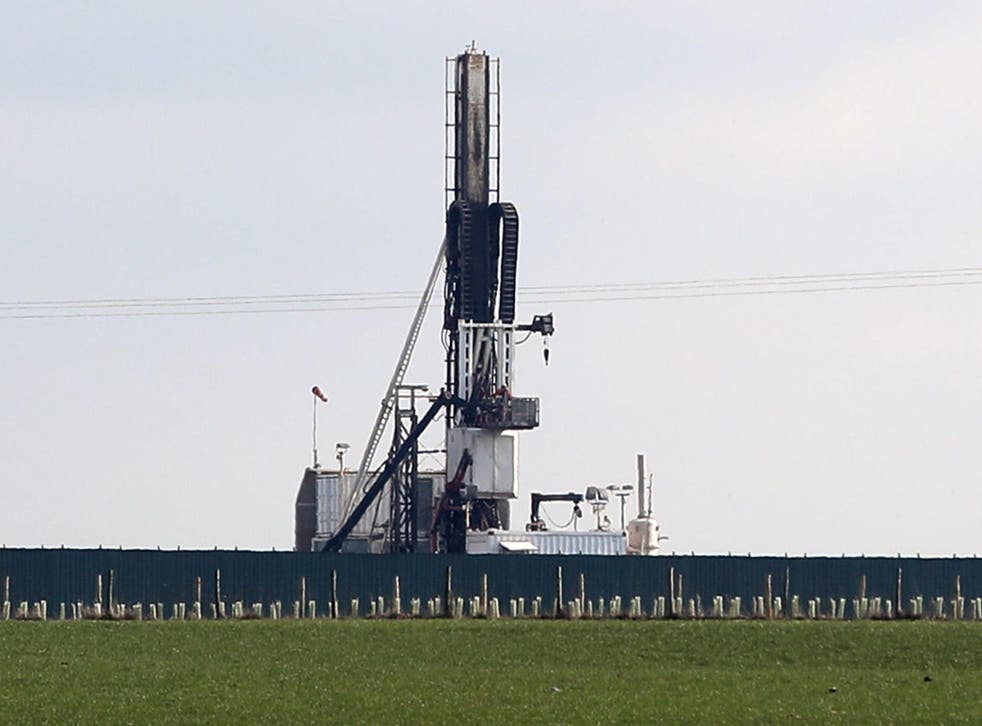 Another earthquake has been recorded at the UK's only active fracking site, less than two days after the previous record-breaking tremor at the facility.
The British Geological Survey detected the seismic event, which measured 2.9 on the Richter scale and had a depth of 2km (1.2 miles), at the Preston New Road site near Blackpool in Lancashire at 8.30am this morning.
It is the fourth "micro seismic event" at the site in just 11 days and follows a 2.1-magnitude tremor on Saturday night, 1.05 on Friday night and a 1.55 on Wednesday.
Pausing work for 18 hours is the routine response for any tremor over 0.5. This series of tremors has been triggered after the energy firm started fracking a new well on the site after closing down the first following another string of tremors.
Many people have taken to Twitter to complain about the incident, with some reports suggesting the tremor could be felt for 10 to 15 seconds and was severe enough to wake people up.
How fracking works and where it could happen

Show all 2
"Earthquake here in Wrea Green at 8.30am this morning. Certainly woke us up!" tweeted Stephen Benson from near Blackpool.
"Wow 8.30am my whole house shook. This cannot be ignored now. I live [in] Stanley Park area a good 3-4 miles from Cuadrilla site. No ifs no buts sort this for all our sakes," tweeted another resident.
A spokesperson from the energy firm said: "Cuadrilla is aware of a seismic event which occurred at about 8.30am this morning in the area of our exploration site in Preston New Road, near Blackpool.
"We can confirm that no hydraulic fracturing was being carried out at the time and no hydraulic fracturing has been carried out over the weekend. We are investigating the event alongside the regulators who monitor Preston New Road."
According to the British Geological Survey, the tremor on Saturday night had a depth of 2km (1.2 miles) and was felt by residents in areas including Great Plumpton, Blackpool and Lytham St Annes. Regulators were informed and the "integrity" of the well has been confirmed, Cuadrilla said.
While some local residents may have felt the movement, it was not strong enough to have caused any damage to property, the firm added.
Fracking, in which liquid is pumped at high pressure deep underground to fracture rock and release gas, has proved controversial in the UK.
Backers, including the government, claim exploiting the fossil fuel could reduce reliance on imports, secure supplies, help cut carbon emissions and create jobs.
But opponents say fracking can cause earthquakes, damage the countryside and keep the UK hooked on fossil fuels instead of focusing on renewable energy to help tackle climate change.
Government's fracking commissioner Natascha Engel resigns
Labour's shadow business secretary Rebecca Long Bailey has called for fracking to be banned, saying it causes air and water pollution and contributes to climate change.
Environmental campaign group Friends of the Earth said in 60 days of fracking last year there were 57 tremors in Lancashire and that it cannot be carried out without triggering earthquakes.
"Even small vibrations at ground level can be the sign of far more damaging impacts deep underground," said Jamie Peters, a campaigner for the organisation.
The government has said the extraction of shale gas through fracking could support the UK's transition to net zero greenhouse gas emissions
Register for free to continue reading
Registration is a free and easy way to support our truly independent journalism
By registering, you will also enjoy limited access to Premium articles, exclusive newsletters, commenting, and virtual events with our leading journalists
Already have an account? sign in
Register for free to continue reading
Registration is a free and easy way to support our truly independent journalism
By registering, you will also enjoy limited access to Premium articles, exclusive newsletters, commenting, and virtual events with our leading journalists
Already have an account? sign in
Join our new commenting forum
Join thought-provoking conversations, follow other Independent readers and see their replies