How does Boris Johnson's 'template for a green industrial revolution' compare with international climate efforts?
Will other countries follow the UK's environmental leadership, or are they already there?
Harry Cockburn
Thursday 19 November 2020 19:25 Comments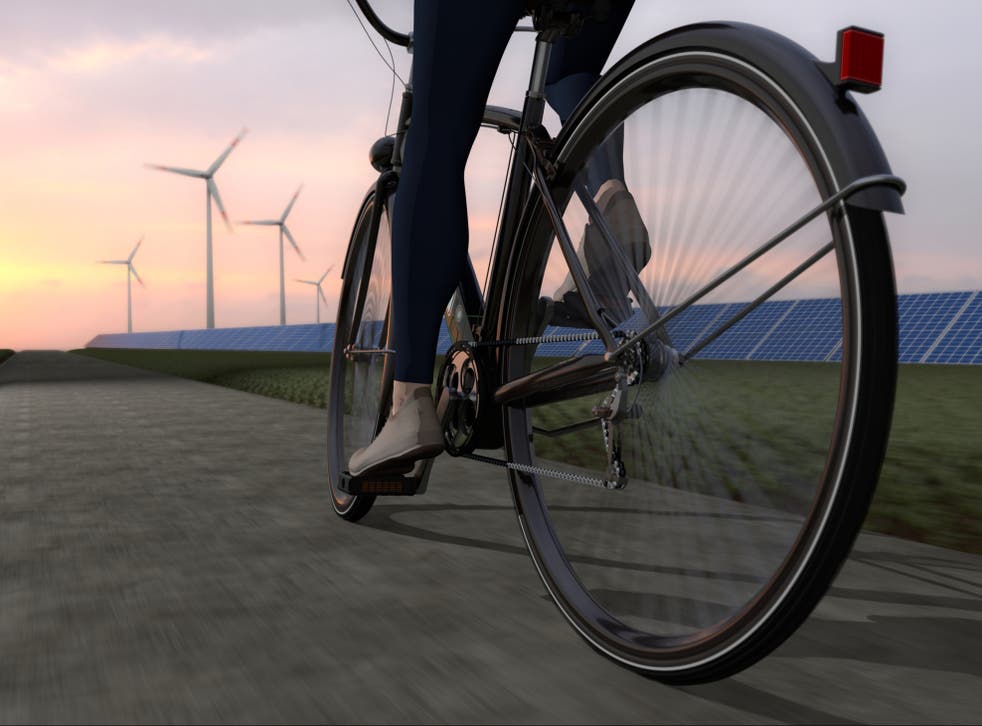 Boris Johnson has offered the world a "template for tackling global climate change" and announced the UK will spend £4bn of new money pursuing a 10 point plan of environmental policies.
The sum has been described as "beyond inadequate", by Green Party co-leader Sian Berry, and pales in comparison to the government's £27bn road building programme.
The government's plan, which includes banning the sale of new diesel and petrol vehicles by 2030, and planting 30,000 hectares of trees a year, was welcomed by the independent Climate Change Committee, though the committee has said £30bn a year is needed every year for 30 years, to meet the country's legally-binding net zero emissions commitment by 2050.
Ahead of the UN's Cop26 climate conference, which the UK will host in Glasgow next year, international focus on the UK's efforts to deal with the worsening climate crisis will be considerable.
So how does the government's vision compare to what is already happening in other countries?
1. Enough offshore wind to power every home by 2030
At last month's Conservative Party conference, Mr Johnson said he wanted to make the UK the "Saudi Arabia of wind", with a push for offshore windfarms, including new floating windfarm technology.
The UK is already one of the world's leading countries when it comes to wind power.
In 2019 the top 5 markets for wind installations were in China, the US, the UK, India and Spain, which together accounted for 70 per cent of the world's new capacity.
In Spain, around 20 per cent of the country's energy needs are met by wind – largely onshore installations. In the UK, wind power generated 30 per cent of the country's electricity in the first quarter of 2020, up from 22 per cent at the end of 2019. This is similar to recent trends in Germany, where wind accounted for 30 per cent of the energy mix over the first half of 2020.
Germany also has the greatest installed wind capacity in Europe, with over 60GW installed by 2019. The UK currently has 24GW, with 13.6 gigawatts of onshore capacity and 10.4 gigawatts of offshore capacity.
The UK is currently the world's sixth largest producer of wind power, and Mr Johnson has said the country's target over the next 10 years will rise from 30GW to 40GW.
2. Water turned into energy – £500m for hydrogen technology
The natural gas used to heat UK homes contributes almost a fifth of the country's total carbon emissions. But is hydrogen the answer?
Use of the fuel is still at a trial stage in the UK, which is joining industrial heavyweights Japan and Germany in researching whether the gas could be a viable alternative for some of the most polluting sectors, which as well as domestic heating, could be used in heavy industry and long-distance transport.
Mr Johnson has described investment in the sector as a "big bet".
3. New nuclear power – from large scale to small with advanced modular reactors
While Boris Johnson earmarked a modest £160m in October to kickstart the expansion of wind power, the government has also been mulling investing around £2bn in the building of as many as 16 small nuclear reactors.
This follows the enormous £22.5bn the controversial Hinkley Point C power station in Somerset is set to cost.
Nuclear power is still considered by many as a clean form of power as there are no immediate carbon emissions. The US has the most operational nuclear reactors in the world – 96. They have a combined capacity of just under 100GW, and accounted for around 20 per cent of the country's electricity generation in 2018.
France has just under 60 nuclear reactors, which produce about 75 per cent of the country's electricity.
Following the announcement of the 10 point plan, CND issued a statement condemning the planned expansion of nuclear power. CND general secretary Kate Hudson said: "There is no clean nuclear. Whatever the size, nuclear power stations are dirty, dangerous, and expensive. We need to decarbonise as fast as possible, but the best way to do that is through huge investment in renewables."
4. £2.4bn for electric vehicles including charge points across the country
The UK has a long road ahead of it to remove all the internal combustion engines from the road and see a new fleet of electric vehicles in their place.
The UK will ban the sale of new petrol and diesel cars and vans from 2030, five years earlier than previously planned.
But it will be a big leap for consumers: the Society of Motor Manufacturers and Traders said new electric cars accounted for a tiny 5.5 per cent share of the new car market in the first 10 months of this year.
The money earmarked for charging points will help the transition. There are currently just shy of 20,000 charging points available across the UK. While not a direct comparison, it is interesting to note there are around 8,300 petrol stations across the country.
But where does the ban on petrol and diesel engines place the UK internationally?
Norway
Norway is in pole position when it comes to electric cars. It is aiming to become the world's first country to end the sale of fossil fuel-powered cars, with a 2025 deadline. Fully electric vehicles now make up about 60 per cent of monthly sales in Norway.
European Union
EU environment ministers struck a deal on 23 October to make the bloc's 2050 net zero emissions target legally binding, but left a decision on a 2030 emissions-cutting target for leaders to discuss in December.
United States
California will ban the sale of new gasoline-powered passenger cars and trucks starting in 2035, the state's governor Gavin Newsom said in September.
Canada
The Canadian province of Quebec said this week it would ban the sale of new gasoline-powered passenger cars from 2035.
China
In 2017 China began studying when to ban the production and sale of cars using traditional fuels but did not specify when it might be introduced. Sales of new energy vehicles (NEV) will make up 50 per cent of overall new car sales in China, the world's biggest auto market, by 2035, an industry official said last month.
India
Last year, India's central think tank asked scooter and motorbike manufacturers to draw up a plan to switch to electric vehicles. The think tank also recommended that only electric models of scooters and motorbikes with engine capacity of more than 150cc must be sold from 2025, according to Reuters.
5. Cleaner public transport including thousands of green buses and hundreds of miles of new cycle lanes
Though the 10 point plan doesn't mention any specific new schemes, earlier this year, the government unveiled, unannounced, a report detailing a fundamental shift in transport policy. Transport secretary Grant Shapps said: "Public transport and active travel will be the natural first choice for our daily activities. We will use our cars less and be able to rely on a convenient, cost-effective and coherent public transport network."
It was the first time a Conservative government has identified road traffic reduction as a desirable policy outcome.
There are huge gains to be made in the UK. In 2018, cycling made up just 1 per cent of the mileage accumulated by all vehicular road traffic, while cars and taxis together accounted for 77 per cent.
Meanwhile, in the Netherlands the bicycle is only used for about 8 per cent of the total distance the Dutch cover in a year.
But the Dutch use bikes for 27 per cent of all trips – a figure which has remained constant over the past three decades. Back in the UK, in 2018, cycling accounted for just 1.7 per cent of all trips and this figure has hardly changed for the last two decades.
In London, the figure is higher with around 2.5 per cent of all journeys done by bike, for comparison, in Amsterdam, as of 2017, 68 per cent of traffic to and from work or school is by bike, according to the Dutch government.
In the Netherlands, a country much smaller than the UK, there are at least 33,000 to 35,000km of dedicated cycling infrastructure. As of 2020, in the UK there is 20,501km, and Mr Johnson has promised "hundreds of miles" more.
The UK is already leading the (relatively small) pack when it comes to electric buses in Europe, with London home to over 200 electric buses.
Outside Europe, Santiago, the capital of Chile has 410 electric buses currently operational – the largest electric fleet in Latin America and the largest of any city outside China, which is far and away the leader.
Other European cities are making headway with improving public bus fleets and infrastructure, with electric buses and solar-panelled bus stops being rolled out in the Polish city of Rzeszów this year, and other green initiatives such as bee-friendly bus stops with grasses and wildflowers being planted on the roofs of shelters in the Netherlands.
Across Europe the Netherlands represents the biggest overall market for electric buses with 381 electric buses registered in 2019, followed by France (285) and Germany (187), according to Sustainable Bus.
Electric bus registrations across the EU increased by 170.5 per cent from 594 units in 2018 to 1,607 buses sold in 2019.
Nonetheless, 85 per cent of all new buses in European Union in 2019 were diesel-fuelled, with electric vehicles making up just 4 per cent of total new bus registrations, according to the European Automobile Manufacturers Association.
6. World's first zero-emission ships and planes
This summer the prime minister fired the starting gun on what he called the race to "jet zero", in a stunning play on words from "net zero". Unfortunately analysts have suggested the plans may in fact amount to zero too – for now at least.
Short-range electric flight is already possible, with vertical-launching craft, which could eventually be used as flying taxis within cities, and small electric planes do exist, but many depend on traditional jet fuel to get airborne.
The biggest players in the quest to reach jet zero – a collaboration between Rolls-Royce and Airbus – was reportedly wound down during lockdown.
Zero emissions boats have existed for some time. Known as sailing boats, these vessels use nothing more than the wind to move them across even the largest oceans.
However, modern container ships are too large to depend on sail alone. Technology companies such as Japan's Eco Marine Power is trialling a combination of wind, and solar power which could be used even for enormous container ships.
Meanwhile, China has already launched a 2000-metric-ton, all-electric cargo ship, ironically used to ferry coal around.
As the International Maritime Organisation comes under fire for "unambitious" climate targets, UK investment in cleaner vessels could mark a seachange in how shipping – upon which 90 per cent of global trade is based – impacts the environment.
7. A billion pounds next year to make homes, schools and hospitals greener and your energy bills lower
Point seven in the 10 point plan sees the previously announced £9.2bn fund rolled back, as many environmental campaigners feared.
Meanwhile, the plan does include a target to install 600,000 heat pumps a year in British homes by 2028. However the figure is just over a third of the 1.5 million heat pumps the Committee on Climate Change Committee said that the UK needs every year by 2030.
Among the world's most efficient heating systems are the municipal district heating systems used in some European countries such as Sweden and Austria.
Large district heating plants can now be run on renewable energy including geothermal heating, large-scale heat pumps and central solar heating, to provide higher efficiencies and better pollution control than the individual boilers used in central heating systems. Previous research has shown district heating is among the cheapest means of cutting carbon emissions.
In 2017, district heating in Denmark accounted for more than 64 per cent of heating and hot water.
There are numerous similar schemes already in the UK, including in Sheffield, London and Southampton.
8. A new world-leading British industry in carbon capture and storage
In September a major report from the International Energy Agency (IEA) stated that without rapid investment and roll out of carbon capture utilisation and storage (CCUS) technology around the world it will be "virtually impossible" to hit the climate and energy goals set under the Paris climate agreement.
However, progress to this point has been slow, with only around 20 projects in operation in countries including the US, Canada, China and Norway, the IEA says CCUS projects are now gaining momentum.
However, there is also concern about how the technology is used. For example, the world's largest such project, the Century natural gas processing facility in West Texas, US, owned by Occidental Petroleum, captures CO2 that is then used for Occidental's enhanced oil recovery (EOR) projects in the Permian Basin.
However, projects in the UK, including two led by BP, aim to capture and return millions of tonnes of carbon to the North Sea bed every year.
9. Planting 30,000 hectares of trees per year, and rewilding 30,000 football pitches (21,000 hectares) worth of countryside
In its net-zero report the Committee on Climate Change laid out the 30,000 hectares figure, which it said meant planting between 90 to 120m trees per year.
The committee said increasing the UK's total forest cover to "at least 17 per cent" of the country's total area, and alongside improved woodland management, would sequester around 14 million tonnes of CO2 a year.
Planting around 100 million trees a year in the UK may sound like a lot, but in other countries, vast numbers of trees have been planted over short periods, including the world record, of 50 million trees, planted by over 800,000 volunteers in one day in India.
And this was not undertaken solely on vast expanses of forestry land. According to The National Geographic, the volunteers from Uttar Pradesh worked for 24 hours planting 80 different species of trees along roads, railways, and on public land, with the saplings raised in local nurseries.
The previous record was over 800,000 trees planted in a single day in Pakistan.
10. A £1bn innovation fund and new green finance to power technologies to decarbonise our world
Though Boris Johnson had previously said he would move to stop government funding for fossil fuels overseas, the new 10 point plan appears to have dropped this component and focuses instead on other activities the financial sector could facilitate.
This includes the growing sector known as "green finance", which prioritises environmentally-friendly technologies and services, and can help firms concerned about their green credentials decarbonise their investment portfolios.
Also there have been indications the government could fund a "green investment bank", which would be a financial hub designed for allocating funds to public infrastructure projects and overhauls to increase efficiency and lower emissions.
In June, Kwasi Kwarteng told climate change campaigners of a "broad discussion" in government to create a "Green Investment Bank 2.0", just three years after the original Green Investment Bank was privatised through a £2.3bn sale to Australian financial group Macquarie, The FT reports.
The original Green Investment Bank was launched in 2012 by former business secretary Vince Cable with £3bn of government money to encourage private sector investment in clean technologies such renewable energy.
Additional reporting by agencies.
Register for free to continue reading
Registration is a free and easy way to support our truly independent journalism
By registering, you will also enjoy limited access to Premium articles, exclusive newsletters, commenting, and virtual events with our leading journalists
Already have an account? sign in
Join our new commenting forum
Join thought-provoking conversations, follow other Independent readers and see their replies